DAVID HAMMONS: IN A SILENT WAY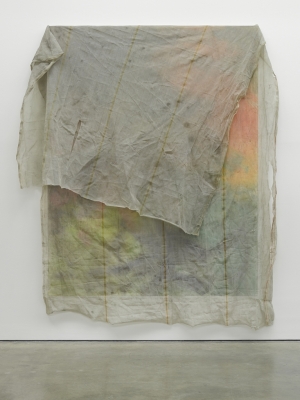 Untitled
2014
Mixed media on canvas
138 x 100 x 27 in. (350.5 x 254 x 68.6 cm)
Photo: Jack Hems and Patrick Dandy, Courtesy White Cube

David Hammons whose art work transitions from an art historical context of the 1960s political art to 70s and 80s performative and conceptual practice has never been one to concern himself with currents. He has always moved in a silent way with his own vivid imagination. In his works David Hammons has continuously push forward concepts in which art is positioned to explore and critique various social, societal, cultural, political, economic conditions. His works has continuously reflected a convincing preoccupation with aspects of popular, marginal and high culture and the points at which they intersect. As such his works easily dissolves categorical borders of art and life resulting in works whose contextual basis remains in flux in order to critique underlining aspects and the intertwining connections of contemporary art and. Life.

In a series of recent works Hammons has constructed a series of " seemingly" hybrid abstract painting constructions , in which framed monochrome painting are only partially discernible from behind, for the most part, huge pieces of transparent and opaque, vinyl and plastic wrappings. In the the architectonic/ sculptural structures he alludes to the strategies of paintings expressed through wrappings, draping, and framing –all suggestive of gestural painting. Hammons cleverly attach and wrap these devices such that edges, color and shapes overlap between his painterly forms and his sculptural elements leaving several elements of these painterly surfaces exposed.

The actual underlining paintings are built up with layers of translucent thin color applied to the surface and although pictorially abstract images, these abstract paintings emerge almost like landscapes. Aspects of surfaces that are revealed appear to have a spontaneity, although arrested, reveals a frozen moment where past, present and future coexist on the picture plane. These reductive painting/ cloaked construction make it impossible to view or fully comprehend their surfaces. Thus they become both metaphorically and actually hidden paintings.

Hammons' works have always seemed more seductive and subversive than many of his more maverick contemporaries. The built-up and placement of these constructions in the gallery activates the space allow the performative to become an integral part of artworks, a device Hammons has continuously incorporated in his practices to provide it with a spontaneity and informality.
David Hammons works have often had a direct connection to Art Provera which questioned the very nature of what it meant to be making art, what place artwork had within the gallery and the relationship with commercialisms such that the work of art could be understood as the site of experimentation and connection with other parts of life, be they social, political, scientific, historical and cultural.
These new" painterly constructions are equally close to the work of Conrad Marcelli Ricci whose collaged and large scale abstract expressionist works often combine a subdued palette of oil painting with vinyl plastic and cut aluminum.

However, Hammons' works not just a homage to 20th century modernist painting and its discourses for they are deeply concern with the notion of the dematerialization of the object and a link with the site- specific art of the 70s and 80s which he is a major influence and contributor.
As a result these works which can be viewed as mediations on both the history and language of painting are never direct. While evoking a strong romanticism towards traditional abstract painting his accumulated strategies expand its boundaries. By confronting the historical hierarchy of 20thcentury modernist abstract painting in these new constructions using the basic of materials means- wood, canvas, plastic sheeting, Hammons analytically deal with concepts of painting and its transitions so that they new artworks become platforms for intellectual and artistic reflection.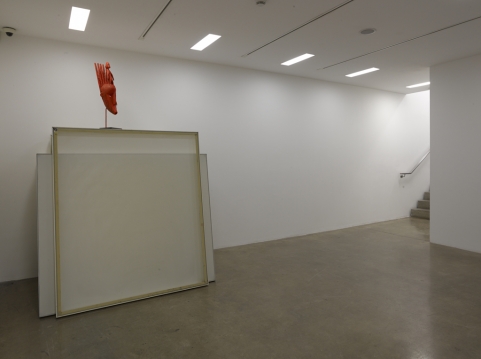 Courtesy of White Cube, London

While critics and historians continue to speculate on the purpose and functions of these new works, Hammons is clearly more interested in the viewer approaching his/her own interpretation of these composite painterly/ installations as they witness the metamorphosis of these construction from the framework of painting to object hood.

Hammons new works are as guarded as they are opened creating a compelling internal and external tension that has always defined his work. Unlike so much recent work that appear less concern about traditional notions of art making-materials, surface, scale, Hammons confront these terms head on, manipulating them to his always clever iconoclastic terms. They are visually, conceptually, and aesthetically another new direction for his art.

Still Hammons appears to revisited modernist for equally non- aesthetic reasons. Given the contemporary association of art collecting with privilege these works take on a allegorical meaning that speaks to the very irony of contemporary art, as once the domain of the of the outsider, but more recently in the center of cult of status and entitlement. As such these works similar to the burnt fur coats that he shows in an earlier show at the L&M Arts space metaphorically allude to an idea of a type of deconstruction of capitalism and consumption.
@Horace Brockington