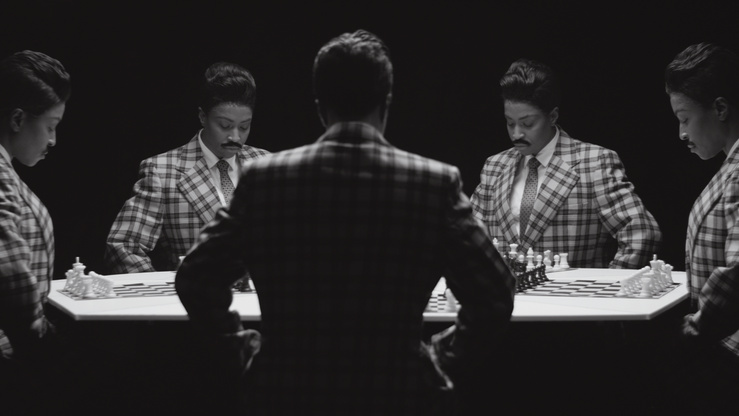 Lorna Simpson: Jeu de Paume, Paris

THESIS, ANTITHESIS, SYNTHESIS

Lorna Simpson remains above all, an artist enthralled with creative possibilities and always eager to move forward. Throughout the years Simpson has remained a dedicated, brilliant pioneering and groundbreaking artist.
The Jeu de Paume exhibition is not a retrospective, rather brilliantly curated by Joan Simon, and elegantly installed in the Jeu de Paume space's, a space itself with a most intriguing history: Lorna Simpson @ The Jeu du Paume exhibition marks Simpson's first large- scale exhibition in Europe.
"The theme I turn to most is memory. But beyond this subject. .the underlying thread is my relationship to text and ideas about representation..." Lorna Simpson
How clever have Simpson used a site loaded with meaning and memory. The site in Paris built as a tennis court and later converted into an Impressionist art museum and subsequently into a photography museum. The Jeu de Paume was constructed in the 17th century in the Tuileries Gardens in Paris. It was used by the nobility as an arena in which to play an early variant of tennis. In the late 18th century, during the French Revolution, it became a rallying point for revolutionary forces. From 1940 to 1944 the Germans, during their occupation of France, turned the Jeu de Paume into a storage facility for more than 22,000 pieces of art confiscated from other museums in France and from Jewish households. Exhibitions of artwork were staged for high-ranking Nazi officials. When control of the museum returned to France, the facility was reinstated as a museum dedicated to Impressionist and Post-Impressionist art. The Jeu de Paume closed its doors in 1986, with the majority of its collection transferred to another Paris landmark, the Musée d'Orsay. It thereafter was used to display temporary exhibits of modern art and by 1991 became an institution with a central focus on video and photographic mediums.
Simpson has brilliant used the space to present seminal elements in her work to allow the viewers to consider various stages of her multifaceted career including her most recent work a collaboration with Jason Moran "Chess" .The pared down quality of the selections of works, and the beautiful installation in this gracious space in this viewer's opinion is one of the best recent exhibitions presented in the Jeu de Paume and perhaps one of the best Simpson exhibition I have seen.
Works in this exhibition reveal Simpson drawing from traditional photo techniques including gelatin silver prints, new combinations among them serigraphs on felt with text , and images involving clips from film noir, vintage photographs alongside those re- staged by the artist, recuperated photo-booth photos with drawings, and performance-based video presented as real time and its reversal.

The exhibition is intentionally not presented in chronological order such that after the first entry room the exhibitions span out into adjoining rooms in order to reveal turning points in Simpson's oeuvre as well as thematic continuities and related images.
The earliest pieces in the exhibition are Simpson 's performative proto-cinematic photo-texts , beginning with the l985 Gestures/ Reeactments , a title literally capturing the works visual / verbal aspects while also paradramatically descriptive of what would be her conceptual practice for the next three decades. However the highlight of this show is both the clever re- installation of Momentum ( 010) which this viewer saw in New York at Salon 94, and Simpson's most recent video installation , Chess, ( 2013) – itself based on her 2009 large still photo work, 1957-2009, for which she- re-enacted scenes from vintage photos, presented for the first time in Paris.

Waterbearer (1986) shows a woman from the back, pouring water from a silvery metallic pitcher in one hand and from an inexpensive plastic jug in the other, linking the work with the art historical depiction of women at wells or in domestic setting settings. However this image equally plays off the notion of the balancing scales of justice, such that in Simpson 'staging" the figure equally becomes symbolically a commentary on the disjunction between means and class. The accompanying text reads: "She saw him disappear by the river, they asked her to tell what happened, only to discount her memory".
In the same room is installed the work, " Stereo Styles" ( 1980) in which two sets of five photographs show the same woman from the back yet with different hairdos along with the row of comments in text panels offer what the curator, Joan Simon describes as an" elliptical' inventory of comments, such as ' Daring", '" Sensible", " Long and Silky", " Boyish", or ' " Country Fresh".
To the left of this room, in an adjoining room, Simpson presents now seminal felt serigraphs work, (Wigs II) 1994-2006). In 1994 Simpson began to print photographs on felt inspired by the materiality of the medium after seeing an exhibition of sculpture of Joseph Beuys in Paris. She explored whether the material might be suitable in new way and a new time. Thus Simpson moved away from the traditional paper support of the photographic medium which she had been using in her earlier larger- than – life – size images within her large scale photo- text works. The first felt offer surrogates for the body in what has been described as "a taxonomy of wigs". These images are accompanied by text which based around issues of gender and identity.
At same time Simpson began to explore new mediums such as film and video in 1997, or found photographs in the late 1990s. Mediums that would occupy the remaining bodies of works in the exhibition.

In same rooms as Wigs II are three related sets of works that, are based on personal memory: performing at the young age of 12, in gold costume, wig, and body paint in a ballet recital at New York's Lincoln Center. Simpson re- staged such a performance for her video Momentum (2010), here wonderfully re-installed in a series of cube-like vertical monitor structures, based on her Gold Headed drawings (2013) on the video's young dancers, and used vintage souvenir postcards of the Lincoln Center for three 2011 felt works, the exterior views of Day Time and Day Time (gold) and the interior view, Chandelier.
To the right of the main room one passes into another room in which Simpson has included works based on found and photo-booth images. Simpson, began to collect photo-booth images on eBay, during the 2000s. She had often used items found during her travels or at flea markets and other vintage sources as costumes and props for her photo - text pieces and videos. For each multi-part photo-booth piece, Simpson sets in bronze frames these small, in expensive shots as well as her own drawings of selected details of the photographs. Described as "self- styled and performed", these photographs were used for a variety of purposes by their anonymous sitters ranging in images of rather sober faces, formal ID photos to rather glamorized and often theatrically humorous mementos. Simpson assemblage of these images form the basis for the what can be described as type of collective self-portrait in the work, Gather, 2009, and continues her ongoing exploration of identity and memory, made apparent in the title of one of them: "Please remind me of who I am "( 2009).

While collecting photo booth images on eBay, Simpson found the first of the vintage photographs- a woman in a tight sweater – dress leaning on a car- that would start the large scale work 1957- 2009, ( 2009) also presented in this same room. The artist subsequently brought the entire album and re- staged in 2009 each of the same 150 photographs of an anonymous black woman and man in Los Angeles taken in front of their camera between June and August 1957. For, 1957-2009, Simpson reenacted both female and male roles. A selection of these vignettes formed the basis for Chess, 2013.

To the left of this room, in the fifth of the five spaces, Lorna Simpson has installed the video installation Cloudscape (2004) in which Simpson isolates a singular male figure, the artist and musician Terry Adkins, in a dark room, spotlighted as he whistles a hymn and is enveloped in fog. Focusing on the ephemerality of performance, the artist also plays with time. Simpson runs the video forward and then also backward in a continuous loop, creating, what the curator of the exhibition Joan Simon describes as "new visual and oral/ aural permutations of gesture and reenactment. In a reversal somewhat of the time sequence, the image remains somewhat familiar while the tune turns into something else, a different melody".

The final room of the exhibition, contains Simpson most recent and challenging work. Chess (2013), Simpson's video installation made expressly for this exhibition, draws on images from 1957-2009, her still photograph ensemble of 2009, included in the exhibition. For both, in a departure from her earlier videos and earlier staged photographs, Simpson herself performs.
In 1957-2009, reenacting scenes from the original found vintage prints with which they are shown Simpson is as Joan Simon suggest "mirroring both the male and the female character, in dress, pose, expressions and setting". Simpson has stated, " When I would mention the idea of working with mirrors ( for the Chess video) people would often mention the famous portraits of Picasso and Picabia taken at a photo studio in New York by an anonymous photographer who placed the subject at a table in front of two mirrored panels at seventy- degree angles. Simon states that although Simpson initially rejected the idea of working with the mirror device used in these historic portraits, which she had seen many times, Simpson decided to take it in fully and reconstructed it in her studio for her new video project after art historian and sociologist Sarah Thornton sent her "a beautiful image of an unknown man of African descent in a white straw hat, which had been in an exhibition at the New York Museum of Modern Art. It was a five – way portrait probably taken by the same photographer who had taken the portraits of Picasso and Picabia. I could no longer resist or dismiss this idea. I felt it was demanding my attention"

Shot in Simpson's studio over the weekend of December 8, 2012, Chess is comprised of three video projections. For two of them Simpson again plays both female and male chess- players. She no longer mimics the poses and furnishing seen in the still photographs made in 1957. The artist now allows the two characters to grow old using a "dissolve that indicates passage of time as both the characters age with the help of makeup and hair". The third projection shows pianist Jason Moran performing his improvised score for the project which was based on discussion between artist and composer about "mirroring in music" especially "in the work of musician Cecil Taylor, who employs mirroring in his compositions.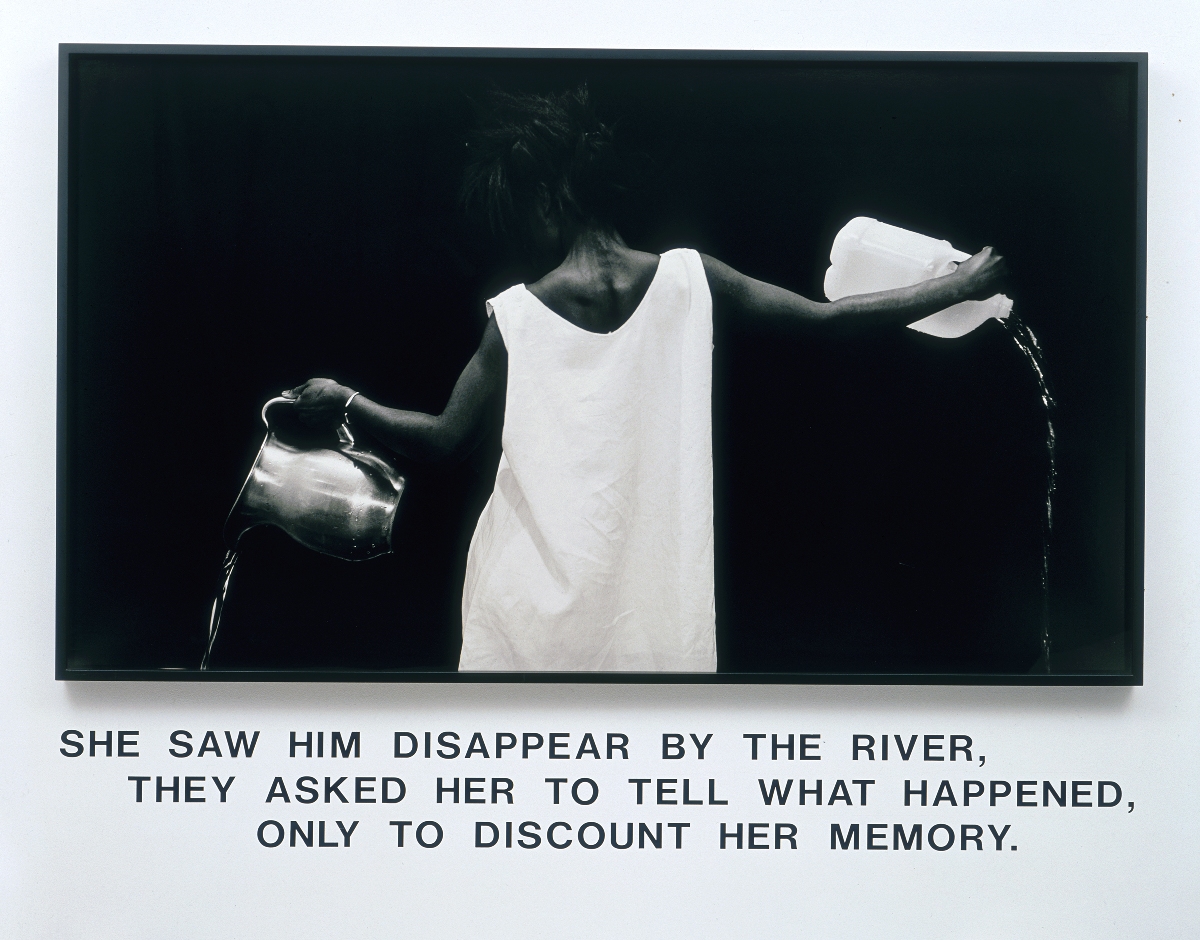 Collectively, these works suggest that there is another point of entry into Simpson extensive body of work outside of memory and identify and that is conceptually in idea based significantly in Hegel notion of Thesis, Antithesis and Synthesis
This triad thesis, antithesis, synthesis is often used to describe the thought of German philosopher Georg Wilhelm Friedrich Hegel. Hegel stresses the paradoxical nature of consciousness; he knows that the mind wants to know the whole truth, but that it cannot think without drawing a distinction. Unfortunately, every distinction has two terms, every argument has a counter-argument, and consciousness can only focus on one of these at a time. So it fixes first on the one, then under pressure fixes second on the other, until it finally comes to rest on the distinction itself. Hegel refers to this process of alternation and rest as dialectic.

In other words, the dialectical method involves the notion that the form of historical movement, process or progress, is the result of conflicting opposites. Thus this area of Hegel's thought has been broken down in terms of the categories of thesis, antithesis, and synthesis. Hegel's philosophy of history embraces the concept that a conflict of opposites is a struggle between actual and potential worlds.

A thesis can be seen as a single idea. The idea contains a form of incompleteness that gives rise to the antithesis, a conflicting idea. A third point of view, a synthesis, arises from this conflict. It overcomes the conflict by reconciling the truths contained in the thesis and antithesis at a higher level. The synthesis is a new thesis. It generates a new antithesis, and the process continues until truth is arrived at.


Although the triad is often thought to form part of an analysis of historical and philosophical progress called the Hegelian dialectic, the assumption is erroneous. Hegel used this classification only once, and he attributed the terminology to Immanuel Kant. The terminology was largely developed earlier by the neo-Kantian Johann Gottlieb Fichte, also an advocate of the philosophy identified as German idealism. The triad is often said to have been extended and adopted by Karl Marx and Friedrich Engels; however Marx referred to them in The Poverty of Philosophy .

Lorna Simpson work can be described as operating own these varied three principles. For while the work is visible sensual artistic pleasure these works are equally loaded with the subtle tones of provocation dialectic and the disjunctive.
While Simpson's earlier work grounded in the play of language and text, appears address Hegel triad she now relies more on video and sound to convey a similar multi- variant of syntax and meaning through sound and action as illustrated in the works Cloudscape (2004) and the more recent collaboration with Jason Moran Chess (2013). For Simpson despite the medium the structure of the works continuously evolve around definition, interpretation and semiotics.
Returning to Hegel's triad the viewer is also reminded of a certain openness in the work Simpson there is always the anti-narrative aspects of Simpson works which allows her in her work to understood in turns to issues of media-- photography and film, then to conceptual structure, and then again race and politics, the past and the present. Simpson's art has always moved delicately against stereotypes and simplified categorization resulting in body of work that is utterly conceptual and singular and multilayered.

On surface level Simpson's art has always found a way to communicate notions of both racial and personal hopes and disappointments. Presented as intimate portraits or situations her subjects appear linked by shared values, and mutual appreciations, and thus become people who opened themselves up with unparalleled openness through her imagery. Her work often describes and reconsiders realities of normal life, but equally the new and unexpected circumstances in life. Revealing how one adjust to new lives conditions.

Through her highly conceptual series of staged photographs, and video installations. She has presented the mostly female body as fetishized in which the site and body are entrenched and loaded with meaning. While in her work she explores issues of identity crisis as both black and female, the work is reflective of expression of the self both the sensual and the political.
Lorna's Simpson's art is undeniably linked with the works of women artists in the l970s whose embracement of photography and performance help them to eclipse and subvert the male dominated histrionics of painting and sculpture. Situating their art within the context of performance and photography, artists such as Ana Mendieta, Hannah Wilke, and Francesca Woodman were able to express the political and the artistic provocative. As part of the next generation of women artists Simpson equally incorporated a conceptual structure to her work in order to express both politics and history – (artistic and racial), and gender without diminishing or compromising.

What this exhibition of Lorna Simpson at Jeu du Paume reassures is that throughout the work despite the various elements of the work, one sense that Simpson remains a person with values equally possessed by the priority of making the best possible art, the dedication of the betterment of the world through her creativity. They are work are often filled with a certain generosity rare in art so grounded in conceptual ideas as Simpson work tends to be based.
Whether for still or moving picture production, the American artist (born in 1960 in Brooklyn, New York) uses her camera as catalyst to question identity and gender, genres and history, race and class, fact and fiction, memory and meanings. Assumptions of photographic " truth" are challenged and qualified –indeed redirected – by the images she crates that are inseparable from the texts she writes to accompany them, or something she chooses for videos, or by the pairings of vintage photographs with new made renderings.-Joan Simon
PHOTO CREDIT:
1. Lorna Simpson, Chess, 2013. HD video installation with three projections, black & white, sound, 10:25 minutes (loop). Score and performance by Jason Moran. Courtesy the artist; Salon 94, New York; and Galerie Nathalie Obadia, Paris/Brussels. © Lorna Simpson.
2.Simpson, Lorna, Waterbearer, (1986) Courtesy Salon 94, New York @Lorna Simpson
i. (ed. Note: Given that Picasso never came to the United States himself, or the image was actually created in a European studio with both artists present by an unknown photographer it is in fact my suggestion that the two artists in question are in fact Picabia and Duchamp , this event is discussed in James W. McManus, California State University , Chico , Mirrors, TRANS/ formation and Slippage In the Five – Way of Marcel Duchamp which first appeared in Les Cahiers du Musee national d' art modern, 2005). The result is a five – way portrait that includes views that are not symmetrical and that offer slightly different angles: a surrealist trope of trick photography". Duchamp explored the concept continuously. Throughout a lengthy career, which spanned much of the twentieth century, Marcel Duchamp recast accepted modes for assembling and describing identity. In 1917, having recently arrived in the United States, Duchamp found special significance in a mechanically produced photo-postcard that depicted him simultaneously from five different vantage points, thanks to a hinged mirror. The Five-Way Portrait of Marcel Duchamp suggests the artist's early recognition of the multifarious nature of personal identity, something he would continue to explore throughout his career. Fascinated with the way portraits shape identity, Duchamp exploited the genre, often turning conventional codes for portrayal on their head.) also see: The Space Between, Volume IV: 1 2008,ISSN 1551-9309