Chloe Dewe Mathews
Chloe Dewe Mathews(b. 1982, London) studied Fine Art at the Ruskin School, University of Oxford. After graduating she worked in the commercial film industry for three years. Both inspired and frustrated she turned to photography, as a more immediate and intimate creative process. Working with people in their natural environment enabled her to engage with the world more directly. She has exhibited in London, Birmingham, Buenos Aires and Berlin and has been published in the Times, the Independent, Burn Magazine and Dazed and Confused.
"The stories that I tell here were influenced by the way I travelled: hitchhiking and camping made me more aware of the elements and raw materials which give the place it's character. Long hours were spent staring down dusty roads, waiting for a ride and each day the layer of dust on my skin was washed away by a different stream. The work that I created responds to both the people and the land, because they are bound up with one another. And every ecological scar left on the land, by powers of the past, is a wound to the people."
Lili Reynaud-Dewar
Installation view, FRAC Champagne Ardenne, France 
January 2010
Born in 1975 in La Rochelle, France, Lili Reynaud-Dewar lives and works in Paris. Reynaud-Dewar's practice involves piecing together heterogeneous references drawn from such diverse sources as Rastafarianism, radical design, Jazz, Voodoo and Conceptual Art. By mashing-up these irreconcilable codes, Reynaud-Dewar creates enigmatic works that disrupt the immediate recognition and identification of peripheral sub-cultures, spectacularized through their partial and fetishistic insertion as exotic products into the mainstream. Screens, masks, costumes and scattered posters make up her scenographic works, which often activated through live performances and musical arrangements.
Though based on historical research, Reynaud Dewar's works often evoke the feeling that one has landed on a riotous new planet where time and space are anything but linear. Fittingly, the centrepiece of 'Interpretation' evoked a Suprematist-shaded spaceship (Interpretation Structure, 2010). Against the wooden structure's mirrored interior, a video projection showed Rias, a striking woman in a carnivalesque dress, seated on a throne-like chair whose jarring geometry referenced Ettore Sottsass's Memphis Group furniture. After she theatrically described attending a Sun Ra concert in France in 1970, Rias began dancing slowly around the throne – placed in the same gallery that the viewer stood in now – to the fractured, frenetic sounds of the original concert itself.
The artist's approach has become more formally and conceptually elaborate. Black Mariah (2009) investigates cinematic beginnings via Thomas Edison's eponymous 1893 tar-papered film studio, in which he mostly filmed vaudevillians and burlesque performers; likewise, Reynaud Dewar's work engaged a quartet of costumed female performers, some of whom were in blackface. The Power Structures, Rituals and Sexuality of the European Shorthand Typists (2009–10), meanwhile, investigates technological obsolescence married to sexualized labour. In the film, Rias teaches this 'skill' to two young women in a marshland, itself a morphing landscape of elimination. The recent Cléda's Chairs (2010), in turn, contrasts the artist's grandmother's history with Pier Paolo Pasolini's film Notes for an African Orestes (1975), which endeavoured to transpose Aeschylus's Greek tragedies to Africa. The film shows Cléda packing up her antique-filled house as she prepares to retire to a Modernist condo. As she talks about her life, two white girls in blackface enter the house and begin to cover two antique chairs with black polish; in the background, Pasolini's film plays on a TV. The charged congruence of different threads – Reynaud Dewar's matrilineal lineage, furniture design, post-colonial history intersecting with the avant-garde – is startling. Yet the investigation of difference as defined by surface (skin, design, economic, filmic, sexual) is nuanced and compelling.
Reynaud Dewar's primary interests and methodologies – research and performance – are common in recent art. But she does not employ history as either a stationary formal device or nostalgic lens; instead, she transforms myriad histories into new works that walk directly into the (or some) future. Similarly, her investment in a kind of politicized vaudevillian theatre – an anachronism in today's art world – sets her apart. It makes sense, then, that her work evokes literary and theatrical predecessors. Her twining of technology with racial and sexual politics conjures the speculative writing of Donna Haraway and Octavia Butler, who use science and sci-fi (as did Sun Ra) to transcend issues of injustice. Reynaud Dewar's theatrical roots appear to lie with Bertolt Brecht and Rainer Werner Maria Fassbinder, after whose 'Antiteater' troupe she titled an exhibition. But despite these influences, and the complicated histories they limn, the artist's works – complex and dauntingly expert – appear to travel relentlessly forward, prescient preambles of we know not what.(1)
1. Quinn Latimer, Freize Magazine, Issue 138, April 2011
Carol Morley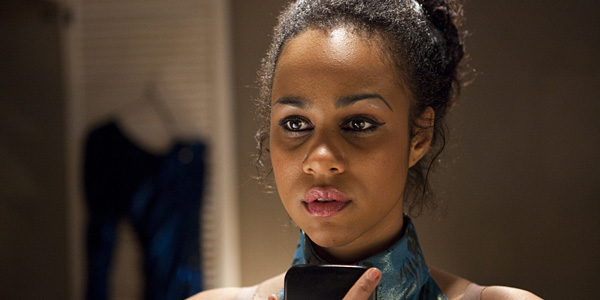 Dreams of Life Film Still /Director and Producer team Carol Morley and Cairo Cannon
Carol Morley's film Dreams of a Life is based on the shocking story of Joyce Carol Vincent. Carol Morley's film Dreams of a Life is based on the shocking story of Joyce Carol Vincent, which stars Zawe Ashton. In January 2006 her decomposed body was found in a flat in North West London. The skeleton on the sofa was surrounded by wrapped Christmas presents and the TV, tuned to BBC1, was still on. The death had been undiscovered for three years. The 38-year-old's body was so decayed that the post-mortem was unable to find a cause of death, nor the circumstances around why she had not been found for so long. The terrible incident briefly made national news headlines and generated debate about the loss of community and isolation of modern living, but without any more details to go on, seemed to quickly turn into a tragic closed chapter. But for film maker Carol Morley it inspired an incredible, dogged investigation that lasted for five years and has resulted in a tender, thoughtful and celebratory homage to Vincent's life pieced together from interviews with her friends and dramatised scenes,
The tragic story of Joyce Vincent – a young woman whose body lay in her bedsit above a North London shopping centre for three years while nobody noticed – is one of a growing number of hugely original films made by Morley and her long-time producer Cairo Cannon.
Carol Morley is a director who came to prominence with The Alcohol Years, a BAFTA nominated, Grierson awarded film that met critical acclaim when it was released on DVD. Morley's first narrative feature, Edge, was premiered at the 54th London Film Festival.
Manchester-born Morley, who made her name as a director with the autobiographical film The Alcohol Years, managed to trace not only the sisters that Vincent had been estranged from but also friends, work colleagues and former boyfriends from throughout her peripatetic life in London. Vincent's family said that she had done a better job than the private detective they had hired to find her when they had lost contact, but Dreams of a Life is not an expose of what happened in her final days or why authorities, from the housing association she rented her flat from or utilities companies whose bills were unpaid, didn't discover her, " I didn't want it to be a film about the technicality of how she died or who was to blame. I didn't want people to look at this story and close it down. I wanted to explore the complexities of being a human being and the things we have in common."
Abigail Child

On The Downlow. Dvcam to Beta. Abigail Child: Director, Producer, Editor; Arthur Jafa: Camera; Floyd Fisher: Music; Yael Bitton: Editing.

Abigail Child is a media artist and writer whose original montage pushes the nvelope of sound-image relations with sensitivity, smarts and passion. In the words of LA
Weekly, she makes "brilliant exciting work...a vibrant political film that's attentive to form."

Her work in the 1980s explores gender while focusing on strategies for rewriting narrative, creating the cult classics "Mayhem" and "Covert Action" while her 1990s
productions recuperate documentary to poetically explore public space: B/SIDE (1996) and BELOW THE NEW (1999). In the 21st century, her films DARK DARK
(2001), SURFACE NOISE (2000), and digital works CAKE + STEAK (2004) and THE FUTURE IS BEHIND YOU (2005) investigate the awkward drama of everyday, often utilizing archival material to examine the past.

Her feature video documentary ON THE DOWNLOW (2007), an intimate look at a little viewed underground scene, premiered at Tribeca in 2007, and was broadcast
on LOGO. She is currently finishing another feature documentary RIDING THE TIGER: Letters from Capitalist China while continuing her series of "Foreign Films" which
combine text with image. The latest of these, (If I Can Sing a Song About) LIGATURES (2009) premiered at the NY Film Festival in October 2009 and was featured at Ann Arbor and Oberhausen Festivals spring 2011. Child is currently completing a feature A SHAPE OF ERROR: Imaginary Home Movies from the life of Mary and Percy Shelley, filmed in Rome last year while Child held a Rome Prize Fellowship.

Simultaneously, Child has turned her vertical montage to installation, creating prismatic and interruptive multiple screen narratives at galleries across the world. These include The Walker Art Center, Minneapolis 2006; Radcliffe Institute, Harvard University 2006; Wake Forest University Haynes Gallery 2009; the American Academy in Rome 2010; Spazi Aperti at the Romanian Academy Rome: June 2010; and at the Complesso Monumentale di Santo Spirito in Sassia, Rome, in The Road to
Contemporary Art, 26-30 May 2010.

Child has had many solo shows with mid-career retrospectives: including Braga Portugal (09), EXIS in Seoul Korea (08), Switzerland (08), Harvard Cinematheque,
(07), SF Yerba Buena Center in California (2000), in NYC at Anthology Film Archives, in Boston at the Museum of Fine Arts, and most recently at Reina Sofia, Madrid (June 2010) and Cinoteca, Sala Trevi, Rome (Nov. 2010). Her award-winning art is exhibited in important group shows, including The American Century, 1950-2000 at the Whitney Museum, Art at the End of the Century 1980 -
2000 at the Museum of Modern Art NY, and two Whitney Biennials (1989 + 1997).

Her awards include a Rome Fellowship (2009-10); a Radcliffe Institute Fellowship (05-06), a Ford Media Grant (05), a Guggenheim (95-96) and Fulbright Fellowships (92- 93). Her films are in the permanent collection of The Museum of Modern Art, New York and the Centre Pompidou, Paris among others, and Harvard University
Cinematheque has created an Abigail Child Collection dedicated to preserving and exhibiting her work.

Her films are featured in chapter-length articles in a number of recent books, including: P. Adams Sitney's Eyes Upside Down. Chap 13. "Abigail Child: Textual Reliance" (Oxford 2008); Women's Experimental Cinema, ed. Robin Baetz. Duke U. Press (2007); Scott MacDonald's Critical Cinema: Volume 4 (UC 2005); Jeffrey Skoller, SHADOWS, SPECTERS, SHARDS on Child's B/side. 2006 Minnesota;
Wanda Balzano, "Abigail Child's Mirror Worlds: Feminist Reflections" in MILLENNIUM FILM JOURNAL, winter 2011. An ABIGAIL CHILD MONOGRAPH of Critical Articles + Dvd was published by MetisPress, Geneva Switzerland April 201.

Child is the author of 5 books of poetry (A Motive for Mayhem, Scatter Matrix and Artificial Memory among them) and a book of critical writings: THIS IS CALLED MOVING: A Critical Poetics of Film from University of Alabama Press
(2005). Child has taught film/video production and history at various schools and is currently Senior Faculty at SMFA, Boston. She lives in NYC.
Tarek Atoui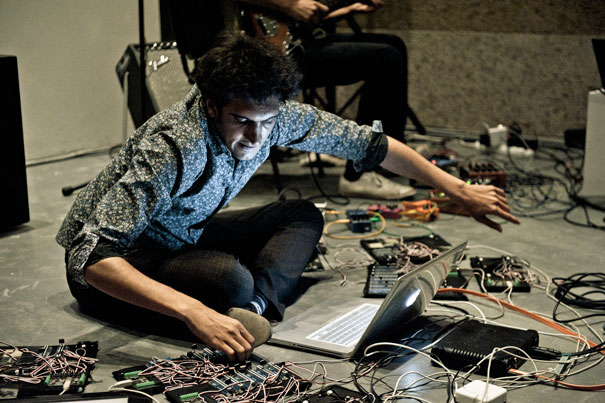 Tarek Atoui was born in Lebanon in 1980 and moved to Paris in 1998 where he studied contemporary and electronic music at the French National Conservatory of Reims. He was co-artistic director of the STEIM Studios in Amsterdam in 2008, and released his first solo album in the Mort Aux Vaches series for the label Staalplaat (Amsterdam/Berlin).
Atoui is a sound artist who's known work in sound performance articulates, composition, physicality and engineering in complex and original ways. He specializes in creating computer tools for interdisciplinary art forms and education such as his pioneering youth workshop, Empty Cans, that he presented in France, Holland, Lebanon, Egypt, and New York, as part of his Museum as Hub residency at the New Museum.
His recent productions and performances took place at many contemporary art events festivals and exhibitions such as The Sharjah Biennial (UAE), The New Museum (New-York), La Maison Rouge (Paris), Darat Al Funun (Amman), the Mediacity Biennial(Seoul), Haus Der Kunst (Munich) and various other sites.
Tarek Atoui represents the new, truly transnational musical avant-garde of the 21st century. Atoui was born in Lebanon in 1980, and like his contemporaries, he experienced the Lebanese Civil War (1975 – 1990) and was socialized by the sounds of war, soon learning to recognize weapons by their sounds alone. However, in 1998, his life as a cosmopolitan commenced. He had moved to Paris where he studied music at the French National Conservatoire of Reims and collaborated with IRCAM (Institut de Recherche et Coordination coustique/Musique) at the Centre Pompidou in Paris.
Atoui does focus on his performance as much as on the finished piece of music. He spends a lot of his time developing what some call 'psychological' interfaces. These interfaces enable interaction in real-time between him as a musician and his laptop. On stage, he 'plays' his laptop like a famous rock guitarist plays his guitar. To do so he uses self-built controls to steer his software. At first, Atoui stands still while his music plunges through chaos, with noise and rhythmic structures originating from all possible directions. Then his body starts to move, as he introduces breakbeats. Hardcore drum'n'bass begin structuring the soundscape encapsulating beats from the well-known canon of popular music and club culture.
Un-drum 3: The Semantic Scanning Electron Microscope (ongoing)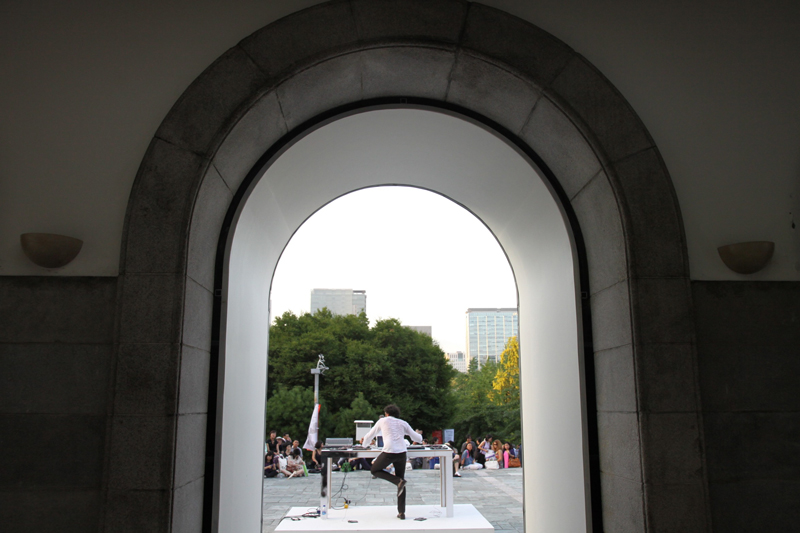 For Un-drum 3/Semantic Scanning Electron Microscope, Atoui has developed an audio library of tens of thousands of microsamples to explore semantics through a system analogous to a scanning electron microscope (SEM). Like a SEM, which magnifies things on a fine scale, the tools of Un-drum 3 allow live exploration of long audio tracks at a very small scale. Through a system of pressure sensors that engage the physical strength of the artist's body, Atoui scans tracks at a high speed to instantly select and edit microsamples based on the Fast Fourier Transform analysis technique. FFT is a complex sound analysis protocol that determines the spectrum of a sound, its constituting frequencies, and their density according to the law of Fourier. Systems of infrared modules respond to Atoui's movements to select microsamples according to mathematical serial algorithms that create elaborate rhythmical structures of hundreds of microsamples played simultaneously.
Produced by the Sharjah Art Foundation (UAE), Darat Al Funun (Amman), La Maison Rouge (Paris).
Alberto Campo Benza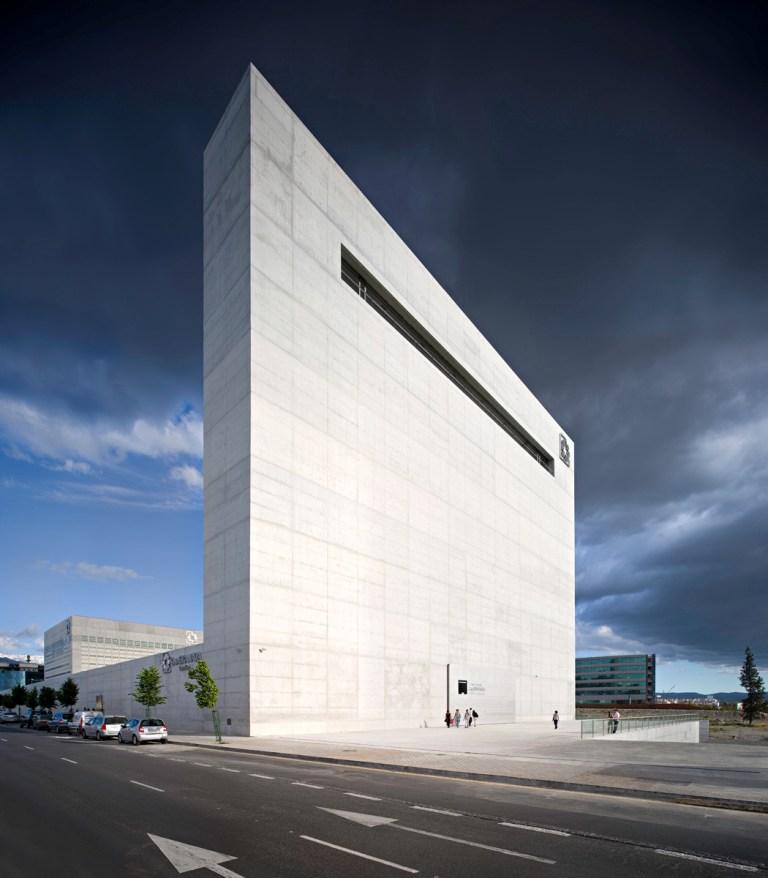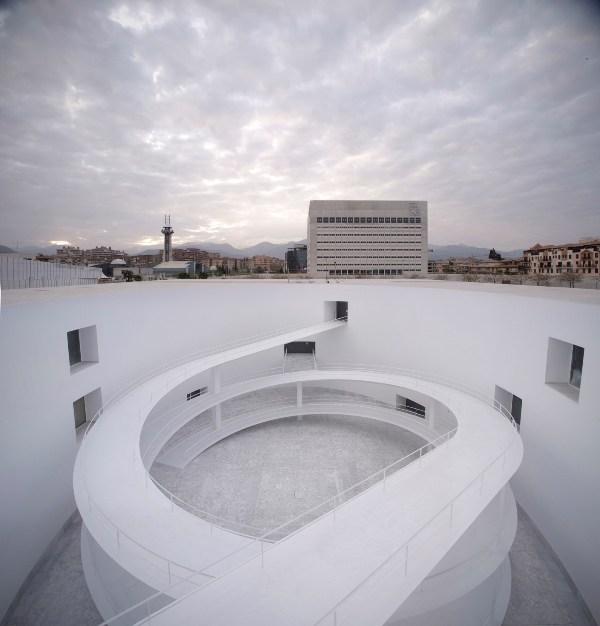 Andalucia's Museum of Memory, image courtesy of Alberto Campo Baeza
Alberto Campo Baeza was born in 1946 in Valladolid, Spain. He stdied at the E. T. S. Arquitectura de Madrid , and graduated in 1971. Alberto Campo Baeza graduated in architecture in 1971 at the Superior Technical School of Architecture of Madrid of which he is currently Chairman and Professor of Design since 1986. He became Chairman and Professor of Design in Madrdid in 1986.
He has taught in E.T.H. Zurich as a gästdozent in 1989-1990. He has also been teaching in Dublin (1992), Naples (1993), Virginia Tech.- Blacksburg and Copenhagen (1996). He has moreover taught in EPFL Lausanne as a p. invité in 1997, in University of Pennsylvania (1986 and 1999), BAUHAUS in Weimar (2002), IIT Chicago (2003). He has been Visiting Scholar in Columbia University (2003), lecturer in Harvard (2002), Miami (2002), Columbia U. New York (2002), IIT Chicago (2003), Palladian Basilica in Vicenza (2004) and Kansas S.U. (2005).

He has built a selected number of very precise buildings: Fene Town Hall (1980), S.Fermin Public School in Madrid (1985), Drago Public School in Cadiz (1992), Center BIT in Mallorca (1998), the Cathedral's Square and Offices in Almería (2001) and SM Editorial Offices in Madrid (2003), the very well known houses Turégano, García Marcos, and De Blas, all of them in Madrid, and Gaspar's house in Cádiz, only to name a few. He has also a tower project, the tallest in Spain , for the "Telefonica's Communications' city" in Madrid . His most representative building is the Headquarters of the Caja de Granada, finished in 2001. He is just now about to start the construction of his first house in the USA : the Olnick Spanu House in Garrison , New York (2004).
His work has been extensively awarded. In the last years, the First Award for the Spanish Pavillion in the Biennale of Venice (2000), the Award of the Bienal de Miami (2000) and the COAM Award (2002) for the Blas House, the COAB Award (2003) for the Centre BIT in Mallorca, the COAAO Award (2003) and EDUARDO TORROJA Award (2003) for the Headquarters of the Caja de Granada. This year he has been awarded the Award Architecture in Stone, in Verona , for the Almeria Offices.

A book of his collected writings "THE BUILT IDEA" has become the 4th edition and some monographs on his work have been published: in Spain ("CAMPO BAEZA 1971-1996", Ed. Munilla Lería. Madrid , 1996), in USA ("CAMPO BAEZA", Rockport Ed. Massachusetts, 1997) in Japan ("CAMPO BAEZA", Graphic-Sha Ed. Tokyo, 1997). And it has also been published the English edition of the last monography (" ALBERTO CAMPO BAEZA ", Gustavo Gili Ed. Barcelona 1999), which has been updated in its italian version (" ALBERTO CAMPO BAEZA ", Electa Ed. Milano, 2004).

His work has been published in most major architectural magazines in the world and he has been exhibited in many major cities. In 2003 there was a great exhibition of his work in the Crown Hall at the IIT in Chicago , later it was shown in the Urban Center in New York . In 2004, a selective exhibition was shown in the Palladio´s Basilica in Vicenza ( Italy ). During 2005, this exhibition will be shown in Sta. Irene Basilica, coinciding with AIA in Istambul.
His work has been extensively awarded. In the last years, the First Award for the Spanish Pavillion in the Biennale of Venice (2000), the Award of the Bienal de Miami (2000) and the COAM Award (2002) for the Blas House, the COAB Award (2003) for the Centre BIT in Mallorca, the COAAO Award (2003) and EDUARDO TORROJA Award (2003) for the Headquarters of the Caja de Granada. He has been awarded the Award Architecture in Stone, in Verona , for the Almeria Offices.
Claire Barclay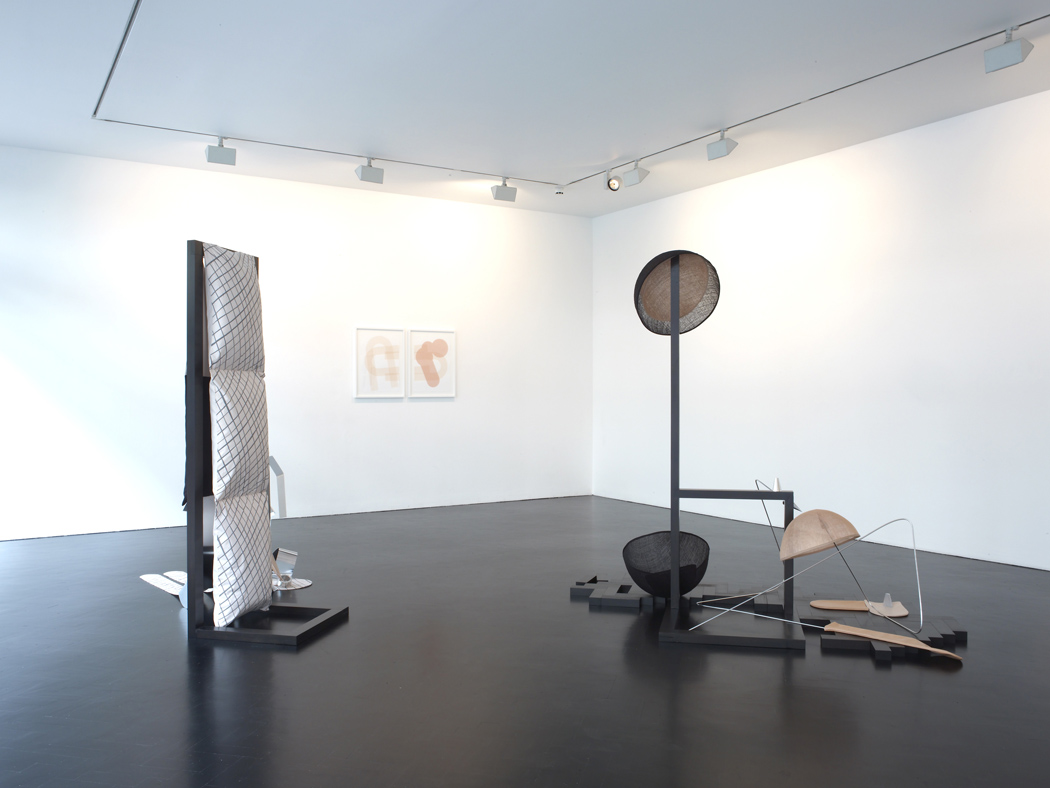 Flat Peach Installation, Courtesy Stephen Friedman Gallery, London
Born in 1968 in Paisley, Scotland, Claire Barclay lives and works in Glasgow. Barclay primarily uses sculpture and installation. Her meticulous, often site-specific works first appear as though they have been organically built. Assembled out of found objects and handcrafted pieces, these architectural installations are poised in a precarious balancing act, both physically and metaphorically. Barclay's attention to material – fur, brass, oak, leather, steel – invests her pieces with an auratic quality that contributes to their overwhelming atmospheric tension. Oscillating between domestic utility and fetishistic totem, her pieces intimate a grand narrative, at once personal and universal, composed of ideal types built up through the recurring use of particular objects, materials and motifs
Glasgow-based artist Claire Barclay 's sculptural installations balance elements of function and dysfunction, chaos and order, in a precarious equilibrium. Her work pivots around the physical and psychological tensions set up between contrasting components, pitching the organic against the synthetic, the hard against the soft, openness against confinement.
Barclay's carefully composed environments comprise multiple elements which often respond directly to the specifics of a given space. They combine hand-crafted objects with those manufactured to her own specifications and more improvisatory elements constructed in situ. Objects are grouped and regrouped from one installation to the next; Barclay views each exhibition as a 'pause' in her ongoing project refining and adding to a growing vocabulary of forms.
These hybrid objects often suggest a particular function or allude to anthropomorphic or natural forms, yet remain elusive through their careful displacement. This sense of uncertainty is enhanced as the viewer navigates the installation; multiple references unfold gradually over time ensuring that meaning is perpetually evolving and mutating. Barclay uses this 'area of confusion' to investigate the complex, shifting and often contradictory relationships between people and their environments and the links between nature, culture and the commodified world.
Exploiting the physical properties of her chosen materials – leather, canvas, metal, rubber or fur, for example – to full effect, Barclay encourages us to engage with her work on a profoundly instinctual level. Invariably, an object's form and context within the installation combine to trigger a widening range of associations, veering from the domestic and utilitarian to the fetishistic.
The process of making lies at the core of Barclay's practice. By adopting methods associated with traditional crafts, such as weaving, wood turning and ceramics, she investigates how experience can be communicated through form, responding intuitively to materials and embracing elements of risk and experimentation. These traits are often evident in the finished work, which can be poised between making and unmaking; fraying wicker and dangling threads suggest that process is more important product.
Claire Barclay
Half Light 2004
Courtesy Doggerfisher, Edinburgh © Claire Barclay
Installation view
Aside from such formal concerns, Barclay's interest in craft stems from its affinity to both the functional and the decorative, and the position it now occupies in a culture of mass production. New Age paraphernalia has become a recurring motif in her work; dream catchers, crystals, and other objects that purport to hold mystic or spiritual properties but are now intensively-marketed commodities. Barclay is fascinated by the contradiction inherent in a profit-led industry producing facsimile 'craft' objects aspiring to non-commercial values, and our ability to buy into different lifestyles through their acquisition. Similarly, her interest in objects that convey our ambiguous relationship to nature has led her to reference the tools of hunting which, like craft, has become a fetishised and marketed hobby quite detached from its origins.
Through the juxtaposition of elements of shelter and protection with those of capture and entrapment, Barclay creates a seductive environment charged with an undertone of threat. Her installations operate as a sort of hallucinogenic reflection of the world around us, reliant on the literal and metaphorical references we bring to them while hovering just beyond our realm of experience. Barclay not only acknowledges the power of form and material to communicate on a visual level without recourse to language but also recognises that she is as seduced by as she is sceptical about the commodified world. This duality of emotion underpins her work and perhaps explains her ability to engage so convincingly with the associative properties of her materials. By exploring the slippage between one thing and another, Barclay reveals that meaning is always in motion and impossible to harness.
Daniele Tamagni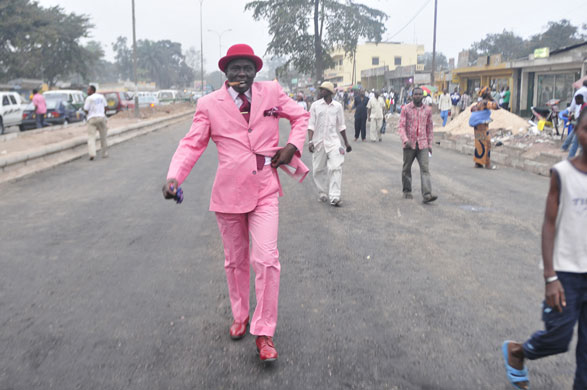 Daniele Tamagni is an Italian freelance photographer based in Milan and London. His background is in art history, only dedicating himself to photography in recent years.

In the last few years he has begun to document African communities worldwide, from Africa to Peckham, undertaking specific projects exploring culture, religion, music, fashion and art.

He says; "The aim was to find common threads between these themes in different contexts; positive forces that manage to capture fragments of life."
He was photographer for the exhibition- project Peckham Rising in 2007 organized with Paul Goodwin, the cross cultural curator at the Tate Britain
His most recent project is about the Sapeurs of Bacongo. This work won the first prize as best portfolio in the 'Young Photographers Canon Award 2007' and second prize at "Premio Ponchieli 2009".

His book Gentlemen of Bacongo was published with Trolley Books.Gentlemen of Bacongo also examines the strange merging of colonial and Congolese culture. Tamagni notes Sapeur Salvador Hassan "thinks that a real sapeur needs to be cultivated and speak fluently, but also have a solid moral ethic: that means beyond the appearance and vanity of smart, expensive clothing there is the moral nobility of the individual. The book captures the fascinating subculture of the Congo in which men (and a few women) dress in designer and handmade suits and other luxury items. The movement, called Le Sape, combines French styles from their colonial roots and the individual's (often flamboyant) style. Le Sapeurs, as they're called, from Brazzaville and Kinshasa in Republic of Congo and the Democratic Republic of Congo, wear pink suits and D&G belts while living in the slums of this coastal African region.
In interviews with some notable sapeurs, Tamagni unearths the complex and varied rules and standards of Le Sape, short for Société des Ambianceurs et des Personnes Élégantes, or the Society of Tastemakers and Elegant People. Sapeur Michel comments on the strange combination of poverty and fashion, "A Congolese sapeur is a happy man even if he does not eat, because wearing proper clothes feeds the soul and gives pleasure to the body."
The sapeurs engage the extremes between classes while injecting their individual perspectives into the conversation, establishing an identity within the larger social narrative they've helped construct. Tamagni's title comes from the Bakongo, an African tribe of people along the eastern shore of the continent. At just about seven-inches tall, the book's compact in size but the colors are bright, matching the outrê style of Le Sape. Tamagni outlines rules as they relate to color, as well as the proper styles of tie, the strong religious convictions and non-violent culture of Le Sape and myriad other facets of this phenomenon. Equally, the poverty and political instability of the Congo makes the profound admiration and respect for Parisian fashion all the more emphatic.
Tamagni's photographs capture the style, the "contradictions and paradoxes" and tight-knit social networks of the Sapeurs. He highlights the proper use of cigars—"even if you don't smoke you need to light it"—the strict use of color (only three colors may be combined in an outfit), and the deep spiritual and moral roots of Le Sape. "When the sapeur expresses himself through the harmony of his clothes, he is returning his admiration to God."
His photographic work has been published in English magazines (the Guardian Weekend, the Daily Telegraph, Daily Terror, Royal Photographic Journal, F2, Arise) and international magazines (De Morgen magazine, Australian weekend, Epsilon, La Repubblica Velvet and many others) He is regularly published in the Italian bi-mohtly magazine Africa.

Doug Ischar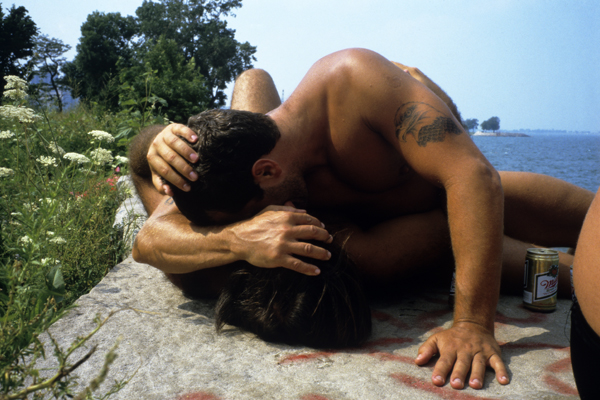 From the Marginl Waters Series
Chicago artist Doug Ischar received an MFA from Cal Arts in 1987. Since 1990, he has taught in the Photography Department of The University of Illinois at Chicago, where he is presently Associate Professor. His multimedia installations have been exhibited internationally in Sweden, Brazil, the UK, and throughout the United States and Canada. Since 2007, Ischar has been producing short videos around issues of cross-generational male intimacy and psychological/social loss. Recently, he has been re-exploring and exhibiting his documentary photographic work from the 1980s, which focuses on Chicago's historic Belmont Rocks gay beach and the San FranciscoSM leather scene at the height of the AIDS crisis. Among his noted series are "Marginal Waters" and "Honor Among…".
Writing about the works Lauren Vallone states:
The titles of the images are sterile and indexical, simply numbered. MW 19 (1985), the first piece I confronted, is a portrait of a scattered group of men, sunning on the rocks by the water. Two men are standing close, just of the verge between friendship close and intimately close, and there are men stretched out sunning on towels. Besides the incredibly dense colors, there is something about all of the photographs that is so captivating; the latent sexual desire rubbing up against the innocence of an afternoon in the sun. The subtle hand on the thigh, the peak of underwear beneath impossibly short shorts, the glint of a nipple ring, or connection between two bodies that speaks to the audacity of a normally closeted culture behaving freely in a public arena, almost like Sunday In the Park on poppers.
The dual landscape of bodies and the rocks was elegantly captured in MW 22 (1985), a portrait of two men embracing on the ground. The curve of the shoulder, knee, seem to act as an extension of the terrain. Also in this image is a lone can of Miller High Life, just one of the many cultural artifacts that look planted in the compositions. Other images include a Diane Arbus book, a Vanity Fair, walkmans (walkmen?), and many ten speed bicycles. There is a subtle illicit implication to the images, an innuendo of illegality.
This feeling of "getting away with something", as opposed to just being or doing is represented extremely well in the one video piece in the show, Forget Him (2009). This single channel video is extremely compelling and layered. Silent footage found by the artist in a Chicago area flea market in 1990, originally shot in the 1960s, is kept in its entirety with only the playback speeds altered. Ishcar adds captions of Walter Benjamin's One Way Street, as well as a beautiful section from Heirich Schultz's Symphoniae Sacrae (1629) . This video serves as a present day reflection on the project from the 80s. It begins with footage of a backyard flower garden, has spaces of blank footage with dust and scratches, and then segments of two men at the rocks. The men are changing, one taking off his pants and donning a jock strap, the other removing his fishnet shirt and khakis and dressing in the tightest shorts you have ever seen, struggling to zip them up. The whole time they are looking around, and the gaze of the camera catches passersby in the distance. This seems like a getting ready ritual that would contemporarily be done in the home, to get ready for a club, but takes place in the open space of the Belmont Rocks. The word from the text, "lovesick, sick, sick", echo on the screen, seeming to allude to the previously believed "illness" of homosexuality, as well as the consciousness of the AIDS epidemic. (1)
1. Lauren, Vallone. "Doug Ischar's Marginal Waters @ Golden." Bad At Sports. N.p., 18 Sept. 2009. Web. 11 Jan. 2012. <http://badatsports.com/2009/doug-ischars-marginal-waters-golden/>.
Jason Moran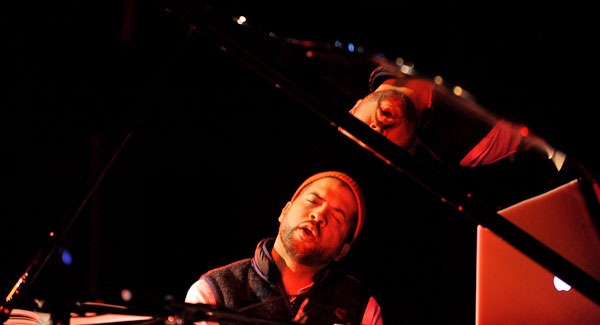 photo credit @ Los Angeles Times, 2011
From an artistry standpoint, there's a very short list of pianists who approach Moran's level in today's jazz. In just over a one-hour performance, Moran delivered what at times felt like a symposium on American music, but slowly transformed into an intimate glimpse at the musical gears turning in his head. he was recently named the Kennedy Center's artistic advisor for jazz in a wonderfully inventive choice.
Jason Moran is a pianist, composer, and bandleader who mines a variety of musical styles to create adventurous, genre-crossing jazz performances. Moran's signature corpus marries established classical, blues, and jazz techniques with the musical influences of his generation, including funk, hip-hop, and rock. On his solo piano album, Modernistic (2002), he explores the evolution of twentieth-century rhythmic techniques through his virtuosic execution of two-handed "stride" piano—a style used extensively by jazz artists in the 1920s—while Same Mother (2005) is a re-examination of the emotional and stylistic elements of the blues tradition. In original compositions for his ensemble, The Bandwagon, Moran uses the human voice as a starting point for melodic structure, translating speech patterns into a musical language through which the listener can reflect on the underlying connections between speech and music. More recently, Moran has collaborated with visual and performing artists and incorporated new technology in imaginative multimedia performances. His 2008 homage to Thelonious Monk, In My Mind: Monk at Town Hall, 1959, weaves together crafted and found audio and visual archival material and a reharmonization of the original big band arrangements, illustrating both Monk's contribution to the history of jazz as well as the enduring power of the musical form. Through reinterpretation of jazz standards and new compositions of his own, Moran is expanding the boundaries of jazz expression and playing a dynamic role in its evolution in the twenty-first century.
Jason Moran received a B.M. (1997) from the Manhattan School of Music. His additional recordings as a leader include Soundtrack to Human Motion (1999), The Bandwagon: Live at the Village Vanguard (2003), Artist in Residence (2006), and TEN (2010), among others. He joined the faculty of the New England Conservatory in 2010.
"jazz in the afternoon and on a high floor..." - Jason Moran
JASON MORAN LIVE @ Tribes, NYC
Latifa Echkhch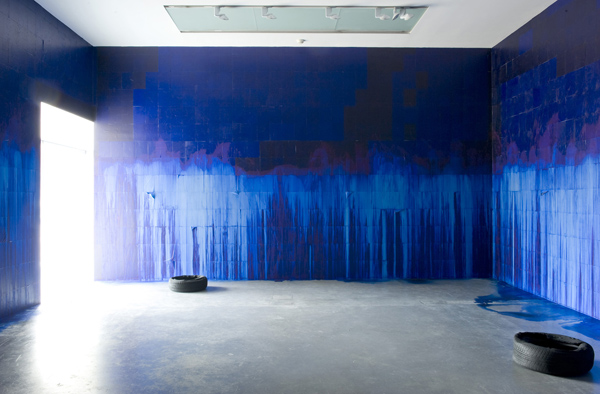 Latifa Echakhch, Speakers Corner 2008 © The artist, installation at Tate. Photo: Tate Photograph
Latifa Echakhch was born in 1974 in El Khnansa, Morocco. She lives and works in Paris and Martigny, Switzerland. Echakhch was born in Morocco, but her parents immigrated to France when she was a child. She has made a number of works incorporating materials such as tea glasses, carpets or couscous that provide her with a way of reflecting on her Moroccan heritage although, as she points out, they were never part of her everyday life in Paris. 'They are as strange to me as any Westerner', she has said. 'I just show what I do with them. I can identify them as part of my own culture and, at the same time, they are completely alien to me. There are no tea glasses in my home.' She has also engaged with the form filling and complex bureaucratic language that define the status of an immigrant in the West. Hospitality 2006, for example, consists of the text 'Espace a remplir par l'etranger' (Space to be filled out by the foreigner), which appears at the top of the application for a French residency permit. Removed from their original context and carved into the gallery wall, these words become a reflection on Echakhch's own practice.
Latifa Echakhch has lived in Switzerland, for the past two years. At the heart of this presentation of both new and existing work was the artist's transformation of the symbols of her cultural heritage into still lifes, freeze-framed so as to seem either obsolete or already dead. Unlike some contemporary artists with an immigrant background, Echakhch distances herself in much of her work from these symbols; she left Morocco at the age of three, does not speak Arabic, has no memories of the country of her birth and is informed more by her upbringing in France. She is more interested in deconstructing cultural stereotypes that have repeatedly confronted her and reinvesting them with new meaning.
Echakhch has a talent for distilling the political and the personal via clearly recognizable objects and materials. This is taken up in installations such as Untitled (Gunpowder) (2008), a grainy black border that was made by hurling gunpowder tea (a form of Chinese green tea in which each leaf is rolled into a small round pellet) at a wall. A reference to both the popularity of tea in Morocco and to a battlefield, as well as a nod to Minimalism, the work establishes the artist's ability to create multilayered gestures that are both subtle and precise. This was enhanced by the rhythm of the exhibition, whereby works from the same series were repeated over two floors, suggesting that they are part of a much larger whole. 'Untitled I – V' (2010), for example, comprises a group of large canvases applied with uneven rows of either white or black carbon paper. Minimal, monochromatic and process-based, the works pay homage to the humble and nearly obsolete material that enabled revolutionary texts in France and other countries to be mass distributed in the 1960s and '70s.
Just as the carbon paper is empty of any text, so the drums that feature in the four versions of Untitled (Drummer) [a, b, c, d] (2010) are silenced and the clothes scattered around them on each plinth apparently abandoned. Echakhch represents marching-band drummers not with statues of figures or even with the uniforms of traditional bands, but rather by piling civilian clothes on plinths, thereby replacing possible associations with military or political activity with individual portraits.
This quietly restrained analysis of objects and processes avoids nostalgia but is imbued with the melancholy of absence. A white linen cloth conceals the objects on an occasional table while, in Vanités (Vanities, 2007), the traditional Moroccan poufs placed on the upper floor are on closer inspection no more than empty black plastic bags. The plastic is echoed in a series of five small photographs, each entitled Still Life (Vanités) (2010), taken in an abandoned graveyard near the place of her birth in Casablanca and close to her father's grave. Even in the context of this highly personal work, Echakhch's observation is discreet. Reflecting the title of the related 2010 video, Raouda, the little garden ('raouda' meaning both graveyard and garden in Arabic), she focuses primarily on the rubbish caught on the scrub and tiny snails clustered on leaves. Both the photographs and the video avoid any direct reference to the cemetery, tracing a path across the dried grass, thistles and mossy stones of the apparent wasteland. Only one of the images shows what gradually appears to be a non-descript tombstone on which is inscribed a name in Arabic and, adhering to Moroccan tradition, just one date, that of the person's death. (1)
(1) Felicity Lunn, Freize Magazine, Issue 136 January- February, 2011
Leonie Purchas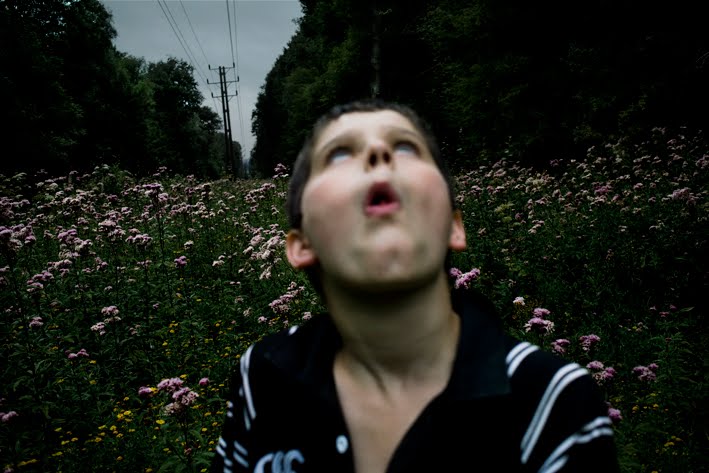 From The Series In The Shadow of Things
Leonie Purchas, born in 1978, is British. After taking honours in the History of Art she worked as a full-time assistant to the photojournalist Tom Stoddard. She has won numerous awards including the Ian Parry Sunday Times Young Photographer, the Jerwood Photography Prize, the Arts Foundation fellowship, the F Photography Award and most recently the 2009 Paul Huf Award. She has had solo shows at the Rome Photography Festival. She organizes photography workshops from her studio in London with Still/Moving. Her work has been featured in The Sunday Times Magazine, The Saturday Telegraph Magazine, Portfolio Magazine and Newsweek. In the Shadow of Things explores the emotional terrain of Purchas' own family. For over two years she has been helping her mother confront her depression and Obsessive Compulsive Disorder, working with her to clear the piles of clothes, boxes and bags which filled much of the house. In exchange, her mother Bron, step-father David and brother Jake agreed to let her photograph whatever she deemed important, with the understanding that the images might eventually be displayed in public. She has photographed the whole turbulent ongoing journey, creating a moving visual diary that conveys both the oppressive weight of her mother's low days and the laughter and love which Purchas hopes will ultimately prevail.
In the Shadow of Things is an exhibition by Leonie Purchas(1978, UK), the winner of the 2009 KLM Paul Huf Award. This prize for young international photographers is organized annually by Foam and includes an exhibition at the museum.

Since graduating, Purchas has focused on the complex relationships within families in different parts of the world. She tries to portray the contact between individuals and their family in the complex interplay of 'nature' and 'nurture'. Fascinated by 'unusual' or 'dysfunctional' families, Purchas has made several series in recent years entitled In the Family. The more she observed these families, the more she began to distrust the notion of an ideal family. She uses photography to refute the myth of the perfect family.

For In the Shadow of Things, Purchas finally turned her attention to her own family. Here she portrays the isolated life of her mother, Bron, her partner David and their young son Jake. The family lives in a remote house surrounded by woods and fields. Bron has been plagued by depression for years and suffers from obessive -compulsive disorder (OCD). This condition is characterised by a preoccupation with particular thoughts or actions that may conflict with normal behaviour, or interfere with a person's social interaction and relationships. For example, boxes still remain unpacked since the family moved house ten years ago, and piles of things litter the home. Bron, her mother, is a proud woman. She finds her domestic situation embarrassing and lets almost no one into her life and her house.

The photos form a highly personal and emotional record of life in the Purchas household, in which both the photographer and the other members of the family show their vulnerability. By exposing this vulnerability she breaks through the distance that often separates photographer and subject. The camera shields and at the same time opens up a world that is entirely familiar yet nevertheless reveals itself anew. The exhibition l consist of projections, photographs and sound and film recordings from Purchas' family archive.

MATTHEW RICH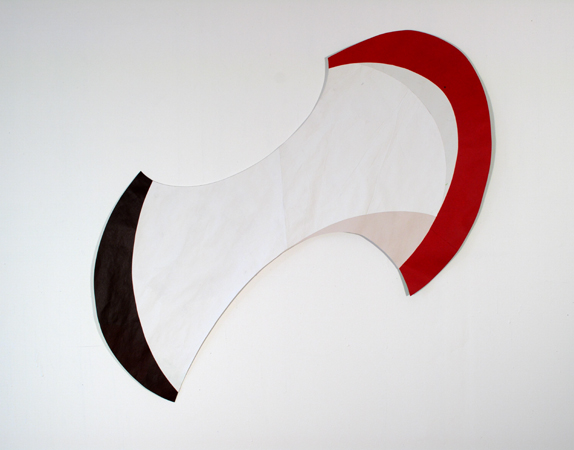 Matthew Rich, Double Arc, latex paint on cut paper, 45" x 42", 2009
Boston-based artist Matthew Rich's large-scale paintings on paper present a range of enticing contradictions. A few examples: Rich uses an X-acto type blade to cut lines that aren't always super-straight, he hangs his unframed paintings directly on the wall so that their interaction with light, air, and passer-by movement emphasizes their sculptural qualities, and he uses latex paint to create planes of color so flat and even that, when seen from a distance, you might initially assume he's cutting and collaging pieces of colored paper rather than painting them himself. Rich's works appear crisply delineated. They look like whirligig motion machines that tweak their hard-edged forbears with torqued forms that are almost but not quite rectilinear and sometimes downright curvaceous. Titles like Tilt, Double Arc, Turbine, Rocker and Zig-Zag only heighten their playfully carnivalesque attractions.
Up close, however, things get more complicated. A lot of Rich's paintings look like they've been manhandled a bit—they're smudged and soiled and intentionally creased (the result of how they're packed for shipment), and one even has a partial footprint on it. Sections of what appear from afar to be uniform color reveal inconsistencies in density and tone. Rich has also used iridescent paint in certain sections to activate additional layers of depth, movement and reflection.
here's a flipside to these paintings that is, well, the flip side to these paintings. Rich has painted both sides of the paper using different colors. Working from preparatory drawings, he cuts from layered sheets of paper so that the pieces will lock back together again seamlessly, in this manner carefully assembling his paintings a section at a time. After he's finished, Rich turns the whole thing over and exhibits the unseen, or "blind" side; in other words, the section that remained invisible to him while working becomes the public side of the artwork. The side he created with such meticulous attention must now keep its face to the wall; the rhythm of chance wins out over what were once, presumably, carefully considered chromatic relationships.
Once Rich's paintings are hung, however, hints of their hidden selves inevitably peek around. The ever-so-subtle curl of a paper's edge, or a slight pulling away from the wall here or there, casts almost imperceptible shadows of colored light against the white wall behind it. This exquisite little detail is all the more entrancing for how easy it is to miss. It's yet another contradiction that these paintings pose, one that arises when bold, large-scale works such as these are apprehended with sweeping glances. I also think it's a contradiction that's nestled in the very different assumptions we sometimes bring to the act of looking at a painting vs. a drawing or a work on paper, especially when it comes to issues of scale. The cliche is that drawings require more intimate and "up close" scrutiny because they're smaller and somehow more personal, while paintings of a larger scale ask you to stand back and take them all in. Rich's paintings ask us to look both ways in order to maintain a wider field of view.
Goran Paskaljevic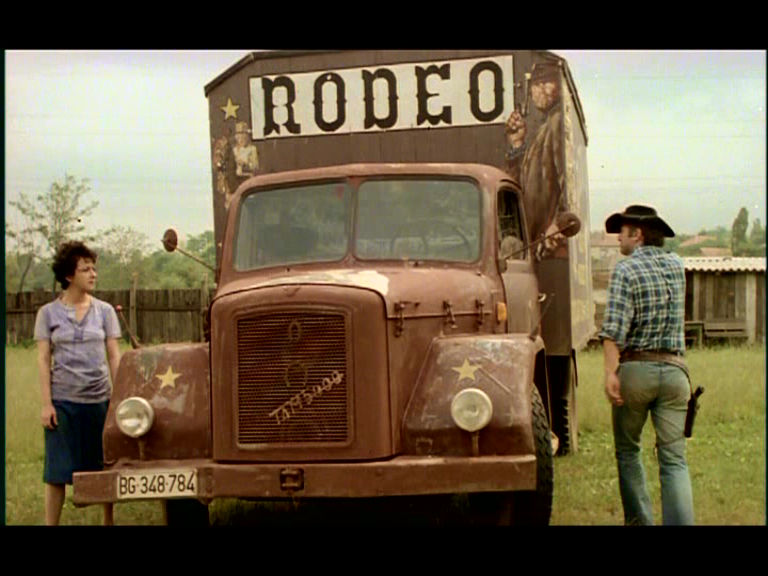 Pas Koji Je Voleo Vozove (The Dog Who Loved Trains) 1977. Yugoslavia. Goran Paskaljevic. 89 min.
Goran Paskaljevic(b. 1947, Belgrade), spent much of his adolescence at the Belgrade Cinematheque, which his stepfather founded. At age twenty he studied cinema at FAMU, Prague's celebrated film academy, during the brief, heady period of liberalization in Czechoslovakia. After the Soviet invasion Paskaljevic returned to Yugoslavia, where he made short films and documentaries for television. His first feature, Beach Guard in Wintertime (1976), garnered international critical acclaim. By the time he completed The Powder Keg/Cabaret Balkan, twenty-two years and nine feature films later, he had become one of Eastern Europe's leading filmmakers. As an outspoken opponent of Slobadan Milosevic , he was also a marked man whose life would have been in danger if he had remained in Serbia. In 2001, while in exile, Paskaljevic completed a film in Ireland, entitled How Harry Became a Tree. A few years later he returned to Belgrade to make his two most recent features, Midwinter Night's Dream (2004) and The Optimists (2006).

Though Paskaljevic's films are narrative-based, they are driven by restless, idiosyncratic, and all-too-human characters, and often veer off in surprising and fanciful directions. Paskaljevic finds the extraordinary in the reality of the everyday, and his realism, informed by the political transformations he has witnessed, is inflected with irony. He has written, "The beauty of film for me is its closeness to life. And if it is going to reflect life faithfully, it has to draw on metaphor, just like poetry."
Serbian director Goran Paskaljevic amassed a reliably stirring and eclectic body of work since he started making films in the early seventies. Employing a terse, understated directorial style, Paskaljevic's liberally-plotted films tend to be fuelled by their probing humanist integrity and they frequently explore how marginalised people (the elderly, the young, gypsies, immigrants, the mentally disabled, even a mute, Jesus-like miracle worker) are accepted (or aren't, in most cases) by 'normal' society. Paskaljevic's interest lies in political and historical machinations.

Having worked for roughly half a decade for a Belgrade television network, he made his feature debut in 1974 with 'Beach Guard in Wintertime', an ambling, bittersweet tale of how a youthful love affair is finally scuppered by the negative influence of parental expectation and a weak job market. Rejecting a strong narrative line in favour of accruing a succession of integral 'moments' to flesh out story and character, it's an unconventional method that Paskaljevic constantly returns to and hones throughout his career, and it often imbues his films with a satisfying, slow-burning charm.

The Dog Who Loved Trains (1977) transplants this free flowing style to a very different situation, detailing the fractious relationship between a female escaped convict, a travelling Serbian rodeo daredevil and a motorcycling nebbish who's searching for his lost mutt. The tone of the movie is initially comic, as the convict is nonplussed by the stuntman's affected machismo (including his ability to wrestle with a donkey), but as the realisation that pressing self-interests will soon damage the party dynamic, events begin to turn much darker.

Paskaljevic's third film –These Earthly Days Keep Rolling By (1979) – is also his greatest, a profoundly empathetic, unpretentious and droll account of a how a swarthy, Hemingway-like sailor upends the droning routines of anursing home when he checks himself in. Though his subtle interactions with the other residents – including his cantankerous roommate who obviously harbours resentment towards his family for putting him out to seed – the sailor gently whisks up an atmosphere of hope and happiness and allows the movie to deliver it's beautifully simple message: that life should be savoured until the bitter end.

On to the eighties, and Paskaljevic created 'Special Treatment' (1980), but also made a shift into more pronounced allegorical climes. The movie offers a harsh dismantling of totalitarianism as it follows the patients at a clinic for alcoholics as they forcibly embark on a small theatrical tour as a form of therapy. 1987 brought 'Guardian Angel', a provocative study of Roma gypsies and their habitual practice of selling children as slaves. It's made with Paskaljevic's usual attention to fine detail, but the representation of the gypsy community as an enclave of morally bankrupt savages makes it feel more like propaganda than a piece of objective filmmaking.1989's 'The Time of Miracles' sees the director working on a much larger canvas than usual, but sadly this grand period satire set in a small Serb village at the beginning of Tito's premiereship about the realities of communism and the need for spiritual faith doesn't allow the director to get particularly close to any of his subjects or ideas.

Tango Argentino'(1992) is a lovely, tranquil comedy about a small boy helping out his argumentative parents by caring for – and in turn empowering – a number of elderly local residents. Despite a few delightful moments, 'Someone Else's America' (1995) feels like his only outright misfire, a lumbering, melodramatic look at Brooklyn's immigrant underclass that features Tom Conti doing a Spanish accent not entirely dissimilar from Manuel out of 'Fawlty Towers'.

Iin 1997 with 'Cabaret Balkan', is an riotous, criss-crossing tale that charts a single night of passion and pain in the Serbian capital and works well as the mischievous Eastern European takeon film noire . 'A Midwinter Night's Dream' (2004) marks a return to the muted, elegiac tales of his early career, as Lazar Ritovski discovers a Bosnian refugee and her autistic daughter squatting in his home when he returns from a ten-year stretch behind bars. Instead of turfing them out, he becomes obsessed with 'curing' the autistic girl and develops a poignant bond with her in the process. 2006's impressive (and severely pessimistic) compendium of shorts on the theme of unchecked optimism – 'The Optimists' – sees Paskaljevic taking a leaf out of Voltaire's 'Candide' and asking, is this really the best of all possible worlds?

Susan Philipsz
Susan Philipzs "Lowlands" sound installation under the George V bridge by the River Clyde in Glasgow
Philipsz, 45, is the first person in the history of the Turner Prize to win the award to have created nothing you can see or touch. Instead, she sculpted her prizewinning work in sound – indeed from the sound of her own voice, singing a Scottish lament over the river Clyde in her hometown, Glasgow.
Philipsz' art works, which frequently consist of nothing more than an empty gallery and a recording of the artist herself singing, rely heavily on such intricate histories. Take the traditional Irish ballad 'The Lass of Aughrim', for instance, which the artist appropriated for her installation The Dead (2000). The song, which describes the seduction, rejection and death of a young girl, plays a pivotal role in James Joyce's short story 'The Dead' (1914), reminding Gretta Conroy of the tragic death of her childhood sweetheart. It was later used in John Huston's film of Joyce's story, released in 1987, shortly after the director's own death, and more recently in Pat Murphy's biopic Nora (2000), where it is performed byEwan McGregor , who plays Joyce. It would probably only complicate matters to mention that the title of the ballad also refers to the site of the bloodiest battle ever fought on Irish soil.
So the song, while functioning as a memorial to something lost, is nevertheless very much alive, a half-full vessel that is topped up each time it is reframed by new contexts and references. It provides a temporal paradox that is central to Philipsz' work: that which is past, or absent, used as a device to return the viewer to the present. In The Dead the artist sings 'The Lass of Aughrim' a cappella, as she does most of the cover versions that feature in her sound installations. The listener, sitting in a darkened auditorium, becomes hyper-sensitized to the sound of the artist's breath and the occasional snatch of noise from beyond the studio. Her voice is unpolished but not off-key; she does not seem to be performing the song so much as reciting it to herself. This sense of interiority, of a refusal of the normal relationship between the audience and the performer, is awakened further when the spectator notices flecks of white appearing on the auditorium's screen. A 35mm projector is in fact playing pure black film, which as time passes and the film deteriorates, is populated by an increasing number of white marks. A reference to the blanket of snow that falls 'all over Ireland' at the end of Huston's film, this device is also Philipsz' analogy for the relationship between entropy and growth, the ongoing moment in which the obliteration of the past meets the emergence of the future.
For the exhibition 'Stay with Me' at Malmö Konsthall in 2005 Philipsz recorded herself singing three songs that are in different ways pleas for the past to persist into the future and, as the show's title suggests, for the listener not to abandon the singer. 'Watch with Me' (1972) by Joe Wise, 'Nothing Lasts Forever' (1997) by Echo and the Bunnymen and 'Pyramid Song' (2001) by Radiohead are themselves all fragments from the recent history of popular culture, but in Philipsz' voice they take root in the here and now. The emptiness of the white spaces in which they are heard produces in the viewer an increased awareness of their surroundings. When Philipsz uses objects such as organ pipes or the rims of glasses to make sounds, the architecture itself seems to breathe, and its emptiness becomes as full of potential as it is devoid of the past.
Often Philipsz installs her work in unexpected corners of the public realm: under a bridge during 2007's Sculpture Projects Muenster; in the Shrine of the Nymphs near the base of Athens' Acropolis for the 2006 exhibition 'The Grand Promenade'; in a hillside shelter for the forthcoming Folkestone Triennial; or piped through the speakers of a Tesco supermarket to unsuspecting shoppers. With Follow Me (2006) she has haunted cemeteries in Berlin and Santiago de Compostela with an overlaid and repeating recording of the Yardbirds' 1966 psychedelic hit 'Happenings Ten Years Time Ago'. Despite each work's specific and elaborate points of reference and the reliance on the communal pool of familiarity on which the songs draw, the experience of the listener is deeply solitary. It is nothing like the confident singalong of the crowd at a popular band's concert and everything like the overheard noise of a radio from a next-door flat. This allows Philipsz to handle overtly political subject matter with a delicacy that would otherwise be nearly impossible to achieve. In The Internationale (1999), which she has sited in various locations, including an underpass in Ljubljana and an abandoned turbine hall for the Biennale of Sydney, she performs the left-wing anthem as something like a lullaby or an elegy, which emanates from overlooked spaces like a scent on the breeze. It is said that sound never truly disappears; its energy just dissipates into a continuous and inaudible hum in the world around it. (1)
1. Jonathan Griffin, Frieze Magazine, Issue 116, June- Aug, 2008
The Demos
The Demos - Nervous from "Lovely"
The Demos are a Rochester, N.Y. based indie rock group composed of two born and bred natives, Jason Milton and Callan Saunders.
The Demos have a classic acoustic/clean electric, happy-go-lucky attitude about them. The two-piece hails from Rochester, NY, where it appears as though the weather must be pretty darn nice this time of year, unless, of course it's raining on a Sunday. Reason being, this album encompasses many feel-good flavors, worthy of or inspired by sunshine. The one that stands out most me is like a combination of the Beach Boys, early Beatles, Spoon, and a touch of that post-punk, post-grunge kind of Strokes vibe.
The interesting progressions and parts shift in a quick, albeit spot-on manner. Certain tracks only last around two minutes, which gives the impression of a whole bunch of little movements, making up one solid album; an easy one to listen through in its entirety many times. AC Newman has always had this sort of overall effect on me, and it's one of which I am a big fan. All of the instruments play roles of varying texture and make a very full, higher-quality version of the lo-fi indie rock sound.
The vocal harmonies throughout just add that little pinch of extra fun to the album. It all creates within me the exact same kind of energy I want to feel when hitting the freeway on the front end of a lengthy road trip. It's very much the kind of sound that leaves you wanting more and awaiting the unknown. I eagerly anticipate more from The Demos. As always, the less we know, the more we can imagine.
-Kyle Patrick- http://www.groopease.com
Campbell X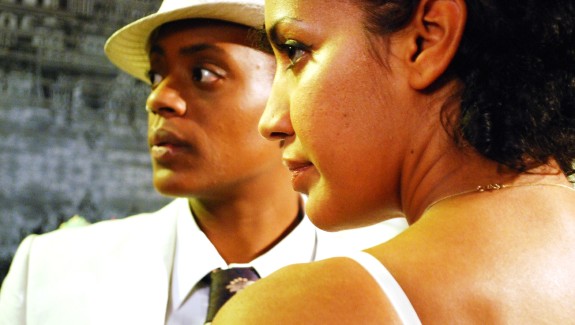 Still from Stud Life, 2011
Artist filmmaker and collaborator Campbell X is one of those badass queers I wish populated the world more frequently. The force behind BlackmanVision production company in the UK. BlackmanVision produces award-winning experimental film projects which fuse fiction and documentary genres. BlackmanVision uses films to remember and re-vision what has been forgotten. They bring to the screen, stories that are still untold and turn the spotlight on people who are often kept in the shadows.
BlackmanVision welcomes collaboration with like-minded artists for film projects.
The work of BlackmanVision has been shown in The Tate Britain, Arnolfini Gallery, Outfest, Berlin Film Festival, London Lesbian and Gay Film Festival and other international film festivals.
Campbelx X has created a number of award winning film projects, blending fiction and documentary into her own successful brand of storytelling. Her films give voice to such niche communities as black women who participate in the dancehall music scene despite its misogynistic overtones, as in Ragga Gyal D'Bout!, or create a portrait of black lesbian love during the Harlem Renaissance as in BD Women.
Campbell X constantly pushes boundaries in visual aesthetics and content in moving image. She started out in making films for UK television and titles include Ragga Gyal D'Bout! about female fans of Ragga Music, the award-winning BD Women about Black lesbian stories, and Legacy about the psychological effect of Transatlantic slavery on family relationships.
Campbell also collaborates with other filmmakers and has been the sound person for Cheryl Dunye's The OWLS and camera person for Jules Nurrish's Bendt It,, Lisa Gornick'sDo I love You? andTick Tock Lullabyas well as Paloma Etienne's Notebooks and Unladylike Thoughts.
When talking about the particular aesthetic of her films, Campbell understands the effect her perspective can have. "My films challenge minority communities out of their comfort zone," she says. "Usually people get angry with me when they see my work or they cry. I always try to give visual pleasure through the use of colour and I steal from fashion, pop promos and old movies. I try to create a Black queer aesthetic which means I reject the white LGBT way of looking at Black LGBT culture in particular and Black culture in general. And that is a challenge because I am going against the grain in many ways."
Her first narrative feature, Stud Life, which pays homage to the relationships between lesbians and gay men.Her unique view of race and gender populates all of her work, and Stud Life is no different. The film's logo — a stiletto high heel paired with high top sneaker — features the tag line "Who did you wake up with today? Your lover or your best friend?" Campbell explains her desire to illustrate the otherwise absent representation of lesbians and gay men as friends: "LGBT films tend to be mono-sexual … Boys with boys, girls with girls. It is not real life. Well, not my life anyway. I live and love in a mixed world of gender and race ... Stud Life stars a dark-skinned stud and her white gay boyfriend who is comfortable with raw urban Black culture. These are two types of people one never sees in LGBT movies."
Olivier Zabat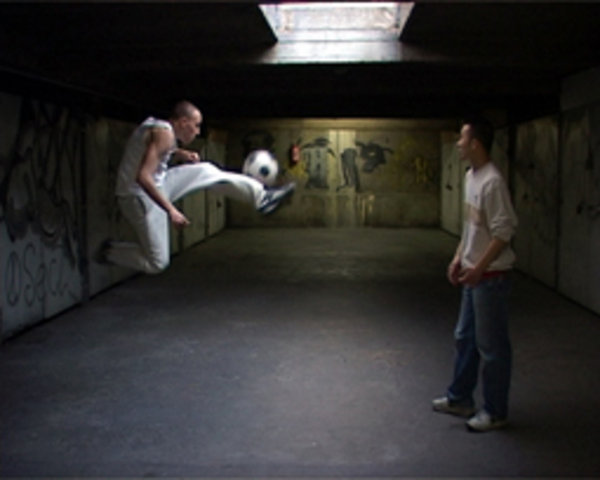 Olivier Zabat, 'Ne me touche pas', 2008. Courtesy of the Artist
Born in Grenoble, France, 1965,Photographer and film maker, Olivier Zabat's work is particularly recognized for his experimental, conceptual and sociological edge. His documentaries are skillfully positioned on the interfaces of global problems and personal destinies. Olivier Zabat's documentaries are skillfully positioned on the interfaces of global problems and personal destinies. They tend to consist of several "search modules", juxtaposed like autonomous short films, each with their own title.
Olivier Zabat studied Fine Arts at the Academy of Grenoble. He made films as Zona Oeste (1997 – 1999), Miguel et les mines (2002), 1/3 des yeux (2004) and Yves (2007). Since 2006 he teaches Film and Video at l'Ecole des Beaux-Arts de Lyon where he is also head of the department of Digital Media. He lives and works in Paris, France.
In his work, FADING ,a homeless Pole stages a dialogue with his own image, which he gazes on via his mobile phone, deforming his scarred and tattooed face. In the isolation of his ritualised drug addiction, he wanders and blends with his pixelised universe, deaf to the world around him. Every night two young fire officers effect a long patrol through a hospital, walking through the labyrinth of underground corridors and basements full of strange sounds. The danger, pain and death they brush up against everyday assault their blossoming maturity. They combat their fright in brotherhood, in sharing their anger and grief and through imaginary representations and a quest for meaning. These two interlocking stories at the margins of social spaces and the dusk of time, explore truth and illusion, freedom of choice, understanding of the outside.
Zabat relies on his own motivation, and as he searches he lets himself be guided from one story to the next by cross-references. "La femme est sentimentale" manifests his interest in the stark contrast between the Brazilians' fascination with the body and violence in Brazilian society. His journey took him to the favelas first, then to the beach.. This documentary, which, at first sight, appears quite poetic, recounts horrific acts of violence perpetrated by men against young women in a seemingly casual narrative.
Zabat represents a young generation of artists that are challenging the stereotypical form of documentary films, these artists' critical vision is played out through the observation of existing communities or through more direct interventions into current international political issues.
ANGEL OTERO
Born in Puerto Rico, Otero earned both his BFA and MFA from The School of The Art Institut of Chicago. In his previous work, the 29-year-old artist created figurative and highly personal paintings and sculptures, often using tropes from the Spanish Baroque style. Otero's forward-looking new work—the central focus of his show at Lehmann Maupin—tests the limits of painting as a process and presents paint as an object.
It's to reference the history of painting. What can you do with paint? For me it's very important because I'm a painting history freak. I grew up learning about the New York School of painting and artists like Pollock and de Kooning. (1)
Angel Otero is quickly becoming well known for his textured canvases that weave between abstraction and representation taking their subject matter from an ongoing personal and often autobiographical narrative from his childhood in Puerto Rico. Memories, particularly those from his grandmother, parallel what he is now embracing in contemporary art.

Otero's paintings and sculptural assemblages also engage directly with a process-based art making. His works are extremely intuitive and often address the idea of failure and the push/pull of painting an inventive space that also relates directly to his own personal history. Structures attempt to balance the slippage between subject and object. Layers of silicone become fluid doilies floating on table tops and thick shapes of dried oil paint are glued into simple patterns recalled from memory.

The work doesn't operate as a presentation but rather as a self-generating proposition with which to construct, deconstruct, and reconstruct meaning over and over again. Unusual materials and aesthetic extravagance have been inspiring his recent work. Scale is expanding to comment of monumentality, surrounding the viewer and transforming the work to become physically accessible and present. His explorations of personal symbology as well as abstract expressionism that brings to mind painters that continue to influence his work such asPhilip Guston, Willem de Kooning, Georg Baselitz, and Joan Mitchell.
Some of the pieces have stronger imagery than others, not because I wanted them like that. It's because the process kind of breaks down a lot of imagery. When the whole sheet is scraped out, it's a full sheet of paint. And when we're ready, the canvas goes on the floor with a thick layer of specific resin, and very slowly I let the paint just fall. And that's when the wrinkling starts happening.

It was a happy accident, at first. I could do it flat if I wanted. The wrinkling plays such a strong illusion. A giant blob of wrinkling that steps a little bit forward from the imagery, and I think it's really cool. It's a nice fight. These things just happen through me working. (2)

1.Moore, Madison. "New Skin: Q+A With Angel Otero." Art In America. N.p., 7 Mar. 2011. Web. 12 Jan. 2012. <http://www.artinamericamagazine.com/news-opinion/conversations/2011-03-07/angel-otero-lehmann-maupin/>.
2."ibid"
William Yang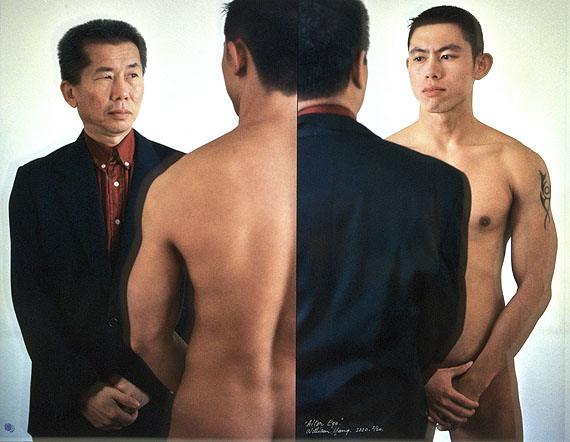 Alter Ego, Bondi, 2000 , Courtesy of Stills Gallery, Sydney, Australia
William Yang is one of Australia's greatest storytellers. The fact that his stories are image based makes them all the more powerful and unique. He is a fine and prolific photographer as well as a renowned theatre performer. His very personal stories describe the experience of being Chinese in an Australia that was not always hospitable to people of different appearances or of a different sexual persuasion. He says his mother wanted desperately to fit in, wanting her children to be more Australian than Australians. As a result Yang claimed his Chinese heritage and celebrated Sydney's gay culture of which he was part.
Old New Borrowed Blue (Stills, 2011) presented many of Yang's rich and celebratory images of the gay community in Australia's most international city from the seventies to the present. They reveal a world of personal and sexual expression. Many are black and white documentary images of cultural events such as Mardi Gras and the Sleaze Ball. Others are colour portraits of men Yang has photographed in a mutually enjoyed performance for his lens. "Photographing attractive men," he says, "is one of the guilty pleasures of my old age, though they generally only like me for my camera."
Yang is also a fine landscape photographer, something less known than his association with portraiture and documentation of people and their activities. Yang won second prize in the recent Plein Air Parliamentary Prize with an exquisite colour landscape of the burnt country in the Blue Mountains. He has always been interested in a sense of place and the beauty of the natural world.
A centrepiece to the recent exhibition was a new series of self-portraits covering the span of Yang's life. Shown in a smaller selection at Gallery of Modern Art, Brisbane as part of The China Project these delightful images tell us more than we already know about the nature of Yang's bold journey embracing his identity as an Australian citizen and a contemplation of life's milestones. All these works have a written commentary, which has become a hallmark of Yang's later works. The tone is always gently wry with a delightful mix of humour and seriousness.
Born William Young in North Queensland in 1943, he changed his name to William Yang in 1983. His grandparents migrated from China to Northern Australia in the 1880's. He worked as a playwright from 1969 to 1974, and since then as a freelance photographer. His first solo exhibition in 1977, Sydneyphiles, caused a sensation because of its frank depiction of the Sydney party scene. Later these photographs became part of a larger exhibition, Sydney Diary, in 1984 published as a book of the same title. In the mid-eighties, William Yang began to explore his Chinese heritage which had hitherto been lost to him by his complete assimilation into the Australian way of life. His photographic themes expanded to include landscapes and the Chinese in Australia. During this period he made visits to China.
William Yang integrated his skills as a writer and a visual artist in 1989. He began to perform monologues with slide projection in the theatre. These slide shows were a form of performance theatre and have become his favourite way of showing his work. The third one, Sadness, wove together two themes: the discovery of his Chinese heritage, and the rituals of dying and death in Sydney. The piece has toured successfully nationally and internationally. His fourth monologue, The North, about his childhood in North Queensland, has had similar success.
In addition to his famed monologues, William Yang has presented over twenty individual exhibitions across Asia, Australia, Europe and North America. These have included Claiming China (2008) reflecting on his experiences as an openly gay person with Chinese Heritage, shown at the Australian Centre for Photography, Sydney and Monash Gallery of Art, Victoria. In 2008 Yang also exhibited William Yang Portraits at Global Art Projects and Sofitel Melbourne and was included in the group survey show Yin-Yang: China in Australia, S.H.Ervin Gallery, Sydney.A retrospective exhibition of Yang's photographic work, Diaries was held in 1998 at the New South Wales State Library. His works are in the collections of Art Gallery of New South Wales, Museum of Contemporary Art, National Gallery of Australia, National Portrait Gallery,Queenland Art Gallery, State Library of New South Wales andNational Library of Australia, Canberra.
Vee Speers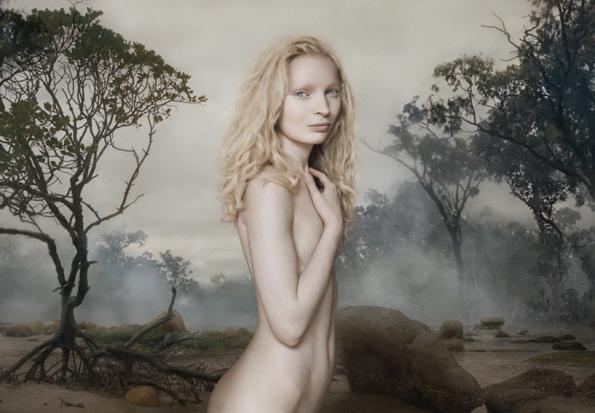 Immortal #1, 2010
Vee Speers is an Australian artist living in Paris. She studied fine art and photography in Brisbane which was followed by a five year career in Sydney with the ABC television as a stills photographer. A short stay in France in 1990 became a permanent move to Paris, which for Speers is a place with 'unlimited potential and endless creative inspiration.
In 2002, her passion for life backstage in the cabarets of Pigalle inspired her to revisit the smokey, 1920's world of les maisons closes in Paris, using the backdrop of actual opulent locations which still remain intact today. During this period, Speers also began photographing eccentric people she met along the way, satisfying her attraction to those who dare to be different. But it was not until she turned towards her own childhood and family for inspiration
In 2002, her passion for life backstage in the cabarets of Pigalle inspired her to revisit the smokey, 1920's world of les maisons closes in Paris, using the backdrop of actual opulent locations which still remain intact today. During this period, Speers also began photographing eccentric people she met along the way, satisfying her attraction to those who dare to be different. But it was not until she turned towards her own childhood and family for inspiration owards her own childhood and family for inspiration that she became established in the art world for her hauntingly beautiful portraits of children in The Birthday Party. Her ability to blur the line between autobigraphy and fantasy, the bizarre and beautiful, is the key to these timeless portraits.
Vee Speers' work has been exhibited in London, Paris, Miami, New York, Boston, Houston, Sydney, Atlanta, Stockholm, and China, Ireland, Singapore, Japan, Germany, Austria, Italy, Tunisia, Brazil and Mexico. Her work has graced the covers of Zoom, Public Art, Photo International, Images Magazine, A Conceptual Magazine, The British Journal of Photography, The Sunday Times UK, Russian Photo and Video and Swedish Photo with features in Eyemazing, Exit, Art Investor, Germany, Shots UK Photo District News NYC, Photographica Tokyo, American Black + White, Milk, Fotomagazin, Chinese Photography, Bloom, BG Magazine Ecuador, Arte Al Limite, etc
The immediacy of Vee Speers' imagery is overwhelming. Faces look directly at the viewer creating a quietly dramatic tension urging a reaction from the viewer. Speers earlier work in a series entitled 'Bordello' constructed elaborate filmic interiors of fantasy. Her new series, 'The Birthday Party' still presents us with a façade of fantasy but with a pared down aesthetic that amplifies the visual intensity through its simplicity. These portraits of children confront us with reminders of our own childhood, whereby a homemade costume can transform you into a superhero, princess, cowboy or soldier, poised for adventures and hours of fun and excitement. The escapes that these worlds of play can provide disclose the underlying realities of the modern world, wrought with conflict and violence. Child psychologists use observation of play to decipher underlying traumas and issues that a child may be experiencing. Looking at these photographs, Speers strikes a chord within us to trigger our own concerns in relation to today's paranoid society. The emotive responses to her work divulge more about the viewer than the viewed.
Hillerbrand+ Magsamen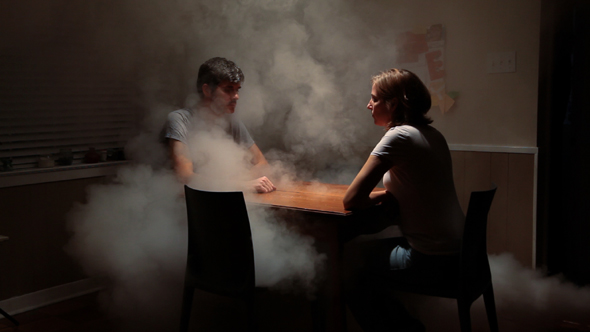 Whether, 2010. Hillerbrand+Magsamen.
The work of the collaborative artistic and curatorial team of Hillerbrand+Magsamen have shown internationally in screenings and exhibitions including Ann Arbor Film Festival, Boston Underground Film Festival,LA Freewaves New Media Art Festival, Stuttgarter Filmwinter, the Aurora Picture Show, Chicago Underground Film Festival and the Dallas Video Festival, the Hudson River Museum, Boston Center for the Arts Mills Gallery, Light Factory Contemporary Museum of Photography and Film and the Dallas Contemporary.
Through the performative strategy of what they call formational interventions, Hillerbrand+Magsamen's work interstices between art and cultural geography by exploring perceptions of language, identity, media, and family within a uniquely American subjectivities and created system.
They have been awarded the Lower Manhattan Cultural Council's Residency in New York City , a residency at the Experimental Television Center and an Ohio Arts Council Individual Creativity Award. They have also received a Carol Crow Fellowship from the Houston Center for Photography and a Houston Arts Alliance Artist Grant.
Hillerbrand+Magsamen's videos, photographs and installations reinterpret the people, activities and objects of their everyday life and engage the edge between the heroic and tragic. They navigate perceptions of identity, emotion and family within a uniquely American subjectivity.
Hillerbrand+Magsamen's work has been included in film festivals, galleries and museums internationally including Ann Arbor Film Festival, Boston Underground Film Festival, Stuttgarter Filmwinter, Center for Photography at Woodstock, Light Factory Contemporary Museum of Photography and Film, Butler Institute of American Art, Houston Center for Photography and Dallas Contemporary. They have been awarded residencies with Lawndale Art Center, Houston, TX, the Lower Manhattan Cultural Council, New York and Experimental Television Center, Owego, NY as well grants from Austin Film Society's Texas Filmmakers' Production Fund, Ohio Arts Council, Houston Arts Alliance and a Carol Crow Fellowship from the Houston Center for Photography.
They live and work in Houston TX where Mary Masgamen is the curator for the mirco-cinema The Aurora Picture Show and Stephan Hillerbrand teaches inthe University of Houston Digital Media Program.
In their artist's statement for House/Hold, Houston-based husband and wife artist duo Hillerbrand+Magsamenexplain that it takes real strength "to admit the ambivalence and contradiction" (of suburban life, in their case); "to bravely question life, and then to go on and recommit, in spite of it." That battle is played out in their video art; their simultaneous indictment and celebration of suburban life is not escapism, but a coming to terms with a sort of reality that many can doubtless relate to.
In" Accumulation," which is a highlight of the show, a garage's worth of banal, "useful" household items are stacked upon each other. The commingled objects end up resembling a junk heap from which the artists literally escape at the conclusion of the video by climbing out of a hatch in the roof. The video is flawlessly executed, in terms of editing and cinematography; the use of fog and light give it a dreamy feel.
The dualities of happiness/angst, familial closeness/isolation, male/female and conformity/individuality are all focal points in their video art. The videos feature the artists and their children, as well as their own home and possessions, lending an unsettling realism to the fantastic situations they present.
Whether, 2010. Whether is a 6-minute looping video with sound. It is about the interaction between family members and how one person's emotions can effect the family dynamic as identities of parent, spouse and child, through the metaphor of fog, veil and reveal one another. What appears to be a typical family dinner becomes surreal as a cloud of fog engulfs and distorts the everyday event and fluctuates between memory, reality and dream worlds.
I think the strength of working collaboratively is that we push each other. There is always someone there to give you feedback or a critique. It is so hard to be a creative person in a vacuum. I think we have all shared that feeling of when you have worked so hard on something and you just have to show it and get feedback. Time and time again Mary and I are working on a project that has one of us stumped and the other will give us the right kind of push. One of our first successful pieces was a video titled Lick; we had both been editing it for weeks to the point that it was getting worse and worse. Then, one night, Mary came into the studio and looked at it and said what we had silently been thinking. That it was terrible. She made some suggestions and then went out for a drink. Then, with a clear head I used her suggestions and the piece turned out great! It still is one of our favorites and we remember it as the first work we did where there was real give and take, real communication.
It is great to work collaboratively because of the interaction and the way a project can evolve by us pushing each other—this pushing is both a challenge and strength. Sometimes one person might not feel like work and the other does, so you have to adjust and give up control. Our projects with Kirk Lynn were fun because we were open to working in a new way and hearing Kirk's ideas. Collaborating makes me feel like I am learning every time I work on a new project. (1)
1.Dialogue with Stephan Hillerbrand and Mary Magsamen, of Hillerbrand+Magsamen." Journal of the New Media Caucus. N.p., Oct. 2010. Web. 12 Jan. 2012. <http://www.newmediacaucus.org/wp/dialogue-with-stephan-hillerbrand-and-mary-magsamen-of-hillerbrandmagsamen/>.
Christopher Steadman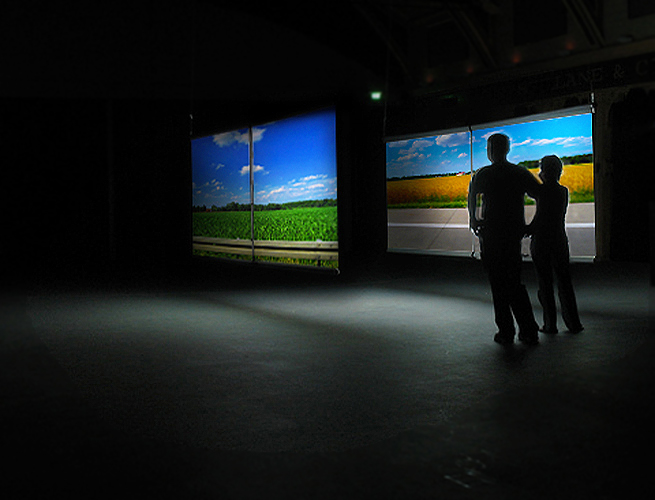 Installation view. Christopher Steadman: "Autobahn" (4 projections synched, 8 synched audio tracks, 14 mins. looped) Photo: Christopher Steadman
Christopher Steadman resides and works in Berlin, London and New York.
Christopher Steadman was born in England and received his MFA fromCentral St. Martin's in London and a MA in Photography from New York Universityand the International Center of Photography in New York City. He works in a range of genres including video, sound, photography, text and installation. In his recent projects Christopher has been studying the articulation of memory as a mutating system functioning within a set of larger cultural and environmental systems. Developing this subject the artist continues to work with time and space by the configuration of his installations which surround the individual. Creating a specific environment in the gallery with the material being looped on synchronized screens Christopher explores ongoing interests around isolation and the alienated existence. Christopher aims to make video installations which are challenging and spontaneous. Through years of developing his practice, he has found his own approach to the study of these subjects, such as the individual's psyche in reaction to their own intimate condition.
His multiple-channel synchronised video pieces have been exhibited widely throughout Europe and America. Steadman has received numerous awards and grants, including a British Academy Arts and Humanities Research Bursary and funding from the Austrian Federal Chancellery, as well as fellowships from many international artist residencies, including Yaddo, MacDowell and Chateau La Napoule.
He continues to create and develop multi-channel installations, expanding the number of monitors used and the technical complexity of his medium. His work has matured, both in texture and voice. He stopped using himself as subject, and found a fresh vision by distancing artist from art, which alternatively coerces all that is around him to speak in his place. His recent installations come across as more polished, and yet manage to maintain the excitement and innovation of something raw, homemade, and deeply personal.
Recently Steadman's subject matter is focused on the centrality of memory, and the articulation of memory as a mutating system functioning within a set of larger cultural and environmental systems. The exploration of subjects claims for solitude and social belonging are themes Steadman expresses across a range of practices, including photographic and video installations, and present in works that are structurally concerned with time, space, and duration.
For it is within the context of these elements that the psyche of the solitary individual must make sense of both their own and other's existence. Steadman's interest in the notion of chance and metamorphoses brought about by the weight of memory, allows the artist to communicate a tension between the ephemeral fluidity of the moving images and the physicality of the monitors, heightening a sense of weight by the fixed configuration of the installation.
There has been a significant shift in emphasis and power from Christopher Steadman's earlier pieces to his later projects in development, moving from fixed-point performances to saturated multiple presences and entry points. Steadman's interest in narrative, memory and abstraction lends his work an ability to cross art mediums and transcend categorisation beyond the digital mediums he usually employs. Viewers are able to enter and observe the work in a configured space.
Domestic space, the people inside the space, the things with which they surround themselves, and the nature of a solitary being often feature as themes in my work. The social and environmental constructs suggest a place of safety or alienation, opposites or dualities to communicate succinctly the tension of isolation and heighten a sense of confusion. Viewers are forced to isolate themselves similarly, simulataneously entering the experience denoted by the configuration of multiple monitors, denied any sense of connection or closure; this further demonstrates the installation's ability for creating tensive, meditative environments of subtle, yet evocative power. Referencing my practice as a whole, my current work is a technical and conceptual development of a previous work entitled "Table for One" where multiple monitors were used, depicting characters apparently connected by a dinner party experience. They are in fact trapped in their isolated space, boxed into their own monitors, intermittingly connected at narrative points and by the dinner table as a prop, viewers are left to navigate the layers and language of the work. One empty seat at the end of the table invites a viewer to interact with the piece and sit with the dining guests. The addition of further elements, objects and reflections, has pushed the boundaries of personal and technical challenges, while continuing development of recurrent conceptual themes around fragmented narrative, memory, loss and abstraction. The impact of realising new projects serves as a shift on the focus on video and installation in my practice but also on the wider field that looks to new practice for new ideas and new ways of making meaning. By displacing myself from the fixed art studio scenario over a 5 year period where I had no home and moved between international residencies I furthered my potential by exploring other, shifting contexts and environments in which to work and develop my subject matter, whilst maintaining production of work in parallel with present experience. The experience of living a transient existence and meeting artists and writers, ranging from ages 25 to 83 and from emerging to established careers, benefited and influenced the path I'd already undertaken and the outcomes produced. My thoughts on art practice and on my own practice advanced significantly by remaining open to possibilities and shifting perspectives, and through interaction with others in dynamic environments. Presently, I am interested in the transient anonymous individual who is always moving and thus also isolated and never really connecting to the world, a place, or a person. Lots of passing landscapes and strangers that are gone in a fragment of time. The pieces I am working on at the moment have a similar stylistic approach to the subject matter as they mesmerize the viewer with imagery that is sometimes blurred, fragmented, or abstract. The works explore the metamorphosis brought about by neurological chance, but metamorphosis into alternative states of being, no less human for being so different as the viewpoint is interrupted by other viewers moving around the installation.
The thing that keeps me excited about making art is challenging myself, whether technically or personally, to do things that don't necessarily appeal or feel comfortable. When I performed in the work made during a 48 hour studio lock-in, it became about the brain-tease of how to set up lights, sets, tripod and camera while I got in character in front of the lens. For these pieces, I planned the shoot meticulously writing a detailed list from when to change costume to where the spotlight should be moved. I could switch off myself as cameraman, follow the instructions technically and allow myself to focus on performing. I approached the work I made during studio-lock-in's very differently to the work I now produce. In the past, I knew what the piece would look like before I made it. I no longer shoot in the studio, or have a plan before filming. I might find a location that fascinates me. Spend a few days filming on location. The piece starts to take shape only when I sit down to edit.
The sounds I use are all recorded at the time of shooting. Some times I create the soundscape before the video. The sound for all my work, especially the more recent pieces, is as important as the visuals. Mostly they work in harmony. As far as objects, I don't think there is anything I wouldn't use in a piece as long as it makes sense in context. I've used a cup of tea, rubber gloves, an elevator… When I shoot on location it becomes as much about the setting as it does about any subject material or theme. ( 1)
1.Avant-Hard, Jekaterina. "Spotlight on Christopher Steadman." ART CONNECTION BERLIN. N.p., 18 Dec. 2011. Web. 12 Jan. 2012. <http://blog.artconnectberlin.com/2011/12/18/spotlight-on-christopher-steadman/>.
Maud Haya- Baviera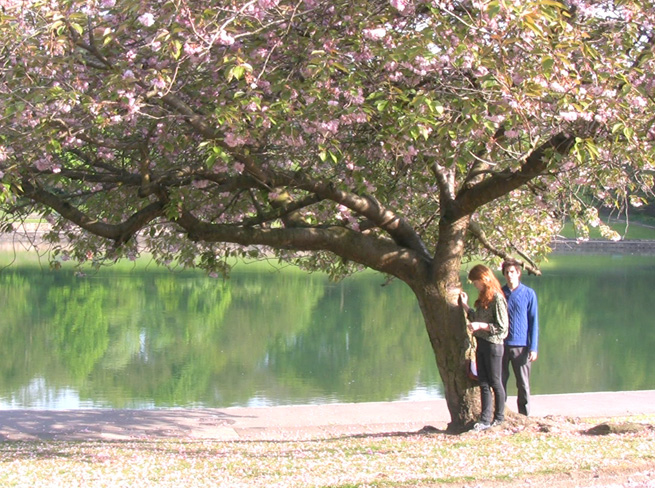 Still from Versus Romance, 2010HD video, 6 min 10 sec
Maud Haya Baviera studied at the University of Lyon and Sheffield Hallam University. She lives and works in Sheffield
Maud Haya-Baviera uses video, photography and drawing to explore themes such as the use of language and the presence of erratic characters. Through her practice she frequently observes an impossible intimacy and aspirations towards belonging. It is not surprising to find her work so deeply embedded in narration as she has stated that she often starts a piece of work with what she reads, writes or hears.
Her idea of narration is rarely linear and seems to escape and refute a clear and single interpretation. Haya-Baviera implies that narration is for her a way to be playful while dramatising or even theatralising unsettling, strange or naïve behaviours. She employs and celebrates opposing elements to add layers to sentiment or to pepper the work with romantic frictions, small cruelties and a sense of the burlesque.
While solitary figures predominate in her photographic works, Haya Baviera's videos explore the real and its performative nature through dialogues that are read (frequently in a language other than the actor's own), stilted and not learned. The actors - including the artist herself - appear on casting couches or in front of traceless screens, sometimes disguised in improbable wigs and apparel, and engage in discussions that are grounded (as in Eugène Ionesco's plays) in malapropisms, misunderstandings, cliché and drama.
With typical poetic subtlety the French artist Maud Haya-Baviera has titled her first solo UK show Delightful Desuetude. Haya-Baviera shifts through interbreedings of photography, drawing and sculptural installation, the hybrid artefacts coming on like cryptic clues to an unspecified crime. A photograph of rubble encircled by trees is maybe an image of backstreet banality or maybe a petrified stage set. A drawing of skeletal arches seems a blueprint for an unidentifiable architectural ruin. While painstakingly sidestepping cliches, her self-questioning sensitivity is imbued, and almost possessed, with intimations of romantic reverie.
Maud Haya-Baviera has exhibited her work nationally and internationally. Recent exhibitions include, To the King, La Cité Internationale, Paris (2009), Anonymous Drawings, Kunstraum Kreuzberg / Bethanien, Berlin (2008) and Channel, Sylvester Works, Sheffield, (2006). Her work featured in Sheffield Pavilion (2007) as part of the Venice Biennale and Kassel Documenta
Maud's new video work 'Follow me as I fall' which restages five minutes of a classic Hitchcock film, in which two characters play an ambiguous game of hide and seek. In the vein of film noir the new work employs suspense and frenzy, while in addition the infusion of extravagant colour aims to highlight and expose a mute yet rhythmic dialogue.
Matthias Meyer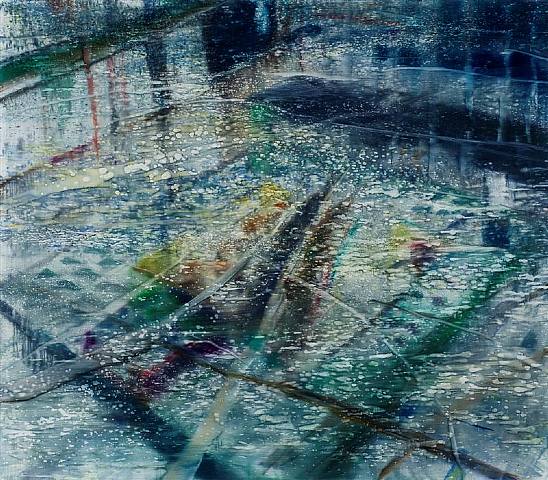 Water Painting 5
Matthias Meyer was born in 1969 in Gottingen . Between 1991-1994 he studied painting with Gerhard Richter at the Kunstademie, Dusseldorf. In l994 he studied briefly at Chelsea College of Art, London
He develop images preserved by their watercolor-like technique in a transparent lightness, a sensitive, seductive beauty, almost to the brink of kitsch is to be gentle. The fact that his painting is not really into the lowlands of loveliness slip is related to the color palette together, which the artist serves. Neither pure nor bright, but reduced and covered by this he transferred his color images in a melancholy mood, the counter reading, the viewer could be with an idyllic scene to do. At the same time to win the work again this compact density.
The colors are thin, dripping and wet on wet vermalt, so that the contours are blurred, and you no longer can distinguish where the alleged boundaries between reality and mirror image are located. Impulsive develop plants or water surfaces in Meyers pictures a curious life of its own. But even as they are the only architectures motivic excuse to suggestive paintings to be created, the processes of Formwerdung and discuss its dissolution. Comparable to the momentum and the immediacy of Japanese Calligraphy, whose delicate stroke outlines leadership motives, they at the same time leads to nowhere and turn new leaves emerge, Meyer worked his large canvases.
Because of his painting, the color of current and thus also of coincidences is determined, it remains little room for correction. The paintings in the theme flowing and shimmering surface of the water appears as a metaphor to discuss the process of painting, the picture quality of surfaces and their picturesque depth it.
The geometric shapes, as monochrome color in the overall composition, are to mean a break in Meyers painting, which distinguishes it from the Figürlichkeit can commute to abstraction. It is precisely this confusion which his work so fascinating to make.
The landscape and cityscape by Matthias Meyer architectures gain from this particular form of a high degree of abstraction, but, and this is surprising in the context of this picturesque conversions never result that the viewer is not very closely "to see the interview," what there is shown. This peculiar tension between the abstract actually completely painted surface forms a very precise and identifiable place and space makes the special charm of these images.
Woflgang Ploger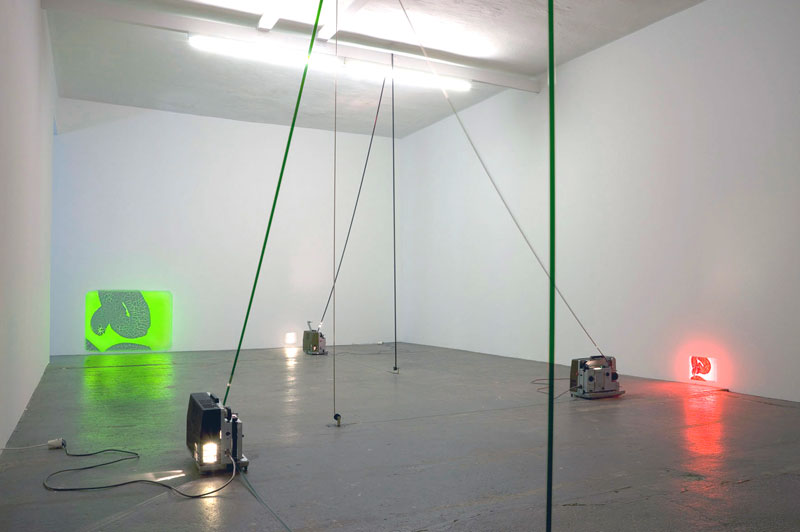 Make No Mistake About This -2007, (16mm film, Projectors / Dim. variable)
The artist Wolfgang Ploger (b. 1971) is concerned primarily with processes of perception and how they can be depicted. His cinematic installation "Take It to the Nation", 2011, shows a flickering surface of letters in which it is very difficult to discern words and sentences. The film material consists of handwritten texts – not just any texts, but the final statements of people who have been sentenced to death. Their last written characters do not join to form the desired messages, however, but remain indeterminate. In Ploger's work "The Dark Side of the Ligh"t, 2007/2011, the sculptures materialize the incidence of light and the shadows cast by the crate on which they stand. They thus preserve the ephemeral and impalpable for eternity.

The German artist Wolfang Plöger reflects on developments and debates within the world of expanded cinema, its critical questioning of the relation of media image and physical space as well as its exposition of unstable spatial and temporal parameters today has a new relevance. Due to the development of constantly new forms of information technology and the increasing digitalization of everyday life, a transformation and an alienation of structures of perception and communication took place. An anonymous mass has a part in collective processes of information production, where content can called up with ever increasing speed, independent of place and time. The "accelerated beholder"(1) that Villém Flusser already attested to in a time when computer technology and the Internet in comparison to today's technological standards were still taking baby steps has in light of the everyday images and flood of video and information learned to grasp and classify images, information, and visual sequences ever more rapidly. At the same time, today's beholder is accustomed to the constant and rapid shifts of attention and a sometimes frightening lack of commitment and insensitivity of media images, that can be understood as fundamentally transformable and manipuable.

Wolfgang Plöger comes from a generation that grew up both with the self-evidence of an expanded concept of art and the related dissolution of existing genre borders as well as an everyday life that was saturated by the media. When in his film installations he takes recourse to now historical Super8-projectors and cartoons done by hand, this no longer takes place with the aim of the 1960s and 1970s in mind—to explore new structures of perception—but can veritably be seen as a consequence of the artistic and technological developments of that period. When Plöger positions technical devices visibly in space and leads the film strip freely trough its projection structure, this should not so much be seen in the context of structural film and conceptual art, which in an enlightenment gesture sought to expose the impact and mechanisms of film and video projection, but in terms of an interrogation of an everyday life that is also defined by digitalization and increasingly constituted as a self-alienated reality. Plöger's filmic installation moves between sculpture, painting, and film, between still and moving images, between real objects in physical space and fictive objects in illusionistic space. The lightly moving shadow of the filmstrip led through space creates an illusionistic intermediate space on which subject to constant transformation and corresponds with the projected drawings from cones of light from the corners of the room as well as the architecture of the gallery space. The artist tries to make the materiality of the space palpable for the beholder, sensitizing him or her to all intermediacy of real and imagined space that changes with every modification of the light source or movement of the beholder, dissolving and again reassembling itself anew. It expands space and its perception, without concealing it or appropriating it.

Referring to his minimalist thread sculptures that cast an imaginary volume with their shadow, with simultaneous reduction of a body in space on its graphic substance spanned by "pedestrian space,"(2) a space that is first constituted by the mobile, participating beholder over a selfdetermined time frame and negotiated. Similar mechanisms of perception are triggered upon entering Plöger's filmic installation, even if only in a second phase of reception. If for Sandback the adjustment of the gaze takes place slowly and not directly, and a feeling of "emptiness" of space always precedes the perception of the work, in Plöger the fascination for the determinants of media visual production, the clatter of projectors, the film strip, light and movement shape the perception of the dynamic transformation of physical existent space.
Make No Mistake About This
Inspired by a found collection of language, Wolfgang Plöger's work Make No Mistake about This uses the text of death row inmates' final statements. Wanting to incorporate these last words into his work without making them readily discernible simply through the act of reading, Plöger hand wrote the statements on lengths of film celluloid and projected this flickering calligraphy onto the wall. Plöger also removed the projector's take-up reels so that as the last statements race and loop throughout the gallery, their speed and scale necessitate that viewers strain to make sense of glimpses of language that might convey error, confession, or apology.
Wolfgang Plöger's work Make No Mistake about This delivers a powerful experience for museum goers. When the room is entered it becomes evident that the projections on the walls are text. This familiar visual experience from watching reel to reel film, and even reproductions of it where we see the hand written notes at the ends of the film, zooms past too quickly to actually read.
Because Ploger has eliminated the reels and instead the film is traveling up to the ceiling through spools and back to the projector in a continuous loop, the visitor is afforded an opportunity to see the surface of the film and the text it contains. The gallery plaque then contains that last bit of information revealing the source of the text, death row inmates final statements that the artist discovered on line.
The layers of removal should let the viewer remain comfortably distant from the source of the material. However the level of engagement to discover the work's content causes a connection to the very human voice being delivered. Whether it is the Lord's Prayer, an apology, a confession, or a defiant assertion of innocence the voices emerge.
The cultural machine of the judicial system, prison system, and the death penalty is embodied through the ticking and rattling of the projectors as they endlessly consume the film with the last will and testament of those represented. (1)
1. Stevenson, Jeff. "On the Scene: Wolfgang Plöger - Make No Mistake." Examiner.com. N.p., 12 Nov. 2009. Web. 13 Jan. 2012. <http://www.examiner.com/museum-in-chicago/on-the-scene-wolfgang-pl-ger-make-no-mistake>.
Alicja Kwade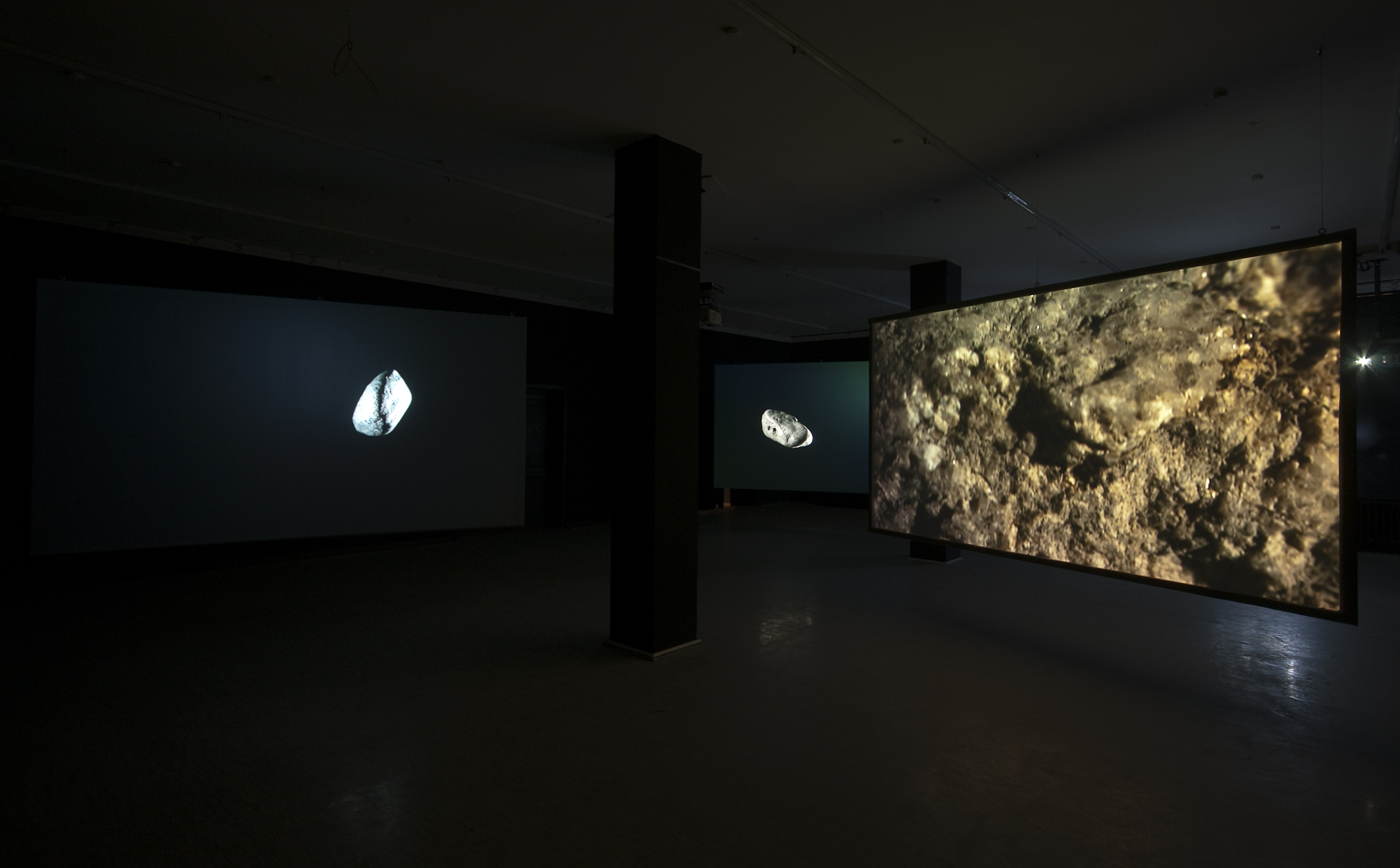 Installation View/ Westfalischer Kunstverein
Alicja Kwade was born in 1979 in Kattowice, Poland. She lives and works in Berlin. In 2008 she won the Piepenbrock Prize for Sculpture, which was conjoined with a large solo exhibition at the Hamburger BahnhofMuseum for Contemporary Art, in Berlin. Recent solo exhibitions include Westfälischer Kunstverein, Münster (2010); Kestner Gesellschaft, Hannover (2010); Peep-Hole, Milan (2010); Johann König, Berlin (2009); Galerie Christina Wilson, Copenhagen (2009); Galerie Lena Brüning, Berlin (2007).
Alicja Kwade (*1979, Poland) has in her sculptures—as well as in her installations, photographs and films—long been engaged with different aspects of our value systems and with the issue of abstract concepts such as space and time. The artist lives in Berlin and belongs to a generation of sculptors who have taken up the fundamental approach of the installations of the 1960s, such as Minimal Art, and adapted their principles without pursuing their thematic contents. Above all the artists Robert Morris and Robert Smithson, who specifically in the 1990s enjoyed a reevaluation, represent an important context for regarding Kwade's works.
Kwade occupies herself with complex scientific theories on the physical property of certain materials, which she then repeatedly attempts to circumvent. Everyday articles and mostly worthless found objects make up her main starting point. Often deploying an elaborate modus operandi, the artist transforms these objects into pieces that suggest the luxurious and the immaculate. They hereby undergo a subtle change in meaning; the objet trouvé becomes a minimal sculpture or, symbolized by its infinite reproduction, a specific historical moment.
The exhibition at the Westfälischer Kunstverein assembles Kwade's most recent works, whose centerpiece is the video installation "Thoas, Agrios, Gration" (2009). Three canvases are suspended in a pitch-dark room and show shots of rocks that float there in apparent weightlessness. This cinematic staging is supplemented by other sculptural works in the gallery. Kwade's objects and pictures are mostly based on simple ideas that challenge the viewer's perceptual world. For what seems "normal" usually proves at a closer look to be a physical impossibility.
The quality and the tension in Kwade's work lies in creating a telling form and a perfect surface, coupled with an irritating factor that takes us beyond these aspects. With her materially precisely worked out sculptures, she ventures into the field of the natural sciences, although she immerses their materiality and worldliness in a surrealist light. Mirror reflections, repetitions and waves of light and sound generate an atmospheric intensity. Kwade tries to make the invisible visible, the inconceivable conceivable. To do so, she creates forms that are at time poetic, at times absurd, within an otherwise rationally determined reality.
In the works of Alicja Kwade perceptual deception and changes of meaning, perplexity and the questioning of the self-evident play a central role. She conveys them by shifting and altering material and form, or by transforming objects suggestive of luxury and flawlessness.
he artist Alicja Kwade, this year's winner of the Piepenbrock Price for Sculpture, works in a multi-faceted and original way, employing a number of different media (installation, sculpture, photography, video) and materials.

Her art work makes use of classic sculpture materials as well as of objects of everyday usage, distorted to rip them out of their usual context and meaning. Coal briquets are turned into gold barrels, pebbles into precious stones, pavement stones into diamonds. In doing so, Alicja Kwade poses questions of auhtenticity and value, perception and classification. Over and again, she engages with matters of physics, such as the representation of the visible and the invisible. At the same time, her art combines science with poetry and playfulness.
Her work "Watch (Chen, Wolfgang, Martin...)", 2010 is a clock whose reflecting surface prevents the viewer from reading the time. Only the humming of the electric clockwork can be perceived. Ultimately, however, the invisibility of time intensifies its acoustic and emotional perception. Another work by Kwade consists of two barrelfuls of finely ground champagne bottles. The glittery heap of green-and-white powder is entitled "1979 Liters to the Beginning, 2010", the artist's year of birth having determined the amount of material. Here she uses the associative connection between champagne and luxury to allegorize the amassment of wealth and luxury in a very poetic manner with the pulverization of glass. Her third contribution, "Teleportation (Candle"), 2010, consisting of a glass folding screen and three candles, is about perplexity. Through reflection and change of perspective, the beholder has the impression that the burning candle's flame physically traverses the space.
Ruth Buchanan
Installation View
The artist Ruth Buchanan (b. 1980) in Te Atiawa/Taranaki, New Zeland , completed her MA (Fine Art) at the Pier Zwart Institute, Rotterdam in 2007 in New Zealand. She studied initially in Auckland, subsequently in Rotterdam and Mastricht. Currently, currently she lives in Berlin.

Using methods and media such as sculpture, video, performance, language, sound, graphics and slide projection, Ruth Buchanan constructs both literary and built spaces whereby the underlying motives and questions at stake create an interplay of contingencies. At the core of the speculations conducted in these spaces are terms describing identity and the parameters of artistic action along with their historical precursors.

In the artist's work, the syntax of these constellations appears to be determined both spatially and linguistically; conceivably a form of architecture and grammar. Through the unremitting transposition of such terms as well as concrete material and architectural relationships, Buchanan creates semantic interstices within which the existing order is tilted, favouring new relationships – possibly in order to be overridden – thereby creating the space required for new reflections on work, daily routines and emotional states.
She distorts and manipulates the material, shifting the way in which it is perceived; flipping and turning it upside down, moving from a detail to an overview, reorganising and obscuring it with her own body. These processes of obscuring, reversing and movement become present in the installation as Buchanan instigates physical relations that recalibrate relationships with the space of history, and the many voices and positions that create an artistic practice.

Jacquie Maria Wessels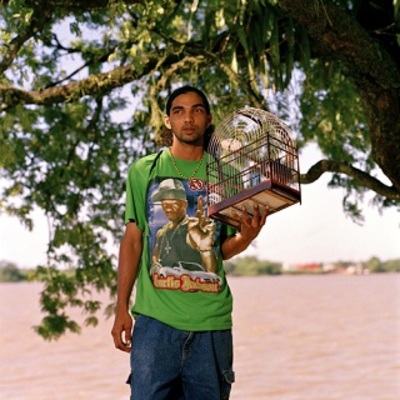 Birdman #21 Paramaribo Suriname, 2008
The focus of Jacquie Maria Wessels work has been on examining highly diverse social and cultural relationships and subsequently expressing these in a refreshing yet divergent manner. Wessels' recently published and highly successful photography book Cityscapes + Birdmencontains work from Surinam and the Netherlands.
Everyday life is central to the photomontages of Jacquie Maria Wessels. Each time she concentrates on one theme, seeks the differences and extremes, and then sets them down uniformly next to one another. Previously she utilised this approach for series on eating in public spaces, and gardens and their owners. The series "Wonen" shows a number of diverse ways of living. Wessels has made portraits of the residents of a houseboat, and the users of a beach house. Around them she has mounted photographs of their home and its immediate surroundings. In this way she creates a spatial perception of various ways of living.
Between 2006 and 2009 Jacquie Maria Wessels made portraits of Surinamese men obsessed with their tiny songbirds. Songbird contests see men from across Surinamese society come together in peaceful combat, with the bird who sings most beautifully winning the contest. Wessels captures the dichotomy of the pretty birds in comparison to the men's macho culture, where clothing, cars, motorcycles and muscles play an important role. Wessels has also photographed Paramirbo city scenes, dominated by social messages and advertising wall paintings with hyper-real depictions of tools, food cans and hot dogs, offering a fascinating impression of Surinam's booming capital.
Roman Pyatkovka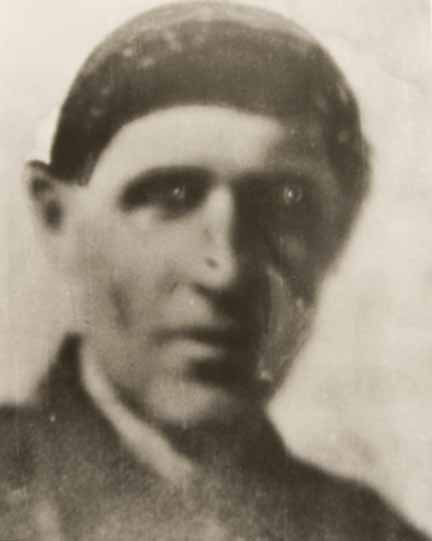 Untitled (diffused man), from the "Golodomor. Phantoms of 30 years" series Date: 1989 Gelatin silver print
Roman Pyatkovka was Born in Kharkiv (1955), lives and works in Kharkiv. Roman Pyatkovka never thought that photography will become sense of his life. Having worked at a dramatic theatre for 8 years, he suddenly leaves it and is seriously carried away by the photo-art.

Roman held more than 30 collective and personal photo-exhibitions. His well-known projects are Golodomor. Phantoms of 30 years, I come from the childhood, Games of Libido, Wrong picture.

They are now displayed in the Museum of Photography Collections (Russia, Moscow), The National Center for Contemporary Art (NCCA) (Russia, Moscow), Museum Ken Damy (Italy, Brechia), Museum of Contemporary Photography (USA, Chicago).

In the art of photography, as in any other art, self-analysis, self-deepening, spiritual exhibitionism and creating the dramatic concept of your own sensations are the cornerstones of creation", asserts Roman Pyatkovka.
On the Golodomor Series:
"It is dedicated to Famine-Genocide 1932 - 1933 years in Ukraine. In public opinion Golodomor of 1932 – 1933 in Ukraine is called a XX century Ukrainian disaster. Terror of famine which Stalin totalitarian regime put into practice in Ukraine caused death to millions of farmers. After all Ukrainian losses from famine, mass repressions and deportations exceeded the ones during World War I and civil war."
I never thought that photography would be the meaning of my life. For a long time I worked in the Drama Theatre of the main artist on the light, for 8 years. At one point I realized that this work - not what I wanted to do in the future, left her and became interested in artistic photography. Boris Mikhailov is one of the most famous photo-artists of the world (as well as winner of the Hasselblad Foundation International Award in Photography) became my teacher and mentor.
Since then I have been held for more than 30 collective and individual photo exhibitions. Thanks to the exhibition has become a well-known projects such as: "Ghosts. Famine 30-ies", "I come from childhood", "Games of libido", "Bitch Love", and now they are displayed in collections: Museum of Photography (Russia) , National Center for Contemporary Arts (NCCA) (Russia), Museum of Ken Damy (Italy, Bresha), Museum of Contemporary Photography (USA, Chicago), Moscow Museum of Modern Art (Moscow, Russia).

I believe that in the photographic art, as in any other art, very important: self-awareness, self-deepening spiritual exhibitionism, and the creation of a dramatic concept of own feelings.
Roman Pyatkovka
Geof Oppenheimer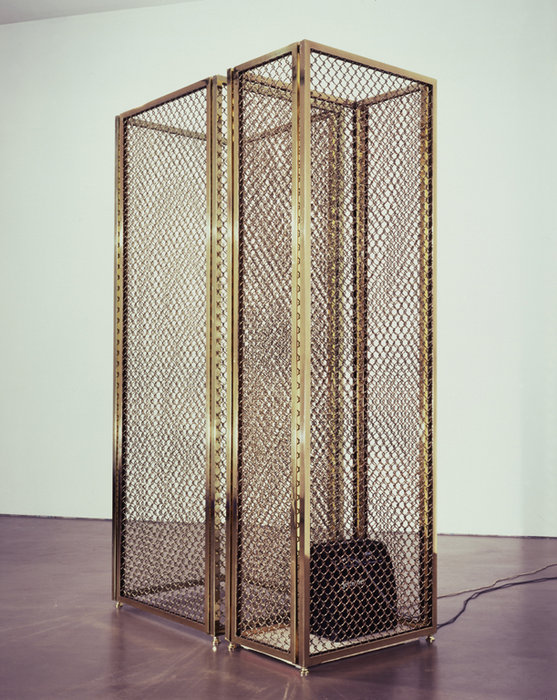 Goldchains Headspace Freedom, 2005-2006 (detail)
Electroplated steel, felt, electronics, Public Enemy and Beach Boys songs, 81 x 47.5 x 26 inches
Geof Oppenheimer (b. 1973 Washington D.C.) received a BFA from the Maryland Institute, College of Art in Baltimore, Maryland in 1997 and an MFA from The University of California, Berkeley in 2001. He also studied at the Academie voor Beeldende Vorming in the Netherlands.
Through Geof Oppenheimer's diverse artistic practice, he manifests political, social, and artistic binaries ranging from fascism vs. democracy, boutique vs. homespun and detention vs. agency.
I would say I have an overall interest in how people relate to one another. Violence and war is an often included, rarely talked about type of communication. It wasn't specifically in a contemporary context. I think these are universal issues, and human-animal issues are more of my interest—both on the personal and the idea of protecting the self and the sovereignty of the body. And then there is a societal issue of when is violence justified, what is the relationship between attraction and violence, and repulsion and violence. Whether it is the theory of the abject or Bataillean theory, we are incredibly attracted to it, and there is an aesthetic of violence that is tied into these very primal ideas of who we are as a people. That is more my direct interest. Violence is political and it is a political tool, but it wasn't specific to now that I was thinking about.
Geof Oppenheimer approaches the violence implicit in society, and how social systems and political dogma intersect with the terrain of art and culture.
Collaborating with an unnamed pyrotechnic expert who once worked for Disney, Oppenheimer created explosions within ballistic-grade Plexiglas cubes, their residue coating the interior surfaces with bright splashes of pigment. Visually stunning, each of the three cubes, collectively titled Modern Ensembles (2010-2011), has a unique palette, one coated in warm, earthy tones of ocher and orange, another raspberry-alizarin with faint touches of yellow-beige and sky blue and the last army gray-green, shot through with electric yellow and darker tones of brown. While the sculptures attest to dramatic events involving gunpowder and pigment, they convey more an aura of science lab than battlefield, undermining somewhat their intended function as signifiers for the violence undergirding our culture.
Oppenheimer's video Anthems (2011) evoked a generalized sense of dismay and unease with the social constructs that a military marching band might suggest. The four unspecified national anthems, simultaneously played by groups of the drum and marching corps of Rickover Naval Academy in Chicago, were blended and overlaid, essentially mangled beyond any recognition. Reflections and combinations of sound and image created an unsettling effect, while the military precision—the neatly pressed uniforms and shining horns—suggested the regimentation of life in the service of one's country, and a kind of surrender of self to the greater whole, of following orders. As these lines of marching bands paraded in absurd, tight circles, periodically the cacophony of sound faded to silence, and the images of the marchers shifted to a vacant space bearing rough plywood constructions: a pair of steps. Eventually, the two risers fit together like a puzzle, one inverted resting atop the other—perhaps a metaphor for the enforced unity of political camaraderie.
The final component, Social Failure and Black Signs (2010), was comprised of acerbic wall-hung, text-based pieces. Against a light gray background a slender arm enters bearing a message lettered in plain white text on a black card—"TOLERATED AS UNFORTUNATE EXCESSES," "AND DESPAIR, DECADENCE, AND MORALS" among them. These terse, dogmatic excerpts have been taken from interviews with notable politicians such as Ronald Reagan and Fidel Castro. A statement about the ultimate futility of political ideology, these images offer us a brittle aesthetic experience, and present a kind of intellectual conundrum as well: strings of words decontextualized to convey no coherent meaning, rather an ambiguous —yet autocratic—sound bite.
Oppenheimer's work is engaging enough to draw and keep our interest, yet simultaneously hermetic and dispassionate enough to put us on edge. (1)
1.Morris, Barbara. "Geof Oppenheimer Ratio 3." Artillery Mag. N.p., n.d. Web. 17 Jan. 2012. <http://www.artillerymag.com/mini-reviews/entry.php?id=geof-oppenheimer>.
Zefrey Throwell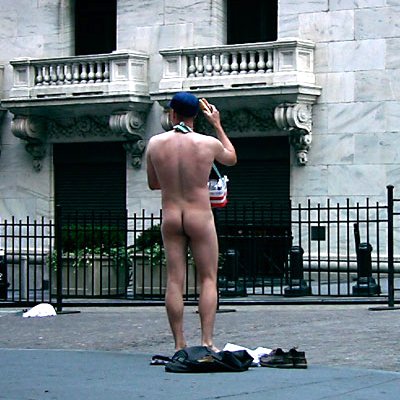 " Ocularpation: Wall Street", 2011 Courtesy of Klemens Gasser & Tanja Grunert, Inc, NYC
Zefrey Throwell is an artist living and working in New York City. Investigating honest communication, in all its varied plumage, is his aim. Working with video, radio, painting and people he is exploring the connecting points and underpinnings of social discourse.
Zefrey, who used nudity so powerfully as a symbol of exposure and transparency in the Ocularpation performance and the recent strip poker game I'll Raise you One… at Art in General, uses gold in this body of work in reference to the current American financial dream, sold as a glittering jewel, but in fact is a fantasy whose value is speculation.
"Zefrey's unencumbered enthusiasm for his practice activates the opportunity for serendipity and intention to collide with astonishing results. Such is the case with "Ocularpation: Wall Street". Ocularpation: Wall Street occurred at 7:00am on Monday, August 1, 2011. New York–based artist Zefrey Throwell orchestrated a mass performance of 50 people playing roles representing a cross sample of workers from the neighborhood based on statistical information - this includes not only stock brokers but also gym trainers, janitors, secretaries and a hot dog vendor played by Throwell himself. This five-minute performance required everyone to get completely... naked. Three of the performers were arrested. It has been written up in the New York Times more than once. Then, a month and a half later - Occupy Wall Street, the biggest movement of our generation, was born. The timing (and the name) is uncanny.
Throwell wanted to make a statement after his mother lost her savings in the 2008 crash when she had to re-enter the workforce, coming out of retirement. This "an absurdist Freudian nightmare," says Throwell, is a social commentary on the lack of transparency on Wall Street - the iconic symbol of our financial system.
He was there, he saw it coming, he made us look,' said Rajendra Roy, Chief curator of film, Museum of Modern Art, who screened Ocularpation and a range of Zefrey's previous projects. This exhibition continues Zefrey Throwell's extensive body of investigative and interactive projects focused on the connecting points and underpinnings of social discourse.
He is a member of three collectives: THROWHITE, Red76 and Cameracartell. In addition he co-directs a gallery called Engineer's Office Gallery in the heart of Rockefeller Center,
New York–based artist Zefrey Throwell uses film, painting, and performance to convey his vision of modern America and highlight "the failure of communication" in our age. Active in art circles since 2003, Throwell recently came to prominence through his performance/protest piece Ocularpation: Wall Street, which foreshadowed the ongoing Occupy Wall Street protests, and the subsequent global expansion of the "Occupy" movement. In this stirring call for more transparency on Wall Street, Throwell and 49 collaborators dressed up as employees of various Wall Street businesses, and then stripped off their costumes to reveal their naked bodies. The five-minute performance, staged in August 2011, was exhibited at MoMA as a short film directed by Throwell that "reveals" the events of that morning. Ocularpation: Wall Street will be screened along with a number of Throwell's other films, including a film of his original statement against "cubicle enslavement," Ocularpation: One
Grace Brown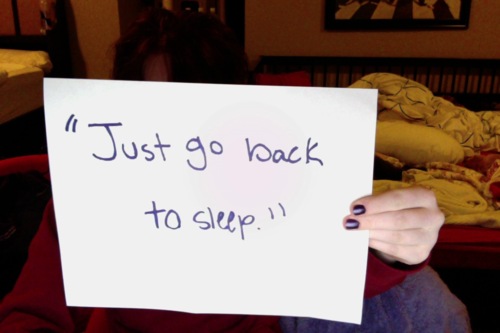 Photographer Grace Brown's project in which former victims of sexual abuse are photographed with their former attackers' words
This project was created in October of 2011 by Grace Brown. Grace uses photography to help heal those who were sexually abused by asking them to write a quote from their attacker on a poster and photographing them holding the poster. Rape survivor and advocate for victims of sexual abuse, Yvonne Moss, describes the project as a way for victims to take the power back of the words that were once used against them.

Grace plans on photographing survivors for as long as she possibly can. Her goal is to spread light, awareness, and healing for those who have been affected.

"Project Unbreaable aims to use photography to help victims of sexual abuse. The idea is to "take the power back of the words that were once used against them". One woman holds up the phrase: "It is not going to hurt you if you just relax". Another, simply: "I love you." Brown says she planned on going into counselling sexual abuse survivors before she discovered photography. "I'm really grateful I found a way to combine the two."
So far she has photographed about 25 people for the project. "We organise a time and place and sometimes it's really quick: they write their poster, I take a photograph and they leave," she says. But others are less straightforward. "I've had people sit down and tell me their story and cry in my arms." The age range of those submitting their stories is diverse. "I've had a 13-year-old girl send in her story (her poster reads: 'Close your eyes. This might hurt a bit') and women in their 70s. No matter how old you are or young, there's still a lot of pain associated with the words."
Brown says the way people share their stories with her feels "surreal". "I'm 19 and people look at me with such trust. I just feel honoured. It's so brave of them to be able to write down something that is so painful; to dig deep down into such a terrible memory. It's a different way of healing, you know?" (1)
(1) Birn Adewunmi, Guardian, January ,22,2012
Clifford Landon Pun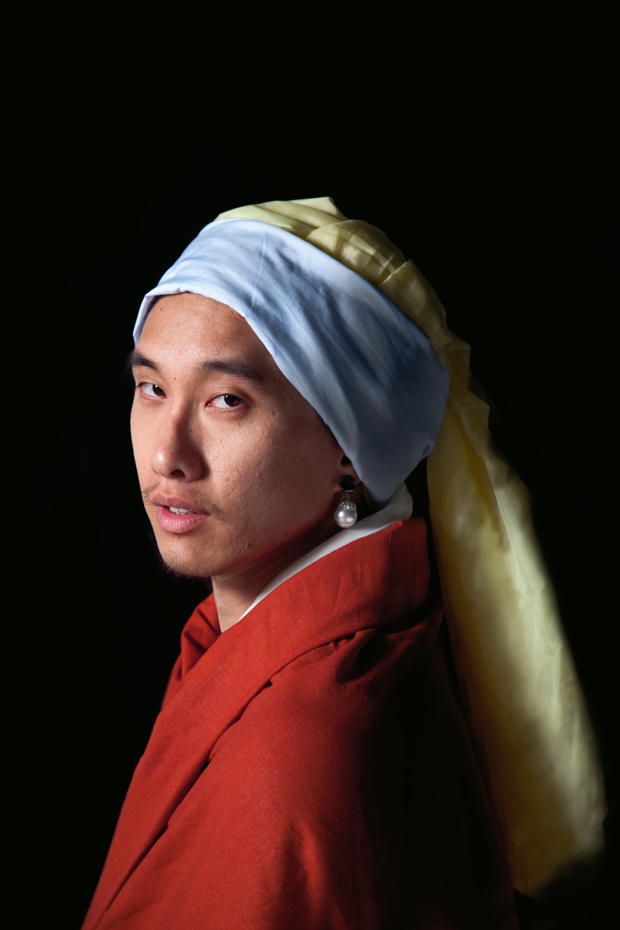 The Girl With a Pearl Earring, Meer / digital lightjet print, 2011
Artist Clifford Landon Pun was born and raised in the San Francisco Bay Area. He now resides in Los Angeles. He imbibes obscene amounts of tea and coffee, and is currently exploring the possibilities of the ascetic–aesthetic as demonstrated by the recent popularity of Deconstructive architecture.
Artist Clifford Landon Pun was born and raised in the San Francisco Bay Area. He now resides in Los Angeles. His work participates in the discourse ofidentity politics and examines the intersections of his Chinese-American heritage and queerness. He graduated from San José State University with a BFA in Photography and is currently a graduate student in the Photography and Media Program at CalArts. Mr Pun was the recipient of the 2008 Student Award from the Society for Photographic Education.
My work is a direct discussion about the notion of an gay, Asian-American, male identity. While I identify as such a person, I am cognizant of the essentialist challenges when choosing to define yourself according to political labels. My art seeks to toy with stereotypes—to understand their inherent power—and then blow them up into campy images to reveal their artifacts and flaws. My process is an experimental one. I seek to prove, as well as disprove, beliefs regarding my "Asianicity."
I am not interested in documenting my desire. Photographing my desire is not wrong per se, but my work is interested in deconstructing my desire and choosing to understand what it is and how it is formed. None of these categories or labels are stable. My research involves testing these roles out. Through taking on the roles in a drag masquerade, my recent work involves examining my gender, race, and queer subjectivity.
My ongoing project Gay-*SiA is an installation and photographs using a Morimuran strategy of recreating select Orientalist images. Gay-*SiA is an educated understanding of the history of "Asian" representation that maps out the traces of Orientalist signifiers. I would be disingenuous to ignore Orientalist imagery, and so I take a critical as well as complicit position. I restage these images to assert how popular culture recycles their usage. From the perspective of our supposed "post-racial" society, it is easy to claim these images as racist. Rather, I take these images with a understanding of their origin and twist their meanings to raise further discussion.

Through a self-portraiture that conflates gender and racial identity, I make myself essential to conform to the American nationality, making visible the stereotypes that have come to inform "Asian–American" subjectivity. My art is a negotiation between the personal, and broader political and social issues. Ultimately, I am creating a representation of an emergence, a coming-out, of an identity reconfigured.

The juxtaposition of the American nationality with Asian culture is about the traditional versus the non-traditional. The hegemony of heteronormativity has positioned my Chinese ancestry, my body, and my gay sexuality in opposition with each other. Yet, I am an American citizen who was born and raised in California all my life. My race, and perhaps my sexuality, is recognizable
from my appearance. Nonetheless, I want to claim my "entire" identity, including the parts that maybe ignored because the mainstream ideal will simplify its complexity.
My gay Asian-American identity is an amalgamation. As such, the strategies I employ often reflect this appropriation and experimentation of cultural symbols. I began to reconsider the symbols and traditions of my Chinese ethnicity by using scrolls andChinese brush painting. In a perfomance piece I exhibited at CalArts in February 2010 titled Amendment XIV, Section 1, I wrote the first section of the fourteenth amendment from the US Constitution (which contains
the Equal Protection Clause) on pink paper scrolls.

During the week of my performance, a tarp I had used for the piece was left out overnight with sumi ink and brushes. When I returned the next day, the tarp was vandalized with the words: fuck you, Sol LeWitt, CalArts sucks, It's wrong because it's against society, and Orientalism. While this vandalism was disruptive, I have since seen this incident as a significant critique of
my work. The irony was that I felt implicated as an Orientalist, and yet I did not even read Edward Said's book. In response to the vandalism, I continued my research and education of Said's text (of which I am still reading). Said, in supporting his postcolonial theory of Orientalism, discusses the
repertory of images that exist of Europe's idealization of the Orient. A theme which appears in Orientalist art, "the sensual woman to be taken by a man" is exemplified in La Grande Odalisque, by the French neoclassicist painter Jean Dominique Auguste Ingres.

Ingres' LaGrande Odalisque was an image that I had studied and viewed many times before, but had no knowledge of its meaning until recently. It was ripe for my use to question the notion of myself and my work of being Orientalist, and to react to my cognitive dissonance. The complexity of this situation is that I am a westernized graduate student of the academy, of Chinese heritage, as well as of American nationality. And so, the questions remain. Who is Orientalist? Who has the authority of the use of these images?
JAYOUNG CHUNG

plying the MOONLIGHT [ 2009 | performance / 8min / sound interactivity with processing | Moonlight, my love ]
Ja-young Chung is a multi-media artist, who is primarily a visual artist ; at the same time a musician, animator, filmmaker, and story-teller with numerous exhibits and installations utilizing nearly every form of media, including performance, film, computer graphics, sound, and movement. Her work has exhibited worldwide in both solo and group shows at such institutions as the La Mama Gallery, Glasslands Gallery, The Red Room, Culturehub, and Issue Project Room in New York City; the New Media Festival, the Seoul Arst Center, and HCI Design Conference in South Korea; and the Dot Mov Festival in Sapporo, Japan, to name only a few. In addition, Ms. Chung's work appears in the permanent collections of the Korean Film Archive. Her expertise in the realm of multimedia art is so widely respected that such distinguished establishments as the Lee Young-hee Museum in New York, the Harold Pinter Festival, and the Gallery Jung in Seoul have selected her to serve as their art director. She has been awarded residencies at the Culturehub 2011, which values cross-cultural, artistic collaboration and it is our belief that artists, working in all mediums, must continue to experiment with new and developing technologies. Jayoung Chung received a MPS from ITP at Tisch school of arts in New York University in 2010 and a BFA from Seoul National University in 2005 and Ewha Woman's University in 2003. She was born in Pohang, South Korea.

I am an all-round artist who packages traditional art with modern technology. In the core of the content lies nature and man: Telling stories of our lives through nature, and packaging this context to express in artistic ways. My work is based on the symbiosis of art and technology, and speaks of East Asian reasons by means of naturalistic sensitivities. Specifically, I search for roots of my works that packages art with media installation in terms of visualization of music, naturalistic East Asian reasons, and technology in "Namjun Paik"
When my work evolved from immobile painting into a dynamic video art, this transcendence was induced by my music, my gukak (Korean traditional (classical) music). Growing up amidst nature in my youth, I learned to play gayageum (Korean zither) and perform samulnori (Korean traditional percussion quartet) and traditional dance. Philosophy, sound and movements embedded within gukak were founded in my body even after studying art, like fine roots. Samulnori, especially, is a unique Korean culture where dance – in terms of sound and movements and immersion in trance take place within the harmony from four instruments. My work draws from this concept, where musical sound, visual image and dance movements are rearranged in nonlinear methods during video editing. At this moment, each element communicates with the others. Gayageum's sound create and modify the image, dance movements cause image to react, and such movements also invoke other sounds of nature. But simple reactions of these elements are only outmost layers that came from technological interventions. The central story inside these layers is more important. Inside, I conceive my philosophy in life.
In other words, I want my life to be revealed in my art. A union of art and life. Then what is in my life as an artist? First comes nature. Beauty of each moment from sunrise till sunset and moonrise with its reflection of light, one that I cannot resist to express. Nature is the wellspring that never dries, a foundation of all my art. The nature I interpret and reproduce are site-specific media installation, appear in moments that reflect the figures' mentality as time factor in films, or star as abstract or poetic metaphor as sounds from gayageum that wanders among the trees like wind. I wonder if there is anything so grand and magnificent as to draw speechless sympathy from us, other than nature. Even if I were to devote my entire life, I will not be able to express all its facets.
Second are people. As a emotional artist I am easily resonated by others' stories. I want to ease sadness and multiply happiness. This is reflected in my work; the stories of these people are shown in my video, animation, or interactive media installations as images of people and conveyed by means of contextual conversations and body language. Their life is narrated through nature.
For such methods to combine man and nature and expressing my life's stories through art, I use technology readily. For example, if I want my gayageum sounds to tell a story in which the sounds metamorphose into wind that wanders through the trees to shake the leaf and metaphorically symbolize a woman who longs for her lover, I seek help of a computer program that can measure the sounds digitally and use the data to control images. I am grateful for modern technology that helps me express without fading the essence of the narrative. Seeing sounds, composing pictures, and painting dances – I weave the contents in sympathetic ways, creating a new genre.
Foremost of all, I want my art to be yours. I want it to be a sweet whisper, a consolation, and happiness for you. I want your story to be revealed beautifully through my sensitivities, and approach you as nature's wonder
Laura Buckley
The Galway-born, London-based artist started out as a painter, and has described her work as painting with light. As a student in the early 2000s, Buckley began shredding paintings of the reflections in puddles and creating sculptural installations by painting on MDF and rolls of wallpaper. Keen to escape the bounds of the canvas and bring the outside world into her work, it was an organic progression to move on to mirrors and film. Much of what she shoots is ad hoc, and her installations fuse the dazzling perceptual play of Olafur Eliasson or James Turrell's environments with photographer Wolfgang Tillman's grungier style. Her distorted melodies, inspired by experimental musicians from My Bloody Valentine to John Cage , are similarly crafted from what she picks up around her.
Buckley's current installation, Fata Morgana, is a walk-in kaleidoscope: a giant, hexagonal tunnel with whirling mirrored walls and thrumming noise. Frenzied and enchanting by turns, images of everything from glittery fairy dolls to barbed wire dances to a strange music – where children's laughter, traffic and strings come together in lulling harmonies.
For her 2010 installation Waterlilies. Buckley's beguiling vision of pond life features wires snaking across the floor around discs made of Perspex and mirror, which gently rotate like fat lilypads. Video footage and lights ripple watery reflections on the walls, while the sounds of piano tinkling, water dripping and fragments of conversation conjure liquid everyday experience.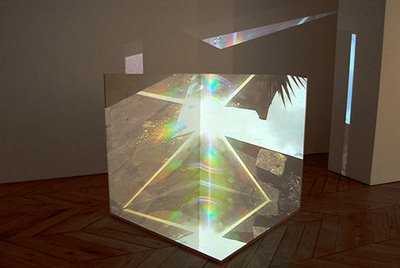 Laura Buckley creates film and video installations using fractured imagery juxtaposed with kinetic sculpture. Buckley is inspired by observing different cultures on her travels, along with the strong influence of her two young daughters. The girls are often in attendance on project shoots and Buckley describes their presence as "at times becoming part of the work through their background activity or voice". Describing her practice as a "multi-layered referential conversation between component materials" Buckley explores the physicality of the elements she uses to create her works and combines this with abstract imagery, which can lean towards the psychedelic. The results offer the viewer an all-encompassing experience that challenges their perception of exactly what it is that they are looking at.
Esther Stocker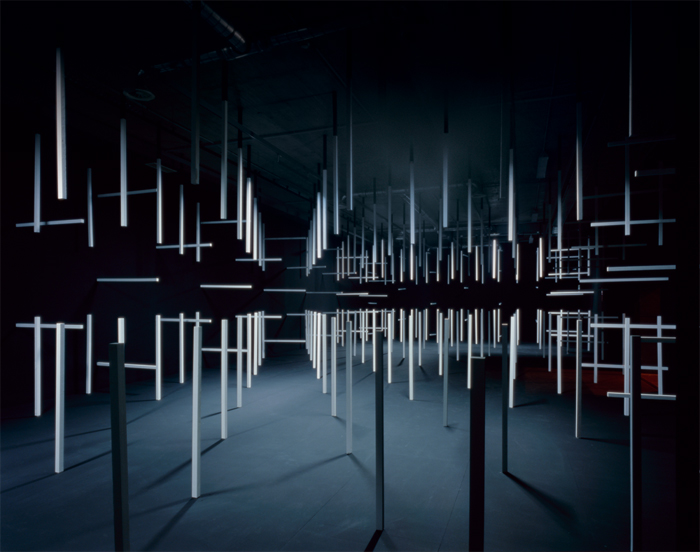 Esther Stocker , born 1974 in Silandro, Italy, graduated in 1999 from the Academy of Fine Arts, Vienna. Stocker's work oscillates between the exactitudes of formal minimalism and the ambiguities of abstraction. She builds deviations, optical breaks and hurdles, which simultaneously open-up and withhold the complex systems inherent in her thoroughly architectural forms.
Esther Stocker encapsulates nicely the negative abstraction of her work. Her grid-like paintings and built installations are more often explorations of what isn't - of what remains after the careful geometric demarcation of a blank canvas or an empty room. Stocker's large-scale architectural forms feel like real-life, 3-D optical illusions, or the broken edges of a virtual maze. The emptiness between the half-lines is almost tangible. Her canvases similarly challenge popular conceptions of spatial geometry. Via subtle modulations she affects a clever dissolution of shape, form, and structural precision.
With ostensible simplicity and minimalist construction - the colour palette is typically limited to black, white and grey and the built matter can seem almost incidental - Stocker's work invites a gentle re-evaluation of the ways in which we conceptualise our most familiar surroundings.
The paintings, murals and installations of Esther Stocker, based on grid structures and on the colors black, white and gray, consistently manifest entanglements, interconnections, interpenetrations, both semantically and formally, for which the variably deployed grid motif functions as a metaphorical logo. Stocker consistently breaks with one-dimensional notions of order, space, and painting as contextual and relational factors and concepts. When an artist so persistently preoccupied with spatial structures and spatial experience, simultaneously calls attention to the fact that "we know nothing about space" (Stocker), then her stance would seem to testify to a productive skepticism which arises from unremitting and methodical attempts at understanding, and from insight into their-in principle-interminability.
Excerpt from Systematically Broken Systems, Rainer Fuchs
Michael Kiwanuka
With Michael Kiwanuka, it's all about the voice. A voice that he describes as "hitting straight through to the core" with direct, emotional songs about love, yearning, comfort and belonging. It's a voice that built him a following via MySpace and small London gigs, and led Paul Butler from The Bees to invite him to the band's Isle of Wight studio to lay down these introductory tracks from what promises to be a major new British singer/songwriter. Which makes it all the more strange, really, that what Michael originally set out to be was a session guitarist who maybe wrote the odd song for other people.
Growing up in North London, he struggled at times to see where he fitted in. An avid England and Spurs fan, he found it hard to imagine a day when a name like Kiwanuka could sit comfortably on the back of a football shirt here. Nonetheless, when his parents took him and his brother back to Uganda to visit family, he and his brother were immediately recognised as British tourists. Like most of his schoolmates, he liked bands like Nirvana, Radiohead, Offspring and Blur, but it was only when he discovered that Jimi Hendrix was black that he understood he had a place playing rock guitar.
In his teens, two other icons helped him find his voice. A friend gave him a Bob Dylan box set, and Michael was bowled over by the power of a well-crafted song, delivered with just urgent vocals and an acoustic guitar. Later, he was playing the free CD that came with a music magazine and heard an out-take of 'Sitting on the Dock of the Bay' in which Otis Reddingwas talking to the studio engineer. It made the soul icon seem more human, more accessible, and though there were later to be other influences from Bill Withers and Terry Callier to John Martyn and Laura Marling, it was Dylan and Redding who laid the foundations for Michael's own rootsy, folk-inflected modern soul.
He played in rock bands at school, and when he was 16 went east to Hackney in search of other musicians to work with. He began hanging out with Tiny Tempah collaborator Labrinth at his studio, played contemporary R&B, soul and jazz-funk at small jam sessions, and did some session guitar for the likes of Tottenham rapper Chipmunk. "It was fun and I learned loads, but I still felt like I didn't quite fit in. I couldn't express the side of me that had played in rock bands, or listened to Dylan or Nirvana."
He began writing his own songs quietly at home, just for fun. They weren't meant for other people to hear – at least not at first. "No one would give me a gig playing the kind of music I loved, so I had to write my own. It was more to keep my passion in music alive, just something to do to keep my soul warm, you know. It didn't fit into what was in the charts at the time!"
Eventually, he recorded demos of a few songs, hoping to give them to others to perform. But he was surprised to find that people loved his voice, and began encouraging him to play small shows. And finally, he found his place in the world. "I love singing live, the feeling when you really connect with an audience, when suddenly there's a hush and you can feel it in the air. It doesn't happen all the time, but when it does, it's really special."
This debut EP was produced by Paul Butler of The Bees, in the band's Isle of Wight studio. "I'd just been playing my songs with an acoustic guitar, and that will always be the core, the thing I come back to. But Paul also encouraged me to mix in the kind of music I was playing when I was hanging out in Hackney, so I got to play a bit more electric, and a bit of bass, and it turned out to be quite a soulful record. It's got folk things there but also influences like Shuggie Otis and Curtis Mayfield. I really enjoyed making it."
The 24-year-old sounds like the sort of classic soul man who emerged from the US in the late 1960s or 1970s – specifically Otis Redding or Bill Withers, whose I Don't Know features in the set. Yet Kiwanuka's stark and haunting music is more stripped down, and when he opens his mouth to speak you hear that he is, in fact, a Londoner, with a cockney accent.
Born of Ugandan parentage, Kiwanuka started off as a Nirvana and Radiohead fan playing in rock bands before finding a more soulful calling. But a calling it is: his vocal cords were made to sing soul.
His music is unashamedly retro: Tell Me a Tale has the breezy feel ofVan Morrison's Moondanceand a brilliant mid-song gear-change, but the likes of Worry Walks Beside Me have a troubled, bleak beauty that resonates with our times. Even his cheerier songs have a dark undercurrent – a seemingly bright love song ends with the punchline that if he can't have her, he'll "leave this world alone".
Dave Simpson - The Guardian, UK
Zanele Muholi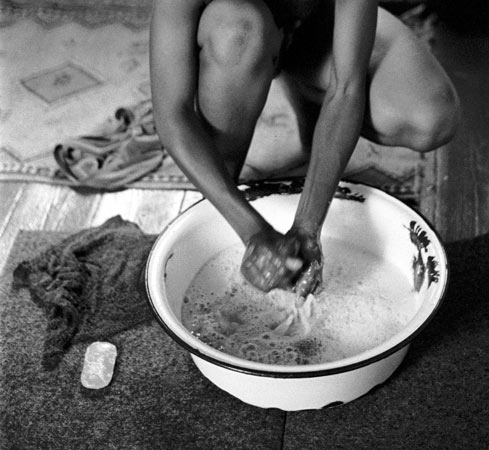 Zanele Muholi was born in Umlazi, Durban, in 1972. She completed an Advanced Photography course at the Market Photo Workshop in Newtown and held her first solo exhibition at the Johannesburg Art Gallery in 2004. She has worked as a community relations officer for the Forum for the Empowerment of Women (FEW), a black lesbian organisation based in Gauteng, and as a photographer and reporter for Behind the Mask ,an online magazine on lesbian and gay issues in Africa. Her work represents the black female body in a frank yet intimate way that challenges the history of the portrayal of black women's bodies in documentary photography. Her solo exhibition Only half the picture, which showed at Michael Stevenson in March 2006, travelled to the Market Photo Workshop in Johannesburg and the Afrovibes Festival in Amsterdam.
In 2008 she had a solo show at Le Case d'Arte, Milan, and in 2009 she exhibited alongside Lucy Azubuike at the CCA Lagos, Nigeria. She was the recipient of the 2005 Tollman Award for the Visual Arts , the first BHP Billiton/Wits University Visual Arts Fellowship in 2006, and was the 2009 Ida Ely Rubin Artist-in-Residence at the Massachusetts Institute of Technology (MIT)
ARTIST STATMENT
'This is a time for a visual state of emergence. The preservation and mapping of our herstories is the only way for us black lesbians to be visible. The textualisation of our cultures is not sufficient but historicising is not impassable. It is for this reason that I embark on what I call visual activism. My work is about observing and taking action. I take pictures of myself and other women to heal from my past. ?...It is personal issues that makes me do what I do, for I have been raped more than 50 times by just listening to what women who have confessed and confirmed their love for other women have been through.'
'I have seen people speaking and capturing images of lesbians on our behalf, as if we are incapable and mute. I have witnessed this at Gay Pride events, at academic conferences, in the so-called women's movement forums. Research opened my eyes even wider than the lens, and it made me feel autonomous. I refused to become subject matter for others and to be silenced. Many have exiled our female African bodies: by colonisers, by researchers, by men. Sarah Baartman became a spectacle for Europeans, and she died in a foreign land. She was never given a chance to speak for herself. ?...It is for this reason that I say No, not yet another black body'.
ALABMAMA SHAKES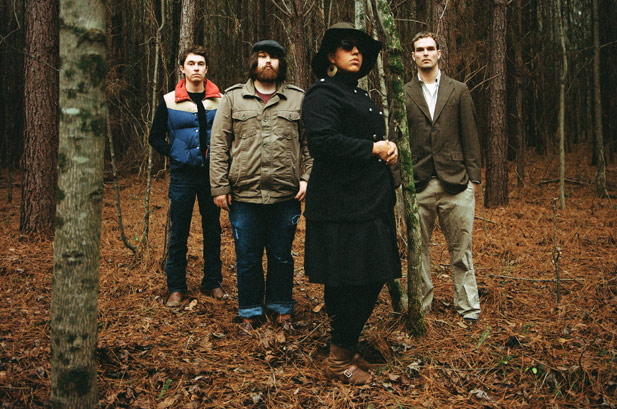 One of the biggest breakout acts of 2012, Alabama Shakes trace their origins to Athens, Alabama when frontwoman Brittany Howard and bassist Zac Cockrell began writing songs at their high school after school. After recording some of those songs in Decatur and releasing a 4-song EP in late 2011, the band garnered quite a bit of attention from the likes of NPR, the New York Times, and CMJ.
The story of the Alabama Shakes begins in a high school pyschology class in Athens, Alabama. Brittany Howard, who had started playing guitar a few years earlier, approached Zac Cockrell and asked if he wanted to try making music together. "I just knew that he played bass and that he wore shirts with cool bands on them that nobody had heard of," says Howard.
They started to meet up after school and write songs sitting on Howard's floor. "It had that roootsy feel, but there was some out-there stuff," says Cockrell. "David Bowie-style things, prog-rock, lots of different stuff. We started to come across our own sound a little bit, though it's evolved a lot since then."
Steven Johnson worked at the only music store in town, and Howard knew he played the drums. She invited him to a party where, she says, "he met everybody from our side of the tracks." The three young musicians began working together, further expanding their style and approach. "Steve is kind of a punk-metal drummer," says Howard, "so we embraced that edge he brings to everything he does."
The trio soon went into a studio in Decatur to record some of the songs they were working up, and this proto-demo found its way into the hands of Heath Fogg, with whom Howard had been familiar because he had been the lead guitarist in what she describes as "the best band in our high school." Fogg, who by now had graduated from college, asked them to open a show for his band, which they agreed to do—on the condition that he play with them. The response was immediate: "That first show was really explosive," says Howard."
Though they had been focusing on original material ("It's just more fun to write than to learn someone else's music," says Cockrell), as the band—newly christened the Shakes—began playing out, they added more cover songs. They played classics by James Brown and Otis Redding, but also by Led Zeppelin and AC/DC. "We had to find music we could all agree on and figure out how to play together," says Howard, "and that had a lot of influence on how we play now."
Attempting to record their songs with the honest sonic qualities they cherished, the Shakes bought a few microphones and a vintage Teac mixing board and set up in Howard's house—which didn't work, since she lived right next to some railroad tracks. They eventually found their way to a Nashville studio in early 2011, where the songs they cut included "You Ain't Alone" and "I Found You."
When they appeared at a Nashville record store, people started to take notice of the group's relentless, hard-charging live attack, and Howard's magnetic stage presence. One especially ardent fan raved about the band to his friends, which included Justin Gage, the founder of the Aquarium Drunkard blog. Gage wrote to Howard, asking if he could post one of the Shakes' songs. She sent back the yearning, intense "You Ain't Alone," which he put up in late July, calling it "a slice of the real." And, literally overnight, all hell broke loose.