re/INTRODUCTIONS
adrian van der ploeg
ADRIAAN VAN DER PLOEG ," BLOCKHEAD", " SEMNL", "GUSILY ", "NATHAN", C-prints, 51x42cm, Courtesy of Galerie Haas & Fischer, AG, Zurich
Ken Pratt, co-curator of the exhibition, Low Len- New Dutch Photography reflecting on the work of contemporary Dutch photography describes "Dutch culture as one of the first to embrace photography as a valid art form and to elevate it to the same status as other practices used by ' fine' artists... (Combing) the traditional national concerns with documentary, clear presentation and sociological questions remain evident. Yet this is the work of a mass media literate generation, fashion conscious and ready to exploit and subvert both technological potential and contemporary visual cultural languages". Included amongst the selected groups of artists for this project was the emerging young photographer Adriaan van der Ploeg.
Adriaan van der Ploeg, (b 1984) was born in Wageningen (NL), and attended St. Joost in Breda (NL) where he studied photography. Adriaan van der Ploeg's straightforward color photographs portray teenage gamer—mostly adolescent boys—whose brightly lit, often-sullen faces fill the frame. As contemporary video games heavily employ use of the avatar, it is disconcerting to see the boys somewhat "unmasked" in the light of van der Ploeg's camera.

Traditional global art photographic practices often stresses the importance of seeing young people as more than passive recipients of socialization while highlighting their autonomy and agency as well as their basic needs for education, safety, and protection from economic exploitation. Yet, most of the current images that circulate of children continue to feature their needs more than their agency (i.e. the starving Somali orphan, the trafficked Nepali girl, the São Paulo street child).

In contrast, van der Ploeg's portraits are reminiscent of the works by photographers exploring aspect of a more complex world of youth and adolescent including the artists Dawoud Bey, Wendy Ewald, David Hilliard, Ryan McGinley, Rineke Dystra, Collier Schoor, Anna Gaskell, and Anthony Goicolea. These artists in their own unique ways provide new possibilities and partnerships that link youth civic engagement, social activism, sexuality, and the visual arts. Their works by presenting a more complex image of "Youth" explore the role that photography can play in facilitating children's agency and promoting their unique individualism, giving them the power of self-representation, and expanding the rather codified depictions of adolescent.

The works of these artists propose depiction of opposition s of youth at moment where there appears a simultaneous connect and dis-connect, embrace and disengagement with surrounding reality. Through process, both direct or digital manipulation of the photographic image they are able create simultaneously humorous, horrific, and emotional, scenarios in which youth are able presented in childhood incidents, as well as transformative moments that explore the complex and awkward journey toward adulthood. Their subject matter engages some of the more discomforting interests and activities of awkward adolescents: base humor, bodily functions, obscene gestures, loitering, and ambiguous sexual situations.

Anthony Goicolea in discussing why he has chosen adolescence as a basis for his work, has said, "Generally, I like to look like I'm anywhere from 8 to 15 years old. I'm trying to explore that awkward period from before puberty until right when it starts. That period when you know what sex is, but you're not quite equipped to have it. Experimentation is rampant. It's a period of exaggeration, bragging, failure, and disappointment, all marked with confusion and an overall awkward identity complex."
Anthony Goicolea, 2001, The Corcoran College of Art and Design, Washington D.C

Adriaan van der Ploeg's exhibition,Lets Meet In Real Life, (2007), the artist presented a photo series was realized in Holland and Belgium. The artist tracked down Online-Game-Communities, lured young men and pubescent boys away from their computers and took pictures of them. The subjects were selected from an apparent wide range of society without judgment. The manner in which the photographs of the young gamers were taken contributes to their dreamlike appearance. In the final images these gamers extended preoccupation with the computer screen appear totally moved from the surrounding reality as the subjects become completely bound up with the game as possible. The "innocent" gazes of youth are here replaced by a variety of dreamy states of mind, but sadly certain emptiness.

Ploeg's aims to emphasize the personal experience of each gamer, as well as the viewer's own interpretation of each individual portrait as well, rather than a codified or stylized approach. These images are not preachy, nor do they convey to the viewer a concrete story, rather they are meant to be reflective of the experience of the moment, conveying a certain atmosphere that is reflective of personal effect of each individual gamer.
As his subjects have allowed themselves to submit to the endless dynamics of the gaming, Ploeg captures a world shifting between reality and memory, internal and external. The interpretative process of understanding this series of images consist of relating a representation of the image to the content of the photo and comparing the congruence ofthis representation with the participant' reflection of a reality, between a physical and mental space.

Ploeg well shot photos are reflective of a young artists who clearly delights in the process and beauty of the photographic medium. Van der Ploeg's works explore relationship of artistic/photographic work to common experience or reality. In their own manner these images critique the complex life of youth of our time and the often complex and confusing contemporary life. Ploeg's images talks rather frankly to the interconnectivity between the different intriguing worlds of youth, where one overflows into the next, and where these worlds create a combined effect.
theaster gates
Performing and Visual artist, Theaster Gates, Jr. is the Director of Arts
Programming in the Office of the Provost, Resident Artist, and Lecturer in
the Department of Visual Arts at the University of Chicago. He has long had
interest in both arts administration and art practice. Gates¹ new work,
Cosmology of Yard - in which he collaborates with researchers, performers,
and the public - will take over the sculpture court of the Whitney Museum of
American Art as part of its 2010 Biennial.Recent exhibitions include Temple
Exercises, Musuem of Contemporary Art, Chicago, Van Abbe Museum,
Netherlands, Museum of Contemporary Craft, Portland and the Milwaukee Art
Museum.: theaser gates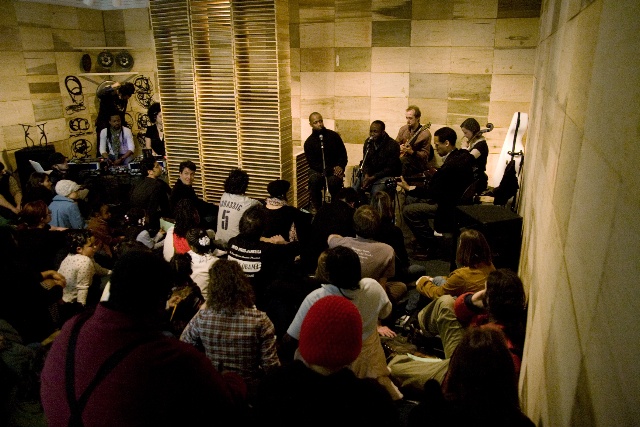 Holiness: In 3 Parts
Theaster Gates, Jr. Iis a sculpture and performance artist. based in Chicago Trained as a potter and an urban planner, Chicago artist Theaster Gates is less interested in static categories than he is in the flow of materials and information. "My practice is about doing and undoing things, over and over again," he says. Working in venues as diverse as the Museum of Contemporary Art, the Yamaguchi Institute in Woodlawn, and the Chicago club Sonotheque, among others, Gates enables new spaces and new structures for dialogue. Frequently they evoke motifs from Buddhism, black culture, ritual activity, and Japanese tea traditions. But they resist categorization. "The dominant narrative," he says, "is curiosity."
"Boss!" Theaster Gates shouts in a pointedly servile tone. "I'm gonna shine some shoes." The audience at Little Black Pearl on January 10 squirms a bit. "Boss!" he repeats, scanning the room for shoes to shine. The athletic Gates assumes the role of an overly-solicitous bootblack circa mid-twentieth century, when African-American men with brushes, rags, and wooden boxes were a common presence at train stations and in busy lobbies. Gates hones in on a pair belonging to a young black man in the front row who is, literally, well-heeled. He kneels over the leather shoes and begins to buff. He sings as he shines. "Sweet Jesus, tell him where I am." The artist's body is now low to the floor. Necks crane in the audience, who sit in a horseshoe around the spare performance space. A low, melodic drone begins as three singers, two guitarists, a bassist, and percussionist add layers of rising and falling sound. Gates starts counting: "One, two, three," to the musicians, as if they were calling and responding in church. This music, Gates explains, is church music, meant to move through the spirit. The voices of the ensemble swell from near silence to fortissimo as Gates continues to work on the shoes. When finished, the piece is met not by applause, but by the quiet of deep breathing in the audience and the remaining musical vibrations that hang in the air.
"The shoe shine is a metaphor for my labor in the art world, labor that can sometimes feel fruitless. It's also about dignity, humility, and poverty. I wanted to talk about those themes without explicitly saying them," Theaster—everyone calls him Theaster—reflects after the performance. "I want to embrace all those cultural centers that have been dear to me." Shoe Shine King, a shoe shine shop on the city's Far West Side, is a place that Theaster holds close to his heart. People from various flavors in the city's cultural stew come to the small shop for a shoe shine or repair. Like Theaster himself, Shine King bridges—and engages—parts of the city's cultural makeup that might not otherwise come together. The high meets the low there. Drug-dealers stand next to the most affluent, culturally-connected West Side black elite. "People go to Shine King to reconnect. It's a place with cultural importance equal to the MCA or Little Black Pearl."
It's no wonder Theaster identifies with Shine King, since he himself has his feet in many worlds. He is a potter, woodworker, performer, teacher, urban planner, and University of Chicago arts coordinator. His performance earlier this month at Little Black Pearl is part of a three-week-long whirlwind of citywide events, done in conjunction with Chicago's Museum of Contemporary Art, called "Theaster Gates: Temple Exercises." For the MCA program, Gates built a "temple" in the museum that melds Eastern and Western influences. In "Temple Exercises," Theaster explores and encourages a dialogue between African-American and Japanese tradition. Theaster's ability to traverse such broad terrain allows him to creatively match institutions with artists. Arts organizations turn to Theaster to bring pairings that might not otherwise come naturally.
One organization that has helped foster Theaster's work is Little Black Pearl, a nonprofit arts promotion and education center on 47th Street and Greenwood Avenue. Monica Haslip, founder and director of Little Black Pearl, has known Theaster since she began Little Black Pearl ten years ago, first running it out of her basement on Drexel Avenue. The initial mission of Little Black Pearl was to teach young people about art entrepreneurship, and Haslip ran programs in several Chicago Public Schools. Over time, the mission grew and so did the need for space. In 2005, the organization moved to its 47th Street home, which takes up much of a city block. There is now a retail store, coffee shop, large performance space, and ceramics studio.
The expanded vision, according to Haslip, is to encourage and broaden the role of art in community development. Little Black Pearl works closely with Quad Communities Development Corporation, a local organization formed in 2003 that is devoted to fostering culturally rich, economically vibrant, and diverse neighborhoods in the areas around Hyde Park. With QCDC's help, Little Black Pearl has brought art to a number of redevelopment projects on the South Side. The partnership of the two organizations has allowed music, dance, performance, and visual arts to have not only a cultural impact but an economic one as well. That's where Theaster fits in. "I live between worlds, acting as a bridge. I look beyond the physical needs of a community. I want to find the meaty, social-structural needs of a neighborhood. I can ask what a community needs as developer, and I can answer as an artist," he explains. Much of his local neighborhood work is in conjunction with an evolving network of organizations committed to wedding arts and community development.
Theaster's relationship with Little Black Pearl is a unique one, according to Haslip. "As we were expanding our vision, Theaster seemed to be on a parallel track. His work is provocative and holds a strong place in the community. He is influenced by the contemporary art world and has the ability to broaden a smaller community's thinking about different kinds of art." This kind of thinking was integral to the expanding work of Little Black Pearl.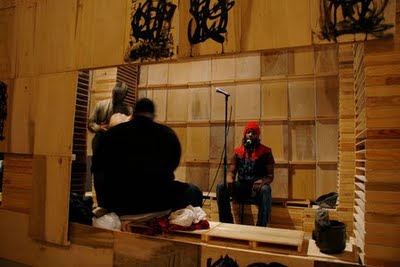 Tea Shack
Theaster began as a ceramicist, but his work quickly expanded after his 2007 exhibit, "Plate Convergences," at the Hyde Park Art Center. Theaster created fifty different clay plates for the exhibit that were both sculptural display and functional dinner plates for a staged and videotaped sit-down dinner. The dinner event served a mix of soul food and sushi, and encouraged guests from many different backgrounds to engage in conversation. "Plate Convergences" helped me make the transition between pure object making to situational practices, experiential, that a large public could experience," Theaster explains. It was after this exhibit that Theaster began to move into his current projects. Continuing this work to unite East and West, Theaster moved into an exploration of the institutions that have truly impacted his life, and started to bring them together.
"He creates art that one can come to with an individual perspective. That is his greatest asset," says Haslip. Theaster's work has always encouraged many different perspectives to come together. "He brings tangibility to the avant-garde world of art," says Haslip. And it is his current exhibition at the Museum of Contemporary Art that has brought the avant-garde so at home under the roof of the MCA to Little Black Pearl and communities on the South and West Sides.
Over the years, Little Black Pearl and the MCA have begun to work together through youth performance. Their mission has been to bring the world of high art to Chicago neighborhoods and to highlight the importance of each respective community to the other. The growing relationship between these two art institutions is an important factor in the mission that Little Black Pearl and Theaster share: to build and foster a workforce development program for cultural workers.
Surprises filled the January 10 concert, an extension of Theaster's MCA exhibit, "Temple Exercises." Theaster performed with the Black Monks of Mississippi, his Chicago-based music ensemble who explore the traditions of Black Baptist music and Easter chant, and a gathering of guest musicians. Among the surprise guests was Andrew Bird, the Chicago-based composer and instrumentalist who has created an avant-garde musical genre of his own. There, too, was LeRoy Bach, who left the band Wilco in 2004 and has had his own varied musical and stage life since. "It was really exciting for me to have these well-known indie rockers play with the Black Monks. It added a quality of monasticism," Theaster reflects. The evening's performance began with the throaty chants of three singers—all of whom participate in the Chicago jazz, gospel, and R&B scenes—and Theaster himself. While the music began in the vein of Eastern religious chants, it later moved into the hypnotic intonations of traditional black spirituals. "It was amazing to see this ensemble of disparate musicians take one journey together and explore this kind of music," Theaster said afterward. It was moving for the audience, too. At the end of the performance, when the audience's silence finally lifted, the room erupted in applause. Those clapping did not just look toward the stage—they looked to each other as well. They had been through a journey, led across a new bridge built by Theaster Gates.-- @Chicago Weekly
In the provocative installation To Speculate Darkly: Theaster Gates and Dave the Potter, contemporary Chicago artist Theaster Gates, Jr. explores the history and legacy of Dave Drake. A freed slave in antebellum South Carolina, Drake produced stoneware pottery and famously adorned his pots with poetic couplets. Though historians and art historians have explored Drake's career in detail, Gates is the first artist to reinterpret his work and to make it pertinent to a broader set of concerns about the place of labor and craft in present-day America.

A sound piece accompanying To Speculate Darkly features a two hundred-strong voice choir that engages the enigmatic, emotional works of poetry found on Drake's pots. Gates created this captivating sound piece with musicians from both Milwaukee and Chicago. Gates further collaborated with local tradespeople to develop original ceramic works for the show. Thus, the project, as intended, has brought together two very different groups of people in partnership, and promises to create lasting relationships across the city.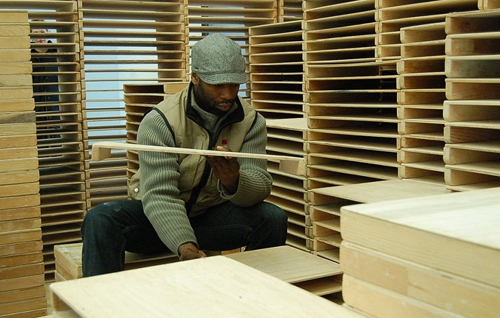 Forest for Tree

Potter, musician, and performance artist, Theaster Gates, Jr. has earned national acclaim for his intelligent commentaries on race, the city, and the museum and was recently selected to participate in the 2010 Whitney Biennial.

"a man named Pearl"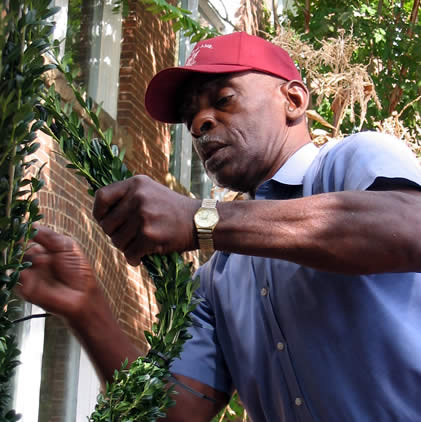 @shadow distribution
A Man Named Pearl, Scott Galloway and Brent Piersen's documentary details the amazing creativity of Pearl Fryar. It is a moving story of self-taught topiary artist Pearl Fryar. In 1976, Pearl took a job in a can factory in Bishopville, South Carolina. New to this rural southern town, he and his wife Metra looked at a house for sale in an all-white neighborhood. They immediately met resistant from the residence in his prospective neighbors who outwardly stated that a black family was not welcome. Surprisingly one of their prime objections was: "Black people don't keep up their yards." Stung but not derailed by this racial stereotyping only motivated Pearl to prove that misguided people wrong. Pearl bought a house in the town's "black" neighborhood and began creating a garden with the intention to become the first African-American to win Bishopville's "Yard of the Month" award.

Realizing he would have to do something spectacular to impress the Bishopville garden club, Pearl began cutting every bush and tree in his yard into abstract shapes. His use of discarded plants and garbage to craft his gorgeous sculptures is related to both his attempts to inspire disadvantaged kids to reach for their dreams and to rejuvenate the rundown community. Ultimately, Fryar created a magical space that would, over time draw thousands of visitors from across the United States and around the world. The moving depiction of Fryar and his self determination and pride resonate throughout the film. Like some many areas of the United States still struggling with racial and economic tensions, the status of the man's work as the town's defining feature speaks to art's power to bring people together.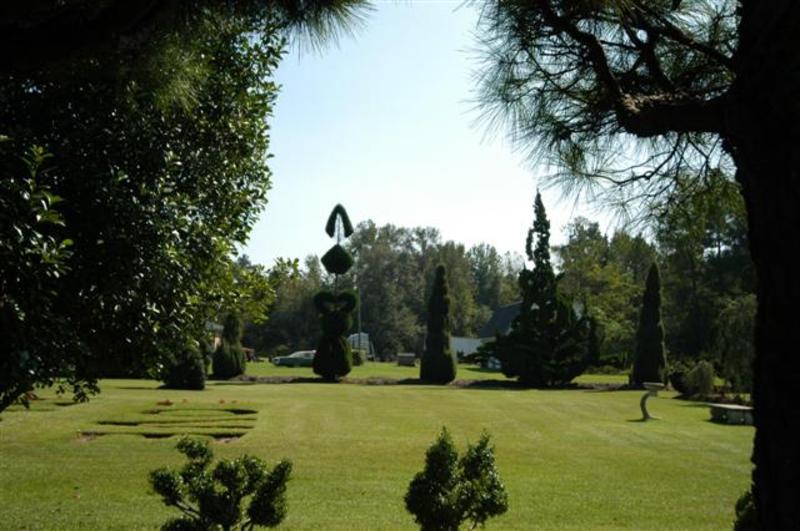 @shadow Distribution
nathaniel rackowe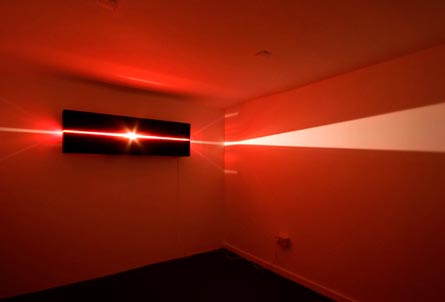 wlp4, 2007 plywood,bitumen,gloss paint,incadescent light
Spin, 2006,electroluminescent wire, steel cable
The works created by Nathaniel Rackowe for transferred urban architectural settings, wooded forest terrains, interior gallery settings provide challenging juxtapositions between form and context. Often he uses lights which travelled slowly up and down, and between the architectural and environmental spaces. Often these lights act as scanners of their environment and the audience too. Often calmness pervades the surrounding space, as viewers stand transfixed by the movement.
Rackowe's "machines" are complicit to dual counterpoints as lights move through static objects, or remain fixed while moving structures pass through them. In each case the outcomes becomes equivalents of light, shadow, and animation. Rackowe's works plays with the often ambiguity of the space, and its inherent attributes. Allowing the man-made or natural environment to play a crucial role in his work, create a certain wonder between the natural world and that that of the sculptural. As a result of this combination there is a lighthearted quality to the works that is equally filled with curiosity.
In his works, the viewer's attention is attracted to some aspect of the situation, often subtle observations, which highlight those negative spaces or the literal points where the viewer finds intrigue. The viewer becomes absorbed by his/her own perceptions.

Nathaniel Rackowe (b 1975, Cambridge , England), graduated from Slade School of Fine Art, London. Rackowe has s become known for using kinetic elements that literally challenge the constraints of architecture. Rackowe uses mass manufactured products, corrugated plastics, household doors, neon lights, to create functional mechanisms informed by the derivative hardware. Charles Dancy suggest at the forefront of Rawkowe's latest works is a notion of territory informed by a socio-political program of borders, boundaries and buildings that underwrites the in-between "luminal " spaces marked out previously by the artist. (1)
.
Rackowe's work explores the limitations of construction and uses the assumptions of built space, more specifically, the architectural, as its point of departure. Rackowe describes his work as "investigating the area between the real and the unreal, questioning how removed an object needs to be to become something different, and if it is possible to be between the two points of known and unknown."
Rackowe's work questions the foundations and certainty inherent in the built object. His works denounce materiality as a static and stable structure and in order to undermine what has been defined as the "categorization of territories and ideas"
He seeks to embody structure and knowledge into his works, as does an architect, but rather than solely organizing these elements into a whole he furthers this so that they operate openly on a margin or in the twilight; where two oppositions come into view.

WLP4, (2007)
In WLP4, (2007) a shaft of light spilling cuts the final gallery space in two. Through a slit in the black structure, a powerful light bulb slowly increases in intensity. The orange internal surfaces intensify the light spilling out, extending the boundary of this work beyond its physical limits.
WLP4 sets a rectangular box mounted onto a wall sliced in half and from it shines a red light, which illuminates the room. The red glow is counteracted by the same light, which also shines white and literally incises the box, as does a laser beam drawing a line across the room. The beams of light cut across the corners of the space and demarcate the surface of the walls.
Light, for Rackowe, seems to be a tool that he can use that adheres to the in-between of which he seeks. Light used in this way deviates from its traditionally perceived radiant nature to being simultaneously incandescent and a direct incision cutting like a knife.

Luminous Territory, (2007)
Conceived specifically for the Bischoff/Weiss, London, upper gallery, Luminous Territory (2007) is a rectangular structure that almost fills the space, allowing for routes of access around its enclosed perimeter. Here, Rackowe uses generic building materials: scaffolding and hoardings draw direct association to changing urban landscapes; the structure's orange base references the color of building works local to the artist's house and studio; and the industrial sheeting that enwraps the work is common in construction. While the structure creates volumetric displacement within the gallery due to the dominance of its exterior surface, its interior activity is also clearly visible. Flickering light cast from the interior of Luminous Territory evokes the dysfunction of vast abandoned urban spaces. Although apparently random, the light is in fact carefully choreographed via dozens of fluorescent lights that flicker into life one by one, slowly animating the static structure. Charles Dancy describes the work as "a network of structural propositions, realigning the technologies of Modernism"
RP3, (2007)
Commissioned by the Contemporary Art Society in London, Rackowe created RP3 at the Economist Plaza. RP3 is a rectangular kinetic sculpture comprised of two large transparent sheets of plastic between which a light source in the form of a series of strip lights on one side it elevates from a horizontal to vertical position following an arc. The structure is continuously arc from a horizontal position to an upright position. Reaching beyond its constraints as a structure RP3 employs light to extend the works spatial dimensions as it scans the plaza in a curved trajectory. The light beam follows the curve of the sculpture shinning out onto the surrounding architecture, as does a searchlight of a lighthouse. The sculpture explores slowly space of the architectural setting.
The dynamic interactive relationship that RP3 proposes ask us to address the ideas Rackowe explores, essentially the absolutes of the built environment, the area between the real and the unreal, and it is possible to be between the two points of known and unknown.

RP3, although at first, appearing to share very little in common with his more recent work at Bischoff/Weiss is a kinetic sculpture. Both RP3 and WLP4 , increase the range and the affect of the works through the use of light and follow the transition from the work to the surrounding built space in which it is incorporated. The gap that the light bridges art, space and audience becomes an extended space of which Rackowe pursues through his practice. It is synonymous with the engulfing space that becomes the periphery of the limitations he is so apt at bringing to our attention.

Rackowe's structures beautifully combines the tangible nature of their surrounding, both public and external spaces fusing with the ephemeral nature of light and his related material means--- a state between the that of the artist and the world and rather the concrete nature of site and architecture. The interactions in his work between material and space allows for shifts in the installations where the border between the actual and the implied act as metaphors for a psychological state. The implied state of Rackowe's work is defined at its own location, in its own space and time. Rackowe's work remains rooted in the real world, despite their often minimalist vocabulary, both the outside environment, or the internal architectural settings become part of the catalyst for making the work.
From : Nathaniel Rackowe "Luminous Territories", BISCHOFF/WEISS, London, 2007,
ArtRabbit, " Nathaniel Rackowe shows in London" , By Dan Admiss, September, 9, 2007
Additional comments in conversation with the artist, Nathaniel Rackowe, October, 2007, London
Images courtesy of Bischoff/Weiss, London, England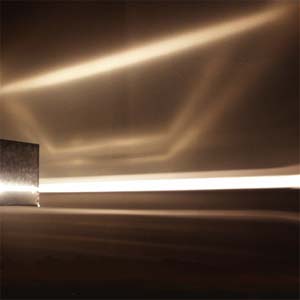 LP3, 2004, MXED MEDIA
Luminous Territory, 2007, scaffolding , plywood, fluorescent lights, industrial sheeting
jesse burke
"Gladiator", "Shotugun" , Courtesy of Platform Gallery, Seattle, WA
Jesse Burke's photographic installations are lushness with images of man and nature. He photographs the natural world around him as well as the men who are a part of his life, including family members or friends, to explore the vulnerability of masculinity. Many of these works started out through an investigation of the artist's own masculinity. Burke observes that he is often drawn to the moments that are representative of vulnerability or emasculation; where there is a presence of a rupture or wound; physical, emotional, or metaphorical. This presence of vulnerability and sensitivity implied in his images acts as a force against the mythology of male dominance and power. He has states that "I pinpoint those moments in our lives. Sometimes it is a fleeting moment between events. Sometimes it is a concrete object. Regardless, I see a world where blood and sweat mix with sunsets and snowdrifts. A world where we can run through the woods like young boys, without fear of consequence, only to fall and scape our knees, and bask in the utter satisfaction of pain."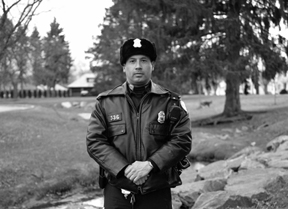 'Semper Vigilans', Courtesy of Platform Gallery, Seattle, WA
In the Semper Vigilans Series commissioned by the Providence Police Department Burke set out put a "face behind the badge". Given total creative freedom, the project culminated into a permanent exhibition in Providence Public Safety Complex (police station). The series consist of portraits of the various members of the police force ranging from patrol cops to crime scene detectives. Burke aimed to look past the typical view of how the police are perceived as," power tripping tough guys". "There is some truth to this but they are also normal citizens with families, emotions and really put their lives on the line to protect us everyday. It's quite humbling to see what they go through first hand. It's a hard job and I have a new found respect for them and their jobs. I am trying to tap into a deeper more emotional side, a side we aren't privy to in our normal citizen-cop relationships. I guess that is why they chose me to work on the project, from the presence of that in my other work. I'm focusing on the concepts of strength and weakness, public service, honor and dedication, teamwork, protection, and brother and sisterhood. I have been doing quite a bit of multi-panel portrait pieces that will show a group of officers that are related in some way. From brothers in the same unit, to squad mates, and even a grandfather, father, and son intergenerational piece."1

Jesse Burke was born in New England, and presently lives in Rhode Island, where he is an instructor at Rhode Island School of Design, Providence. He received BFA from the University of Arizona (2003), and his MFA from RISD.

His photographic works are often autobiographic in nature driven by his investigation in the psychology of masculinity. "All of my work is a kind if self portraiture. It's important for me to show that we're all extremely interconnected… All the people that I photograph are my friends or family members. Since I am creating works from a specific culture or group of men they will have a certain set of identifiable masculine traits. We are New Englanders….I feel that we have this land in our blood and can't really get away from it. Part of who we are is connected to that history, so with that comes a version of is inherently related to this landscape. There is an ever-present element of ruggedness."2

Burke has most recent series "Intertidal " continues his preoccupation with autobiographical: "As young boys growing up on the shores of New England, my friends and I would spend many days exploring and sifting through the rocks and shells of the intertidal zone—the area of land that exists between the high and the low tide marks. This is the space of the convergence of air, land, and sea; a place of constant change and uncertainty with aggressive highs and quiet, mellow lows. I feel the intertidal zone is analogous to the complexity of masculine identity. I view the world and the men I photograph in a sweet and romantic way. Yet I embrace the heroic idea of masculinity in all its dominance and beer-guzzling glory. I chose to look deeper into the reality of who we truly are as men. We are complicated; we are fragile. We still wander into the ambiguity of the intertidal zone."

Burke has stated that there is a sense of humor in a lot of his work. But it is more of a dark irony that occurs up in our lives. It often this playful element that he attempts to embrace, for example the Nectar Impérial piece is really about the moment right after one shotguns a beer. Burke notes that the liminal space of the act. Sometimes this comes across as funny, crazy, violent, or angry.
Occasionally, these images capture the fleeting moment between events. Sometimes they capture the concrete event itself. However, they are never documentary in nature. Despite the semi-autobiographical aspect of the works they are actual staged images. Burke has stated that by staging events that are drawn from real events he taking a personal notion about masculine identity and projecting them onto a specific person and situation. However, the artist has proposed that he looks for situations that are both emotionally and intentionally ambiguous.
His images capture those moments "in between," the idealized notion of manhood on the one side and actually being male on the other. His photographs of men and their landscapes evoke the heroic idea of masculinity, while hinting at an underlining vulnerability. The physical, emotional, metaphorical, collapse into a space between strength and tenderness.
1, Jesse Burke Interviewed by James Wagner in conjunction with the group show, Dark States, www.jameswagner.com
2. Fiskin, Julie, "A Conversation with Jesse Burke" Humblearts Foundation


Intertidal,Courtesy of Platform Gallery, Seattle, Wa
deana lawson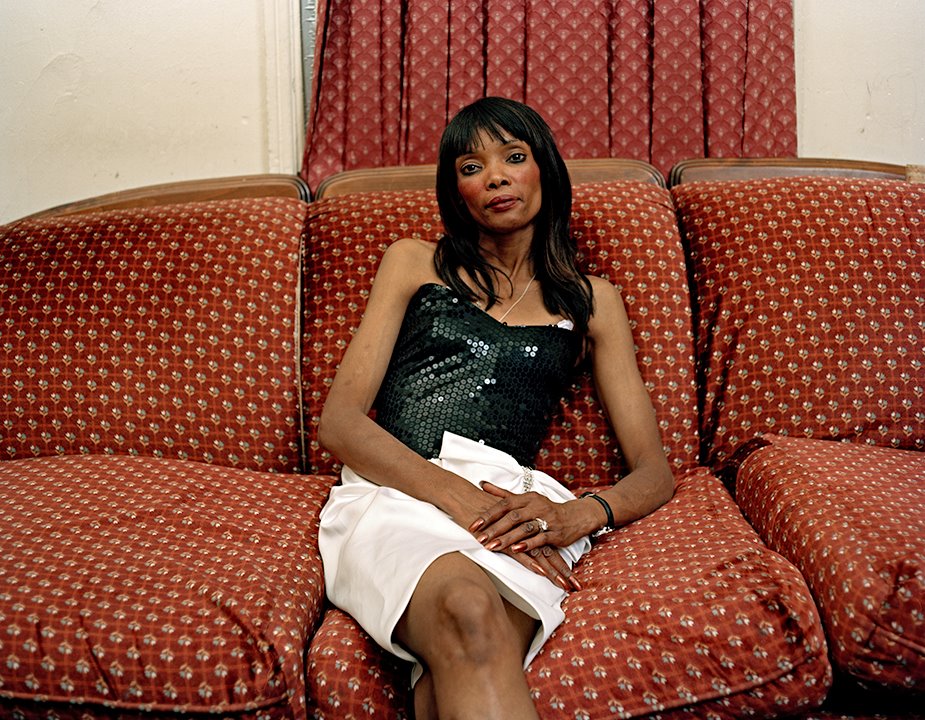 Anna,2005
Deana Lawson calls the people she photographs her family, whether they are in fact realted or whether they met as friends in chruch, at the grocery store , or in a club. The ties that bind her images together are teh shred experience of represention.
If the personal is political, then the portrait presents the most intense forms in which to control themessage of the self. Lawson's portrait encourage use to come to terms with the body and the intimacy ofa stranger's personal truth. In this process we see flesh, beauty, pain , salvation, life, and death all presented and performed within the context of the frame. The sight of skin calls forth the sacred with the profane, and often the line between those two aspects of the human experience disappears. The bare identities that emerge from these photographs ask us to question what we are willing to look at and why.
Lawson is interested in challenging traditional notions of beauty, and her subjects respond by claiming that the moment in front of the lens belongs to them. The outsiders become the exalted, emboldened with the courage to reveal that fleeting truth to others. Although Lawson is a collaborator and co-adventurer in the creation of each picture, her subjects make the key contribuions that give the photographs in Corporeal their Power
Mary Goodwin, Associate Director, Light Work, Syracuse, New York, 2009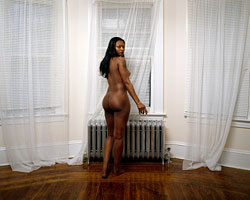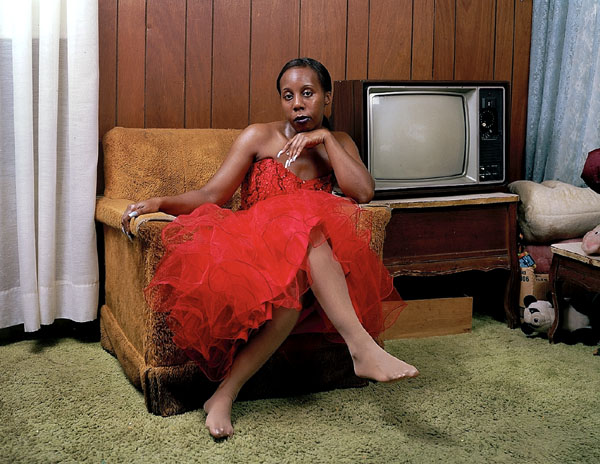 Sharon, 2007 ; Ellie, 2004
Lawson uses environmental staged portraits of African-American women and girls to explore the possibility of meanings through photographic representation. The photographs in the exhibition were taken in Providence and Rochester, N.Y., during a two-year period (2002-2004) as part of Lawson's thesis work for an M.F.A at the Rhode Island School of Design.
"It was important in this body of work to discover a visual poetics using black women as the focus point, since I found that little existed for this particular group elsewhere," Lawson says. "As a child, I lived and interacted in a predominately female domestic space, which influenced my choice of subject matter for this project. The women and girls in this series are ordinary people – both strangers that I have met at church or the local supermarket and my own family members. They are seen everyday, in all walks of life."
Lawson manipulates both the appearance and surroundings of her subjects in her photographs, directing their costumes, placement, pose and facial expressions to portray the contradictions between public appearance and private complexities.
"Who the individuals appear to be in this body of work, and who they are in reality, lies somewhere between truth and fiction," she says, noting that her strong directorial hand stems from a desire to reconfigure reality. "Childhood memory and adult perception are underlying themes and motives that support my work. The sensitivity to decoration exhibited through dress, pose, and environment are ways in which I insert my own psychological perspective into the picture.
"The idea of secrets fascinates me," she adds. "The body and its daily presentation, its adornments, and its composure are containers of secrets. [These poses] are ones that I think are graceful, sophisticated and dignified."
The subjects' poses often conflict with their environment or facial expression, which Lawson says can suggest "struggle, tragedy or longing – all the things that are supposed to be hidden in our public presentation of ourselves." She believes that if viewers scrutinize an individual and his or her environment closely, they will begin to notice "sites of leakage."
"These sites are the uncontrollable domains of the self where the internal leaks into the external world," she explains.
Lawson grew up in Rochester, N.Y., where she currently resides. She received a B.F.A. from Pennsylvania State University in 2001 and an M.F.A. in photography from R.I.S.D. in 2004.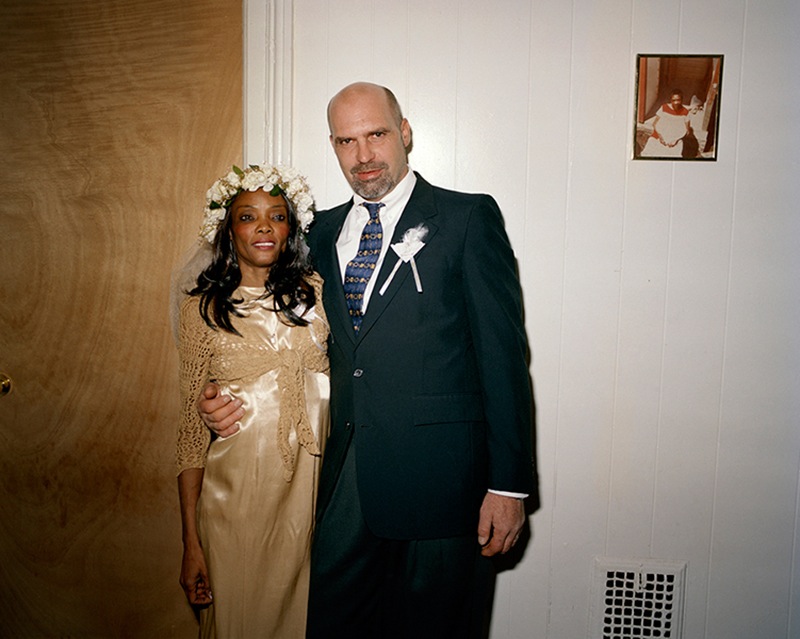 The Reception, 2006
jim zivic
Jim Zivic's beautifully designed and constructed works combine art and functionality. Designed by Zivic and produced by his design firm, Burning Relic (cofounded with his partner, Warner Wada). Zivic's works utilizes a the range of eclectic materials, both man made and natural materials materials that truly stand out--chunks of raw rubber, leather belt links, lengths of strung leather hinges used to run industrial machinery and formidable, 140-pound hunks of coal lugged to his Manhattan studio from a Pennsylvania mine applied to post modernist design concepts realized for home furnishings. His are object are based on minimalist approach to design offering , works which have been described as " ingenious fabrication and coarse, hand-worked surfaces that present a seductive, fresh-from-the-metal-shop tactility".
The works alignment to Minimalist sculpture and architecture, and are executed under influence of modernist experimental design chic. Zivic uses raw smoked Malaysian rubber--globular hunks of the stuff--as cushions for nifty metal gurneys. Like Robert Smithson, he stacks the rubber chunks in an exaggerated brick pattern to build a short wall, a conceptual diversion from his hybrid, utilitarian furniture. Drawing on a folk tradition of coal furniture that dates from 19th-century mine workers, his coal end tables are presented as polished to a high sheen or with a matte surface. They are reminiscnet of the furniture art of Scott Burton or, sculpture of stone, brick and steel works by Michael Heizer, Carl Andre or Richard Serra.
Zivic calls his work "radical modern furniture," but there isn't anything necessarily radical about sophisticated, lavishly conceived furniture. Zivic's works are not so much radical as inspired. They're generic furniture forms, surprisingly luxuriant in their use of industrial materials, transformed by an artist's sensibility. This is furniture rich in the dual modernist legacies of functional designfusing the aesethic of the works of such important archiects such as Mies van der Rohe, and Le Courbusier with the contemporaneity of Andree Putman.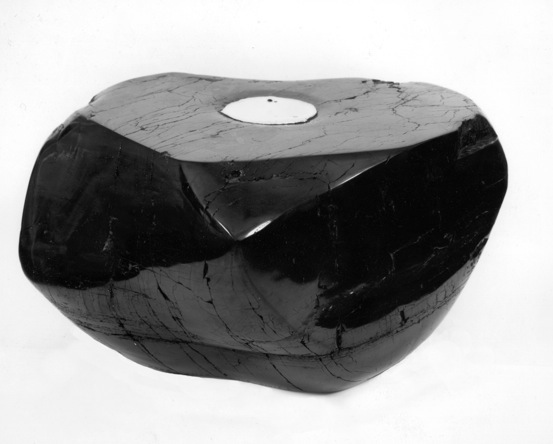 zivic- table
zivic bed-detail

Images @ Jim Zivic Design, NYC