SAM GILLIAM/ EXTENDED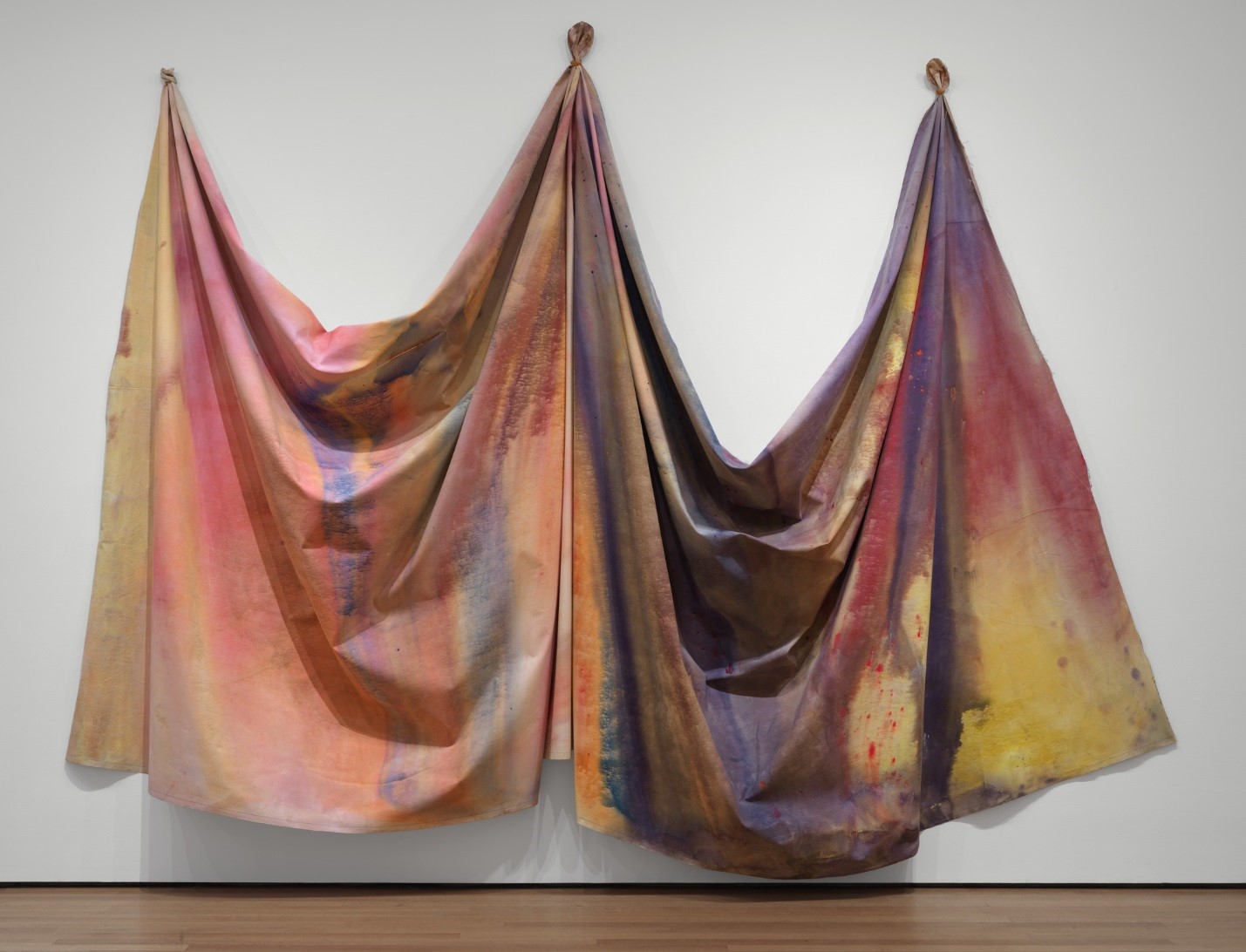 10/27/6, Synthetic polymer paint on canvas, 140 x 185", MOMA, Collection, NYC Sam A Lewisohn Bequest (By Exchange)

All things are considered. I'm simply trying to let something out. Somehow I find the need to know it can possibly be this way. I sometimes think it's a matter of pieces
Sam Gilliam 1
Sam Gilliam is considered one of art's great innovators, and one of the first painters to break the frame. In the 1960s and 70s, Gilliam receive immediate notoriety for his drape paintings; huge colorful canvases folded, cut, stitched, stretched amongst their surroundings, knotted and swaging in real space like sculptural and ambiguous structures and through his varied approaches revitalizes the very notion of the language of painting. The works are now viewed as pivotal in address several evolutions in innovative process of applying and transforming post- modernity. Gilliam has continually re-define abstraction, and process. Combining the conceptual with the painterly, through an experimentation with materials, fusing oppositions of control, automatism, plurality, interaction and convergence, all with a deeply personal expression of the art historical. Over the decades Gilliam has brilliantly moved like a constant artistic voyager; searching, exploring, inventing, and shifting to found new creative dimensions. Sam Gilliam remains one of the most inventive and art of his generation. His work remains ethnic intact, Gilliam routinely going to the studio every afternoon, where he continues to work on a host of new paintings and watercolors, and major commissions including one for the African American Museum in Washington, D.C.
Despite its position within the abstraction idiom, Sam Gilliam 's art has never been afraid to explore the artistic, philosophical, socio- political. If the Conceptual provided the means to the historical transition from the modern to contemporary, then Gilliam's art must be viewed as occupying a vital place in this transformation. Early on Gilliam's painting and installations explore the possibility of how modernist painting could expand postwar reality.
Sam Gilliam and I have shared a history that spans several decades. My first encounter with Sam is related to an exhibition of Afro American artists working with abstraction that I curated for the Studio Museum in Harlem in the early 1980s. I arranged to borrow a draped canvas of his from then Chase Manhattan Bank Collection, NYC. During the opening reception for the exhibition I immediately sense that something was not right, because Sam kept pacing around the work. Suddenly, right in the middle of the opening Gilliam went up to the wall removed the canvas, slightly adjusted it and check the height and put it back on the wall turned around and smiled. It would be at that moment that I started to understand the dynamic that can be define as Sam's intuitive creative process. As in the case of the Draped works, improvisation is tempered by precise calculations, a quality that continually runs throughout all of Gilliam's work.
On another occasion, Gilliam invited me to visit what is now his former Northwest Washington studio. Upon my arrival I found Sam busy working on these highly textured canvases with built up raked highly impasto surfaces. Walking in I discovered the entire floor filled with these large unstretched canvases. Sam prompted me to come across the room, naturally I hesitated as there was no way I was walking on a Sam Gilliam painting. Laughing, Sam stated that the surfaces were so built up that there was nothing I could do to them. Walking across the floor Sam then lead be across the room to discuss the several works in process. This whimsical attitude about the works continues to delight me about Sam. Perhaps, had I remembered at that moment this was an artist who had create several outdoor works which survive rain, sun, and other environmental encounters.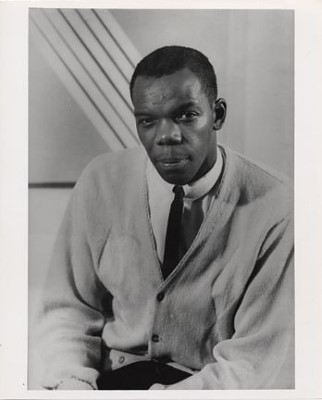 Image credit: Courtesy of Archives of American Art, Smithsonian Institution

Born in Tupelo, Miss in 1933, Sam Gilliam grew up in Louisville, Kentucky where he received a B.A. in 1955; from the University of Louisville. Gilliam served in the United States Army from 1956-58, as a member of the ROTC, in Texas before being stationed in Yokohama, Japan. Gilliam received his M.A. in 1961 from the University of Louisville. Gilliam's works reflect a variety of sizes, shapes, composition and techniques grew out of the German and Abstract Expressionist tradition to which he was exposed as an art student at the University of Louisville.
Reflecting on his earlier training, Gilliam recently noted:
I was lucky go to a great school, the University of Louisville, I was part of the second black class. I decided I wanted to be an artist, and I was determined. There was an art center off campus. The head of the art center was a Yale graduate, a portrait painter, Eugene Leake, who then became president of Maryland Institute of Art in Baltimore…. My first professor was a design professor, who also taught painting. He was from Paris, and he loved music. Louisville was where Count Basie was born and it was home to the Kentucky Derby. It was an amazing time. Paul Robeson came to speak, and there were very few black students at the time. He said he wouldn't speak without black students, so they bused in students from the college nearby… The professors from Europe were actually more involved in Black culture than the American professors, they were mostly Germans. Our visiting professor, Ulfert Wilke, had an interest in African sculpture. I figured the only way I was going to be an artist was to be his studio assistant. I worked as a fellowship student in the university library and art library. I showed all the slides to the art history classes. I worked in the art library and got books that professors needed to prepare lectures. There was nothing that kept me from reading them. So I had two occupations….2
In 1962, Gilliam left Louisville and moved to Washington., D.C. where he supplemented his continued artistic training and income by teaching public school. Gilliam's early works developed in Washington emerged from very different concerns--- a feeling for the works of Morris Louis and Kenneth Noland on one hand, and for Expressionist Art, and the scumbled surfaces of Paul Klee and the works of Emil Nolde.
With his subsequent move to Washington D.C in 1962, Gilliam came under the influence of the "Washington Color Art" which included amongst its members Morris Louis, who died shortly after Gilliam arrival, Kenneth Noland, Thomas Downing, and Anne Truitt. The Washington Color School critically supported by Clement Greenberg's neo-Kantian belief that painting strives towards relieving itself of any literal subject matter; the Color School artists became a major movement with the second generation of Abstract Expressionists. Clement Greenberg is credited bridging the association of Kenneth Noland and Morris Louis to Helen Frankenthaler. Their visit to Frankenthaler's studio in 1953 accompanied by Leon and Ida Berkowitz, showed Noland and Louis new ways to think about color. By the late 60s Gilliam had assimilated the lessons in applying soaked –in paint to canvas surfaces introduced by Helen Frankenthaler to Morris Louis and his followers. The large expanses of bright-hued stained colors in their paintings inspired Gilliam's commitment to non-representational painting and his transition to more loosely painterly forms using luminous and vibrant colors.3
A figurative painter when he first arrived in Washington, D. C., all the paintings in Gilliam's first one-man show in 1963 were representational, one year later they were mainly nonobjective. These early works reveal experimentation with various hard-edged formats, especially symmetrical configurations of geometric bands and asymemetrical patterns of chevrons.
However, very early in his career Sam Gilliam was it determined he would not be easily defined. His presence in Washington and frequent sojourns to New York had their profound impact on Gilliam. He adapted the technical approach of the Washington group, pouring paint, directly unstretched raw canvas. Still, Gilliam observes that he was equally drawn to the works of Abstract expressionist including, Hans Hofmann, Jackson Pollack, Mark Rothko, and during his trips to New York, often viewed works by Barnett Newman including his Station of the Cross. Recently, Gilliam talked to me about the happenings and other events he would explore during his trips to New York that were more conceptual and performative in nature that he would also bring to his art of the period
Gilliam observes:
By the time I moved to Washington, Morris Louis had died, Kenneth Noland had moved to New York and Vermont. Tom Downing was some kind of angel. He taught at the Corcoran, and he was interested in students. He'd say "if your head doesn't come off, paint", many people in his workshops were young Color Field paints who showed at the Jefferson Place Gallery….
I taught in public schools...My friend Gene Davis worked for a magazine…You paint after midnight and paint in daylight. There are weekends, you can just paint. And I would go to New York. I spent as much time as I could seeing shows in New York. There was plenty of time to think on the four-hour bus ride back. The most important thing is to learn how to be part of the art world.4
The Washington Color group's Thomas Downing would be an important source for Gilliam early approach. Thomas Downing fully investigated the possibilities of the shaped canvases. Downing directed his works toward developing different structural solutions which concentrated on the spatial definitions of color. Downing's experiments in color and composition in his square – format paintings of 1964-1966 led to the production of related shaped canvases. Downing's first shaped canvases were made in 1965 with grids of circle contained within parrellograms. In 1967, Downing created a series of shaped canvases titled "Planks" where bands of color connected at an angle to give the appearance of separate canvases projecting from the wall. Downing would achieve his greatest effect of perspective illusion in the shaped canvas series "Fold" of 1968.
Gilliam's first abstract paintings have flat, broad color surfaces contained by framing elements within wide margins. In 1964-65 he turned to stripped format related to his exploration of the work of Louis, Noland, and Downing. However, from the outset his central concern in abstraction were structure, color and surface. By 1966, he came to pour and manipulate paint in entirely new ways, using the canvas as a tool. Petals, 1967 reorders the flow and settling of poured color is far more expressionistic than Louis or Noland. The canvas with blue brushed in at the sides was set sagging into a frame as warm colors pouring onto it. In related varied works of the period, Gilliam extends the pouring technique by folding the canvas back over itself, after wetting the surface. The folds create intervals between stained colors cliffs, bringing surfaces into tension with edges, and in essence bringing the linear into the painterly.5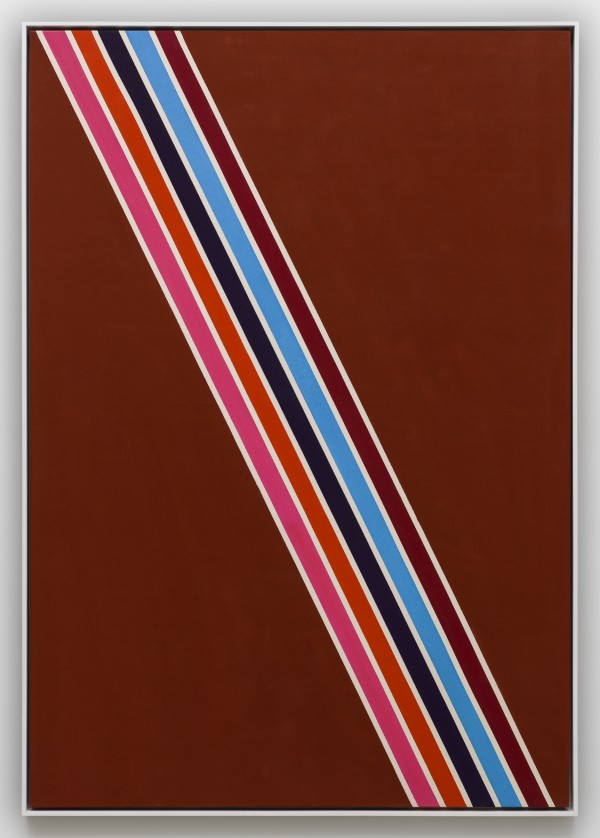 Sam Gilliam, Coronet, 1965 , Acrylic on canvas , 70 11/16 x 48 15/16 x 1 1/2 inches (179.5 x 124.3 x 3.8 cm)
framed 72 1/4 x 50 3/16 x 2 1/4 inches, (183.5 x 127.5 x 5.7 cm), Courtesy of David Kordansky Gallery, Los Angeles, CA
Photography: Fredrick Nilsen
In recent conversations Gilliam reveals that while much of the early works may be in conversation with the Washington Color Field School and Noland he was more interested in Pollack. Barnett Newman was essential for him during his period. In his visit to MOMA, he was affect by a l935 Miro in the collection. Equally important for Gilliam were the paintings of Donald Olitski, specifically the manner in which Olitski spread the color across the surface. Jules Olitski's luminous spray paintings of the 1960s, those diaphanous "fields" of ravishing color derive, ultimately influenced by Frankenthaler's method of staining pools of color into raw canvas, however, Olitski's glowing sprays, even-handed and weightless is varied, disembodied that asserts the presence of the artist's hand, announce another way that sheets of unstable color can be made profoundly expressive. Olitski's canvases, with their seamless shifts in color and elusive internal divisions, offer vivid proof that about the potency of color and about abstraction's power to move us, simply through the disposition of the raw materials of painting. An attitude that runs through Gilliam's work.
The year 1967 was a major period in Gilliam career. In addition to his first museum exhibition, he received a grant from the National Endowment for the Arts allowing him to leave full –time teaching to concentrate on his art. Then in 1968. A grant from Washington Gallery of Modern Art lasting for five years coupled with a rent- free studio in an old building provided him the ability to explore new approaches to large scale paintings. The building was shared by with Rockne Krebs who at the time was experimenting with prismatic transparent sculpture, developing concepts for his subsequent laser works. Through his example, Krebs helped Gilliam to move towards more experimental works.
Thus one observes in this transitional period of Gilliam's early work in the late 60s and early 70s the impact of two major artistic forces, the self- conscious local style of the so- called Washington Color School, impacting his early hard –edged paintings and soak stain techniques informed by Kenneth Noland and Morris Louis , simultaneously much of Gilliam's prototypical work of the period appears antithetical to color field painting, even if he is generally considered a latter generation of the Washington Color School tradition, and far more expressionistic.
Gilliam acknowledges that he was dedicated, perhaps to the point of self-limitation to certain paintings' Modernist traditions. He wanted to carry on the craft, to partake of the New York School lineage, and he admits to aiming to gain the approval of Clement Greenberg himself and therefore by the mid-1960s, he had pretty much pushed his skills as an abstract painter.6 Gilliam would merge these two worlds, that of the color painters and the more experimentative nuances through his meeting of mythic and charismatic Walter Hopps.
By 1968 Gilliam was ready to move beyond the flat surfaced paintings impacted by the Grennbergian modernists. He had met Hopps in 1966, who has long observed that in Gilliam best paintings, "there exist a delicate balance between improvisation and structure, a sense of chaos controlled"7
Gilliam observes:
"Walter Hopps, who had been the director of the Pasadena Museum, was fired from that position. He joined the Institute of Policy Studies in Washington and moved here, He founded the first vanguard art gallery in Los Angeles, the Ferus Gallery, with Ed Kienholz. He sold the art collection of the Washington Gallery of Modern Art, and made everybody angry. His idea was that Washington needed studios. He knew about building an art world to live in. Hopps managed to set up studios for architecture, sculpture, photography and painting. All of the artists received grants, so out studios and rent were covered. …I was given a show at the Phillips Collection, and after that, I decided I wasn't going to teach. I was roughing it with a studio downtown, and I decided that's where I was going to stay. When the National Endowment of Arts, started, I was one of the ten artists who got a grant. And then I got a Guggenheim Fellowship...8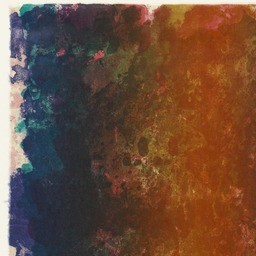 Fire, 1972, Lithograph, irreg composition 24 1/2 x 18 15/16" (62.2 x 48.1 cm) irreg sheet 24 1/2 x 18 15/16" (62.2 x 48.1 cm) MOMA Collection, NYC Purchase
Folded and Hinged: The Drapes: 1960 – 1970s.
Beginning 1966 with small watercolors on rice papers Gilliam experimented with applying color to surface. Gilliam's inclination to experimentation with color and shape moved him to push color for its own sakes in large environmental works. During late 60s and 70s Gilliam alternates in the production of small scale works which can be viewed as transitional between his break from the color field painters and a movement toward his own individualized approach to draping. Gilliam's constructions and draped paintings draw their inspiration from an expressionistic heritage that encompasses Schwitters' Merzbau, and Pollack's gestural paintings. Similar to Jackson Pollack and Helen Frankenthaler, Gilliam executed his paintings working on the floor. However, Gilliam has openly stated that he was in no manner trying to replicate the effect of Pollack or Frankenthaler. Gilliam have often referred to the drip as a type of mark. Using aluminum powder, fluorescent paint, impasto Gilliam pushed the material means on canvas, silk, polypropylene achieving gestural translucency that moves beyond Pollack and Frankenthaler. And his sculptural approach, which pushed the painting off the wall, is more representative of what came after color field or abstract expressionism.
Gilliam's abandonment of grid- based compositions and his experimentation with the staining process, pouring diluted acyclic on unprimed sized canvas gradually lead to his most important series: The Draped Paintings. These works are characterized by the creation of a series of repetitious patterns created by the folding of the painted canvas into themselves. The act of the folding produced vertical and curvilinear shapes in which alternating colors are densely used for contrasting composition that fills the canvas. The paintings would them be extended or draped in various configurations on floors, walls, and ceilings.
Having embracing the stained approach, Gilliam's art would evolve in far more radical directions working with raw cloth. Such experimentation would lead Gilliam to works that while remaining abstract painting are far more insistently sculptural. The draped canvases are highly atmospheric. Throughout these richly complex structures randomly emotive colors and patterns appear and change such that the painted surfaces continually refract within itself. Edges formed at suspension points echo prior edges made by folding.
Folding the canvas on to itself produced overlapping oppositions, both formal and structural, result in the elements have a controlling value across the canvas from edge to edge allowing Gilliam to express a unique approach to transparency as forms folded back onto each other while remaining distinct, creating secondary colors at the bends. Attracted to the transparency and overlapping colors, Gilliam continued the potential of the drip paintings in which overlays of impasto color are juxtaposed with, as delicate and lights as veil. These built-up painted surfaces concentrated on horizontal or vertical bands of color becomes far more complex when heavily impasto surfaces are joined with staining resulting a richly active surface loaded with contrasting colors and overlays.
By 1967 Gilliam had already arrived at a loose painterly lyrical style displayed in large ten- by eleven foot canvases, pulled tautly over beveled –edge stretchers. Through pouring, soaking, staining, mopping, scrubbing, thinning, rolling, and folding, Gilliam achieves a variety of effects. The irregular vertical scaffolding, the result of folding the wet canvas provided a subtle structure that have been compared to a Rorschach-like patterns and the kaleidoscope splattering-like patterns. Gilliam preference for fluid
stains over geometric forms emphasizes the element of chance and produces color transitions that are less common in geometric abstraction. These asymmetrical paintings would soon become synonymous with the large field draped and shaped canvas
While other artists like Richard Tuttle and William T Wiley were also experimenting with the unstretched canvas during the same period, Gilliam's sculptural approach was revolutionary in that it re-positioned the viewer's relationship with the painting to include the object as well as the space around it, blurring the boundary between painting, sculpture and architecture for the first time.
In 1968 Gilliam begun rejecting the quadrilateral that he had introduced into his picture plane. Instead of restricting his large canvases some of which range from ten by seventy –five feet he began draping and suspending the works replacing the stretchers. Thus instead of securing them to rigid rectangular supports, he hung the loose canvases on nails along the walls; attached them to poles down the center of his studio, laid them across panels, or sawhorses. While the paintings were still done on two dimensional surfaces, the structure was no longer conceived in terms of a two dimensional presentation freeing the canvases to move into three- dimensional space.
In paintings such as Restore,1968, and Elephania, 970, the wet stained canvas was folded onto itself in a form of "rorschacing" to create symmetrical images or axial bands which act as a rhythmical infrastructure similar to Pollack's Blue Poles.
With Gilliam's first draped paintings in the spring of 1968 it was almost a spontaneous decision to display the paintings in a way which was more consistent with the manner in which they were made. They had been painted on the floor occasionally supported by sawhorses and partially attached to the wall.
In Restore, 1968, Gilliam amplified the folded-stain approach using varied pigments such as fluorescent colors and aluminum powder. Gilliam's manipulation of his painterly surfaces went hand in hand with manipulating watercolors by crinkling. Both involvements lead to his expansion of his work in new and novel ways. The result was breakthrough in which suspended freed from their stretcher, the paintings mark a new direction for the artist. Gilliam would compose paintings, often around seventy-five feet long, in different structural shapes: amply arcing, flat against the wall, or extending into the central space of the room. His liquid colors were now reinforced by the fluidity of the canvas. Paint and surface took on an added third pictorial dimensional reality in which the canvas functioned not as a means but equally shared a major function in the pictorial results.
Early works, that Gilliam, brilliantly titled "Carrousels", of which there are eight major drapes that comprise the "series", retain obvious sculptural values remain essentially pictorial. Gilliam has expressed that while there is a certain fixed quality to painting single canvases each can be manipulated in response to the particulars of the space in which they are hung. As a result, these paintings are conceptual in their capability to change and adapt. Later, these large scale "Carousel" works would be reduced to small scale, unstretched panels in an assortment of shapes and sizes. A group of these works Gilliam called "Quadrilles" resemble clover-leafs. Gilliam hung them from the ceiling or hung them directly on the floor. Another series consisted of elongated rectangles gathered about the floor on one end and hung on the wall lengthwise. Still another group are irregular rectangle draped the wall horizontally.
Gilliam recently explained to me, that one has to recall that he grew up around the circus, so he knew a large about tents and how they met architecture, so the early drapes were a natural extension for him.
By 1969 he had participated in Hopps' legendary Corcoran exhibition Gilliam, Krebs , Mc Gowin which included his then studio mate Rockne Krebs , and the Southern artist Ed McGowin.9 In response both to the space, the thirty –foot ceiling, the rigid columns of the Corcoran Greek revivalist architecture and his involvement during the period with working with large unstretched canvas, Gilliam decided to hang his unstreteched canvas. Light Depth: a soaring 75 feet draped from the ceiling swaying gently, its weight dissimulated by veils of color. Gilliam soaked and stained the surface, scrunched and allow the chance affect to its flow. The canvas became the centerpiece for the 1969 Corcoran Gallery of Art exhibition.
Thus, Sam Gilliam, a relatively young painter living in Washington D.C. who previous had exhibitions at the Phillips Collection; and Jefferson Place Gallery, earned a name for himself by creating a group of painting unlike any that had been made before. They came to be known as his "Draped Paintings"; large, unstretched canvases, saturated with color, that were gathered and hung like curtains from walls and ceilings. They rapidly earned Gilliam a permanent position in the annals of Washington color- field painting and in the history of modern American art. While they received their first museum showing in 1969 at the Corcoran Gallery of Art, they were later exhibited in the "Project" Gallery at the Museum of Modern Art New York, in 1971, among other exhibition venues. In 1972 year, they were among the works by four artists selected to represent the United States at the 36th Venice Biennale.
Gilliam recently expressed to me that these early "draped" paintings were aligned to the dynamics of the "conceptual" informed by both developing art tendencies of the period, but equal the happenings and performances based art, but also current events of the period. Such dynamics in Gilliam's work of the period speaks to the potential of developing new abstraction to address the geographic, social and psychological, race, culture and the human ethos what he described as "drama of certainness and uncertainties" 10
Gilliam's revolutionary approach would lead to a series of investigation between the shaped painting canvas and the surrounding space -- both interior and exterior spaces. Hanging from ceilings and walls but also from freestanding objects like sawhorses, Gilliam's "drapes" left the wall behind to create physical environments that redefined the conceptual and aesthetic boundaries of abstract conceptual and aesthetic boundaries of abstract painting. With all the draped paintings, structure is imposed by their points of attachment to the wall or ceiling and the resultant gravity produced curves. Gilliam noted that these unstructured works found their forms and the actual composition in the galleries and physical spaces in which they were installed.
"The problem is to apply a method of painting and then use any free environment in order to let that impose any condition upon it. " 11
If the 60's works Gilliam were paintings indexing painting of past his early unstretched and shaped canvases reveal a key feature of his continued investigation, namely a desire to overthrow existing aesthetic hierarchies. Gilliam has stated his creative metamorphosis has always from a continuum of art history in order to form his own language. Therefore, in seeing Gilliam as break from the past from the progressive possibilities of the painting, like his influences continues the pushing of its boundaries. While embracing the past, Gilliam felt the permission to move beyond it. The taping, staining and folding allow him to break throw restrains. Artists including Jo Baer whose Red, Blue, Green, 1964-68: in MOMA Collection had already provided Gilliam with the possibility of doing large scale paintings, equally as l955, Robert Rauschenberg had smeared paint on his bed pillow and quilt coverlet, playing it upright on the wall, proposed new possibilities of understanding the concept of the "painting". Nikki de Saint Phalle had created her famous Shooting Paintings such that Gilliam arrives into a moment when painting, as it would be understood for a new generation was already experiencing an upheaval of a new kind.
There was also sculptural impact influencing painting at the moment including the work of Robert Smithson, Christo, and Nikki de Saint Phalle's, Nanas, brightly chromatic biomorphic sculptures of female archetypes. But Gilliam is quick to point out that the artistic language in the early unstretched works, especially the Carousels, although impact by the performative, and the conceptual is a different from the language of Smithson or Christo. Gilliam states that approaching many of this draped paintings he wanted people to walk through them, their scales require that you establish a position, as opposed to a sculptural or architectural presence he viewed these works as painting as such they retain a plastic presence.
"No earlier Color Painter ever managed to come up with surfaces so sculptural or layered with colors so constantly surprising. Gilliam's pinks could not be hotter, his greens could not be leafier, his deep blues and blacks recall the midnight sky. "12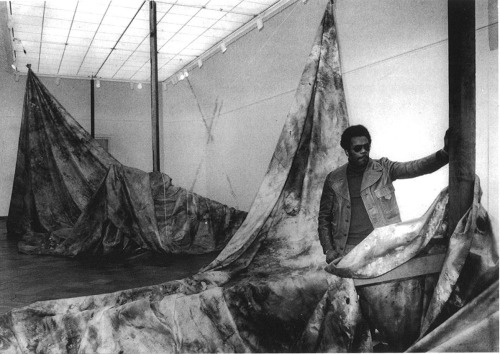 Sam Gilliam, 1973

The 70's
The 70s was very active and richly creative period for Gilliam, which is reflected in numerous series that emerge simultaneously in his artistic evolution. The Seventies would reveal Gilliam working with both the suspended constructions and returning to the stretch canvas in diverse ways. An overview of the Gilliam's painted series of works of this period reveals works combining vertically folded acyclic on canvas; diagonal fan structures with acyclic on canvas; surfaces with dye pigments and acrylic on canvas, some with oil glazes, and a series of works from the 1974-75 period in which were collaged elements on canvas, incorporate the use acrylic, dye pigments, and oil glazes.
Gilliam development of the large draped works would continue in various formats throughout the 70s, both as gallery installations and outdoors works including the monumental work, Autumn Surf, which Gilliam created in 1973 for the San Francisco Museum of Art. The free-standing piece Autumn Surf, was constructed with one hundred and fifty yards of polypropylene, acrylic sheeting hung over wooden support beams to give the impression of waves. The structure created in the round, free of walls, fully viewable from all sides. Its immense shape suspended, draped, and spreading, from over, and around long redwood beams, was in constant change thereby offering multiple points of entry, and angles for viewing.
It would be in understanding of very process and material means that would allow Gilliam forge ahead of many of his contemporaries during the 1970s. Working with canvases arranged over two sawhorses allow him to take advantage of the fall off the paint, creating a tailing effect that moves. Once was established, he folded it back on itself to dry. In order to provide some structure and symmetry for the fluid color and forms. Gilliam often folds the wet canvas against itself to superimposed geometric forms. The striations and the additive process is acquired though a built-up process. Thus with an aggressive freshness, and spontaneity Gilliam pours, splashes, scrubs, and soaks liquid pigment onto huge canvases to achieve rich complexities of texture and color. The varied application of paints resulted in a variety of effects from translucency to opacity, from thick impasto to absorbed stains, and from flatness to build- up surface.
By 1970 he was combining aniline dyes with acrylic, washed down with lacquer thinner to cause soaking in of the paint. Kay Larson notes that by half a generation into dribbling liquid acrylic into raw canvas, using the draped the splotched and unstretched canvas methodology from hooks on the ceiling or wall, Gilliam had derived a unique way of treating it as sculptural idiom making certain it was understood as cloth.13
Gilliam experimentation had already led him in the late 60s to take this "splashed "canvases off their stretchers and to drape them informally on the wall or suspended them from the ceiling. The treatment of unsupported canvas as fabric that occupies three dimensional spaces was a unique innovation. Gilliam now expanded his process pouring color directly onto a canvas which is then sponged, daubed, manipulated into the canvas. Gilliam has stated that during the 1970 he pours paint in order the experience the effect of gravity in the works.
By the mid- 1970s, Gilliam was moving in two directions. One is a continuation of the unstrectched works, many of these were done using polypropylene paper instead of canvas. While experimenting with a series of works on polypropylene paper Gilliam discovered that the textured surface of this paper led him to use paint of heavier consistency. The tactile effects resulting from the splatters and bursts of thick paint are much stronger than his canvas works. The pieces are not drape, not starched or framed. Nailed directly to the wall at only at the top, the remaining segments free to flutter and ripple. Because the surfaces of the paper are highly textured Gilliam have approached them with paint that has a higher consistency. The tactile effects that resulted from build-up of splatters and burst of thick paint are much richer than the canvas surfaces of same period.
The second direction was creation series of works with rather unorthodox formats including, The Jail Jungle Series, which he worked on from the late 1960s to the mid- 1970s utilized a build of materials means; including, photographs, old clothes, antiques, toys, and found objects. The Jungle series featured elongated rectangle of painted canvas that are bordered by strips of felt and hung from clothes hangers. Sewn into the constructions are zippers, hooks an eyes, buttons, and button holes, safety pins, machine and hand stitching that adorn the surface.
Reflecting on Sam Gilliam art and the issue of race, Mary Campbell notes that the format of the Jail Jungle Series would not fit everything crammed into it somewhat like an 60s urban inner - city environment.14 Gilliam noted that overload was meant to address the ghetto condition of the period. The series uncharacteristic for the artist has often been described as the almost confessional autobiographical of Gilliam's work. The Jail Jungle Series attests to Gilliam's ability to combines opposites. In this instance, he combines seriousness with earthy whimsy, a nod to the figurative and reality but square align with abstraction. The use of found objects place them within the context of Dadaist ready-made and the Surreal but they intended as abstract self-sufficient painting whose specially crafted cases with bowed fronts act as linear frameworks.
Recently, Gilliam explained to me that the Jail Jungle Series, references an area in Washington where he lived several years ago. There was man named Logan, who owned an antique store. His store was the archetypal treasure trove filled to the brink with rusting and tarnished items. Gilliam, who collects antique toys was fascinated by the finds in Logan' store. Logan's influence extends throughout the community given he also owned a laundry across the street from his antique store. The laundry's tailor was known to do amazing work. So Gilliam took the tuxedo lapels, the bells, the pop tops, the black rose, the old photographs and other relics he found in Logan's store and put them together, he then would take them to the tailor who would stitch his assemblages together. The stitch paintings would be suspended on hangers with clearly printed laundry tickets. Gilliam states that this was done because he wanted the tailor in the process of their creation.
This homage to a type ofDuchampian ready –made is repeated in the work, Dark As I Am. The construction incorporates artifacts of the artist's life; shoes, trowel, painted clothes: the painter's jacket and overalls, items Gilliam used on daily basis in his studio. The clothes and the dark shoes covered with silver paint on the pedestal covered with Pollack-like paint drippings complete a type of "self-portrait.
The figurative is equally implied in series of works which have been described as the "Cowl Paintings". The paintings basic "structure" is suspend, by a leather thong, an elongated shaped piece of canvas in such a way as to suggest the back of a hooded garment. Suspended from a single point, the canvases about eight feet high with a folded flap in the upper region painted with dramatic burst of paint in the array of color that emerged from the colds or the manner that the color appear to counteract the very width of the masses of the canvases.
The Cowl Paintings while remaining subtly and intricately painted, are imaginatively seductive, complete with their fanned, radiating, chromatic patterns ae highly esoteric. These works painted surfaces are essentially the same in technique and palette as the larger painting but are positioned somewhere between the realm of the "decorative" painting for its own sake and the "anthropomorphic". They have also been described as of the human figure devoid of flesh, and an uneasy reference to lynching .15
By the middle to late 70's the paintings are returned to the stretchers format. Gilliam was using large amounts of acrylic paint applied with rakes and brooms. Simultaneously, he began cutting up his paintings and quilting, constructing, assembling, crumpled, and collaging the parts back together, and placing the finished compositions back on stretchers. This approach results in breaks in color and texture with each painting, consequently individual works coalesced around geometric shapes-circles, squares, and triangles, shaped forms in single painting. Many of the work are beveled edged. For Gilliam the use of the beveled was a natural progression for him as some of his early works in college involved painting on Masonite, so an aspect of the beveled was already apparent. The beveled allowed the painting to come from the wall anticipating Gilliam more radical painted and shaped paintings in the 1980-1990s.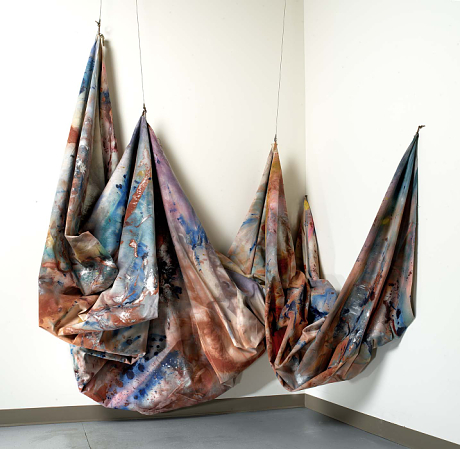 Swing 1969, acrylic and aluminum on canvas 119 5/8 x 283 1/2 in. (303.8 x 720.1 cm) Smithsonian American Art Museum Gift of Mr. Edwin Janss, Jr. 1973.189
INDOOR/OUTDOOR
Gilliam's creative pre- occupation with complex large scale paintings would give birth to the unprecedented invention of enormous, swaged ceiling-hung canvases/ installations, and define Gilliam output for years. While the large scale indoor and outdoor works are rather monumental, for Gilliam the human body continued to act as the real anchor or a type of armature for the works in real space The suspended installations included some of Gilliam most historical and landmark exhibitions and include installations at: Corcoran Gallery, Washington DC; Detroit Institute of Art, Detroit Mi; Galeria Darthea Speyer, Paris, France; La Jolla Museum of Art, La Jolla, CA; Projects: MOMA, New York; Lalit Kala Akademi, New Deli, India; Walker Art Center, Minneapolis, MN; XXXVI Venice Biennale, American Pavilion, Venice , Italy; San Francisco Museum of Art, San Francisco, CA; Howard University, Washington ,D.C.; Maison de la Culture, Rennes, France; Greenberg Gallery, St Louis MO, and Philadelphia Museum of Art, Philadelphia.
The installations often prompted Gilliam to address new concerns about structure of the works and their physical surroundings. He discovers that in order to achieve the desired effects the works need to operate with measured limits and that they must be pre-calculated at densities intervals along the horizontal length of the canvas. For example, Carrousel Merge, created for the Walker Art Center, the architectural problem was to put hooks freely along a wall six feet apart diagonally under a skylight. On a 75-foot- long sheet, these points were calculated to give a drop on a vertical wall of 14 feet. These points dictated how the various components operated, and thus become structural devices as well.16
Gilliam first outdoor painting, Seahorses, created for the Philadelphia Museum of Art as part of its summer festival of l975 included six canvases draped in symmetrical groupings of three on the long side walls which adjoin the façade mimicking the processional rhythm building's exterior of the neo classical structure. Each stained canvas, the largest measuring thirty-feet by ninety feet, was attached to the building only at the corners of the fabric and hung from the large metals rings placed in a row below the entablature as part of the original architecture of the museum.
Seahorses was essentially an indoor painting installed outdoor. As wind blew through the draped works cascades of color formerly hidden were revealed. While exposure to the elements offered the benefits of constantly shifting wind, and light it also revealed the hazard/beauty of bleaching, tearing and rain soaking on the surface.
Gilliam reflects:
"The United States General Services Administration started sponsoring a program called "Art In Architecture". They commissioned Claes Oldenberg's "Batacolumn" and they worked with the Brooklyn Museum and the Philadelphia Museum…I was to figure out how to join the museum to the city. Outside the museum is a sculpture of Neptune, and the museum has bronze rings, which encircle it. That inspired the project "Seahorses". The materials were all supplied from sail makers and paint companies. We designed the six pieces; two of which were 3-x 90 feet and four were 30 x 60 feet.
The most beautiful thing is that we could lay all the paintings on the plaza. But when we moved them the canvases just floated. I could ride a bucket lift and go up with the work. For someone who grew up around the circus and airlifts, it was a dream come true.
On the night we installed it, there was a hurricane. I went to dinner, and when I came back, the canvases were undulating. They would swing out, and they were moving. It was the most beautiful thing to see. The next morning, they were on the ground. I had to put it up again. The next summer we used the same pieces to do an installation at the Brooklyn Museum. There was another hurricane. The winds around the Brooklyn Museum are really fantastic. You don't stand a chance. Walter came by the day that everything was lying around, and he said, "it doesn't make a difference whether you put them up or whether they stay there." He was such a kind person; he was like that."17
Seahorses was re-installed in the summer of 1977 on the rear façade of the Brooklyn Museum, New York. However, while the Philadelphia installation involved a neoclassic structure, the Brooklyn Museum offered a more theatrical setting. A massive horizontal neoclassical façade supported by and extended into a series of equally but undistinguished rear wings. As most visitors enter the museum from the parking lot at the back of the building, Gilliam was asked to reinstall Seahorses on the rear façade. He chose to hang four of the canvases vertically from single points at the top of walls, draped a fifth horizontally between two windows and eliminated the sixth element.18
Eventually the ravages of sun, wind and rain brought about the demise of Seahorses as the raw canvas material was destroyed by two summer- long outdoor installations.
During the summer of 1977 he completed a series of outdoor painted pieces at Artpark in Lewiston, New York. The project, Custom Road Slide, 1977, was a mixed media construction that consisted of fabric dye, polyester fabric, polypropylene, wood, wire, rope, and shale, measuring 30' x 900' and installed along the Niagara River Gorge at Lewiston, New York. Gilliam describes Custom Road Slide as a series of some fourteen "sculptural fabric placements" created along 400 yards of roadway lining the Niagara Gore.
The Artpark construction was derived from indoor constructions including A and The Carpenter I and II of 1973, (Art Institute of Chicago Collection) paintings in which Gilliam had draped stain and painted fabric over wooden sawhorse supports and resulted in billowing, long lengths of canvas spread across the floor whose edge serve to introduce linear factors revealing framing rolling color within. At Artpark, Gilliam continued to work with fabric outdoors, but the outcome of this project were "constructions" with fabric, wood, shale, and pigment.
"I was invited to do a temporary artwork as part of "Art Park, a residency in program in Lewiston, New York, near Niagara Falls. There were artists working all over a large area of the park. We were building structures on the side of the gorge from timbers. I was working with 100 –yard pieces of fabric for the piece, "Custom Road Slide". To me, the most exciting thing was moving the fabric. We had a team, and the children came and helped. One person suggested that we climb the rocks and go up the inclined, then we just floated the fabric down."19
Thus the initial phase was performed rather than constructed, in that lengths of cloth and fabric hung over the cliff and were destroyed by a series of storms until they lay like ordinary objects on a slope of shale thirty feet below. These fallen paintings made of stained and painted tobacco muslin and scarlet and white polypropylene, became the starting point for the remainder of the month's work. Incorporating redwood poles, four by fours and sawhorses, Gilliam and his assistants selectively sculpted the fabric, elevating sections on wooden supports and re-distributing the accumulations of shale. Individual "placements" were then unified by pouring bright single colors of paint and food dye over broad passages. The strong, luminous areas of uniform color provided a stark contrast with the subtly modulated and muted earth tone of the surrounding landscape.
As in the case of the work, Sticks-Related, 1972, a large scale construction Gilliam has remained adamant about categorizing the large upstretched works as anything less than paintings "…canvas as material by folding it, crushing it , using it as a means to a tactile way of making a painting….I don't consider it sculpture. I know its painting. The lines are very narrow. I once heard Noland say there's no difference between sculpture and painting once you know what you're doing. But in formal thinking, painting is illusionistic; thus sculpture offers pictorial possibilities. I depend more upon pictorialism as a form, as an involved process, delineated possibly into becoming a picture. The point that you arrive is merely transitional – there is no is no differences per see between painting and sculpture."20
By the end of the 1970s. University Gallery at the University of Massachusetts /Amherst mounted one of Gilliam historical landmark presentations of the unstretched canvases in an exhibition entitled: Sam Gilliam: Indoor and Outdoor Paintings 1967-78. The exhibition consisted of both two and three dimensional formatted acrylic paintings, watercolors, collographs, and four monumental canvases suspended on the exterior walls of the Fine Arts Center.21
Gilliam created Four outdoor works for University of Mass Gallery's space. They drew heavily on Gilliam prior outdoor experience with fabric. Trees: Triangular Place: 1978, acrylic and oil enamel on fabricated canvas, 20" x 10", was commissioned by the University Gallery and temporarily installed at the Fine Arts Center, University of Mass/ Amherst
Structurally, the UMass Fine Arts Center, is a complicated sculptural massing of various interior and exterior volumes which, throughout the course of the day provide a play of light and shadow. Additionally, the uniformly colored concrete surfaces of the complex provide an ideal passive monochrome background for Gilliam's active polychrome paintings.
The problem posed by the outdoor construction for Gilliam at this stage was to find a fabric not only durable enough to withstand the elements, but also to accept stained or painted pigment. As Gilliam approach depended so heavily on the effects of staining, a completely sealed fabric would prove unsatisfactory. On the other hand, unsealed fabric such as canvas of Seahorses had the disadvantage of absorbing rain water and eventually rotting. With an unbroken surface of fabric, wind would present an even more serious and immediate problem. However, while hanging the 100 foot lengths of canvas on the Philadelphia Museum, Gilliam realized he was operating in the realm of sailor technology rather than that of pure aesthetics. The stresses encountered at the anchoring points were extreme when the wind picked up during rainstorms and began to add additional tension with the already heavily rain-soaked canvases were problem faced in sailing.
Therefore, in planning the UMass paintings the problem of wind and rain were major considerations and during the eighteen months prior to the exhibition Gilliam solicited advice from architects, engineers, sail makers and awning manufacturers. To minimize the ravage of rain he selected awning fabric which was sufficiently sealed to repel the accumulation of water still permitted a degree of staining. The canvases were fabricated by awning manufacturer which had made Seahorses. Gilliam selected the various stripped and solid color panels, determined their size and woven configuration and located the attaching grommets. Although some red and blue panels were included, the basic colors of the supporting materials are brown, yellow, black and white, and hence in comparison to his finished paintings, the prepared canvases were relatively basic. Over a three- day period in early August, he extensively painted and stained the canvases, establishing "active" surfaces which partially obscured and thereby minimized the assertive quality of the clean underlying grid.
Not surprising, in preparation for painting, the canvases were placed on the floor and casually folded on themselves. Exposed surfaces were saturated with several layers of poured manipulated paint. As paint was drying, the canvases were opened up allowing puddles of pigment to flow into previously pristine surfaces. Further painting eased abrupt transitions between painted and unpainted areas. The completed works reveal alterations between robustly painted passages and the constantly re-emerging grid. Gestural areas of free-form pigment resonate in counterpoint to the calculated underlying pattern.
Each of the four paintings is composed of series of loosely overlapped and interwoven panels of varying width. The gasps at the intersections of the collapsing grids permit wind to pass through the paintings, thereby circumventing the spinnaker syndrome of a continuous unbroken surface. As the painting move literally opening and closing with the wind, they reveal new areas of color tucked behind the panels. At the same time the practical expedient of the collapsing grid of interwoven panels act as a formal structuring device- an idea adapted from his stretched paintings.
Before settling on the shifting structural grid solution of interwoven panels, Gilliam decided to make- five canvases which conform to the basic geometric shapes of square, triangle, circle, horizontal rectangle, and vertical rectangle. Later, financial restrains forced Gilliam to reduce the number to four, thus eliminating the square since it was the most obvious and perhaps redundant shape. In placing the four paintings Gilliam took full advantage of the irregularity of the building's exterior and choose four prime walls which offered very different architectural settings. In attaching the paintings to the building, Gilliam obscured their fundamental structure. They are not stretched taut as rigid geometric shapes, but are loosely attached and occasionally bunched. The method of the installation allows gravity to express the weight of the fabric and facilitates the action of the wind.
Hugh Davis has observed:
"The U. Mass paintings represent to a greater extent a synthesis of Gilliam stretched and draped paintings. The grid of interwoven panels which structures the works both physically and formally has a precedent in his folded and collaged, stretched paintings. The manner in which they are installed clearly derives from his draped works, yet the structure imposed by points of attachment in the earlier draped paintings serves now to confound and obscure the existing grid. Rather than imposing structure on spontaneously painted fabric by means of folding, collaging, or draping, Gilliam here reversed the process to one of obfuscating a self –imposed structural grid by the gestural application for the paint" 22
Another highlight of this exhibition was the installation: Niagara", (1977(Variation 1978) a, mixed media construction of painted polypropylene, wood, pipe, rope, and rocks, measuring 136" x 408" x 324; which consisted of 150 feet of canvas draped over supporting objects such as ladders, scaffolding, rocks, ropes and other elements. It was
Created in direct relation to the spatial and architectural characteristics of the University Gallery space, Niagara at the time of its creation was one of Gilliam most ambitious and successful indoor installations/ constructions. Two years later Gilliam would create the powerful and monumental, Autumn Surf for the University of Wisconsin, Madison Wisconsin. Niagara operates like a veritable landscape with peaks of fabric, suspended from the ceiling and raised on partially concealed timber supports while cascades of colored pigment run through the veils of drapery.23
For the exhibition Gilliam choose to re-visit an earlier work, Homage to a Pole (1973) variation, 1978) a mixed media construction of wax, crayon, rope, painted cardboard tube, and painted canvas with collaged pieces (the center canvas element remained unchanged with each installation). The original installation of the piece at the Jefferson Place Gallery required Gilliam to work around a nearby radiator pipe. For the re-installation, he decided to incorporate the pipe as an integral part of the composition, using wooden pole elements he stimulated the original pipe.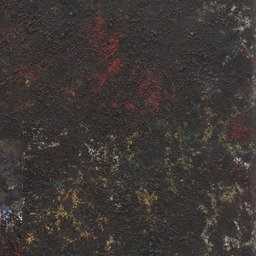 Coffee Thyme, 1977, Synthetic polymer paint and cut canvas on canvas, 7' 6 1/2" x 9' 2" (229.7 x 279.3 cm) David Rockefeller Fund
Towards The Shaped Canvas:

"…when I make the painting on the floor, If I want to stretch it on supports, it is illusionistic and is a painting. When I hang it, I am true to the process by which it is made. It is a relief- but it can be seen or moved around, depending on whether I paint bas-relief or high relief, in each case destroying illusion, lessening pictorial references
Sam Gilliam24

While Gilliam continued his pursuit of the unstrectched canvases he started making smaller, wall –bound shaped paintings in various forms. They are essentially different from their larger counterparts, and in some ways more radical in the context of abstract painting of the period.
Gilliam's interest in shaped canvases and removing the painting from it structured framework came at a time when the most forward –thinking artists in New York were also considering how to get beyond the traditional limits of painting in a frame, in order to create works that were sculptural, floating and sometimes even projecting outward from the wall. As early as the late 60s for many artists, the movement toward the architecturally structured profile of shaped canvases was an attempt to detach the painting from the plane of the wall in order to make it a sculptural object beyond its representation of illusionary space.
As object, the frontal nature of the shaped canvas allows it to continue functioning in pictorial way while its irregular form could move into the context of real space. In New York, Frank Stella and Sven Lukin began to make shaped canvases in the early 1960s. Ellsworth Kelly made aluminum shaped works in l963. By 1964 Will Insley, Charles Hinman, Larry Bell, Neil Williams, Larry Zox, Darby Bannard, Carl Andre, Donald Judd, Robert Morris, and Robert Murray were all creating shaped canvases. The Guggenheim Museum's exhibition, "The Shaped Field" organized by Lawrence Alloway held December ,1964 through January, 1965, bought this approach by artists to a larger audience. This was followed by an exhibition at Tibor de Nagy Gallery in January, 1965 entitled "Shape and Structure", organized by Frank Stella, Henry Geldzahler, and Barbara Rose. Gradually, more and more artists focused on shaped canvas continued with stylistic idioms as diverse as Color Field, Op, Pop, and Minimalism.25
Between 1975- 1980 the planar movement led by Frank Stella, and his Polish Village Series of 1970-1973 and his subsequent Brazilian Paintings executed in 1974-75, on one hand and the work of Ralph Humphrey on other, began to relocate a new direction art in New York. The Polish Village series were executed in flat materials collaged on canvas-raised material affixed to wooden supports- and were all hard-edged, constructivist works by design. The ten Brazilian paintings were made in aluminum and then painted, introduced the idea of different textures created through paint, and re-introduced the use of the surface illusion in terms of painterliness. Stella's arrival at the gestural stroke, his emphasis on physicality further opened up and broke through the rectangular ground and away from the wall- all characteristic of planar painting.
By 1976, the concept of the three-dimensional gesture has become an underlying theme in contemporary art highlighted by Margit Rowell exhibition; The Planar Dimension, Europe 1912-1932 at the Guggenheim Museum. 26
Stella's 76-77 works provided a public confirmation of new generation of artists exploring the planar in painting among with Sam Gilliam early geometric canvases, the work of with Barbara Schwartz, Stuart Diamond, Ralph Humphrey, and Charles Hinman can be included. The excitement generated by these new approaches to three-dimensional wall paintings soon brought about the 1978 "Constructs" exhibition put on by the Organization of Independent Artists and organized by Eliot Lable, in which over fifty-five artists ranging from Lynda Benglis were amongst some of its very young artists were included. 27
Gilliam approach to the shaped canvas would extend his concern the complexity of the shape, adding additional sides to each work, further increasing the complexity of both the shape and surface of his compositions. The multi-sided shapes created a greater feeling of volumetric form and the illusion of depth. In making shaped canvases Gilliam would be stimulated by a rejection of the restraints of geometric painting in and the notion that a painting had to adhere to an overall form. With his approach to the shaped canvas, each series expanding on the previous, until they become a build-up of planar constructions.
Rather than simply shaping the canvas into sculptural abstract forms, Gilliam using a series of color, gestural surfaces created by both built of pigment to indicate planes and creating sculptural depth but keeping the work essentially painterly. By retaining the painterliness at the central aim of the work, Gilliam uses of the contrasting brilliant and muted colors, raking, and staining combined with unusual planes to enhance the illusion of volume and within the shaping an inner core of composite painterly possibilities. These complicated forms implied a three-dimensionality but in their changing inner structures remain large scale paintings.
To articulate this concern through shaped painting Gilliam produced a series of works such as Darted Again, Over and For Day One, 1974-75, in which heavily impasto canvases were cut into geometric pie-shapes, then reassembled and collaged on circular and square canvases. The Black Paintings made in the late 70's also reveals Gilliam returning to the technique of cutting and collaging large canvases. He composes elements to form a horizontal rectangle in the lower central section of the canvas as subtle means of providing focus and order for the entire painting. These devices equally reveal growing concerns with issues of the planar constructions.
By the 70s Gilliam was placing a new emphasis on structural support to the point that the paintings exist in and around geometric shape exemplified by the aluminum support in Air Birds, for example, resulting in part of the work's visual as well as physical structures operating within the context of planar painting.
In this regard Gilliam during the period stated:
"There is an attempt in my own work of continuing the dialogue with what was happening with Jackson Pollack and Morris Louis working on the floor, but I am taking that dialogue to the wall. I establish as much facticity as possible, but keep the illusion. Illusion is most important in making shape against shape. It is a painter's illusion that defines the work which meanwhile is also carrying on a dialogue with sculpture." 28
Shaping the canvas could express Gilliam re-founded interest in concepts of the planar. Thus, by the late 70s Gilliam was already exploring new possibilities for shaping his canvases. Phantasy with a P., 1979 painted diptych consisting of a series of racked surfaces canvas sewn together is notably characterized by its irregular shaped beveled edge. Gilliam begins to pours, scumbles, and rakes paint onto sections of aluminum and canvas before using them to construct colorful, multi-planes collaged paintings. The resulting series offer counterpoints of smooth and rough textures simultaneously suggesting premeditation and instinctiveness. Using a beveled structure edge canvases these compositions become more defined in their edges. In this series of shaped canvases Gilliam, comprise a central large canvas from which he would gradually expanded into include small companions painted canvases with a single shape related in form and color to the larger painting's central motif, hovering alongside or adjacent to the main canvas. These shaped constructed canvases acted to break the symmetry of the overall painting.
The architecturally structured profile of shaped canvases detaches the painting form the plane of the wall in order to make it a sculptural object beyond its representation of illusory space. However, the frontal nature of the shaped canvas allows it to continue functioning in pictorial way while its irregular forms adds impact. In their complexity these paintings Gilliam explore the relationship between the inner structure of a painting defined by its connection to the size and shape of the canvas(es).
During the same period, Gilliam begins to produces some of his most innovative works including Ahab, and The White and Black Paintings Series. Several of the paintings featured collaged segments of circle which divided and spun together forms a profuse array of shapes. Polychrome acrylics and dyes melted together as stains and rivulets. He then turns to more placid, monochrome surfaces in elements of segmented paintings emerges out of a larger continuity and an immediate opposition to their monochromatic backgrounds. The white and black paintings, while tendering towards monochrome, contain a surprising amount of color.
In the White Series, various hues layers of white are overlaid with continuous openwork of layers of color: salmon, pale blues, bright yellow, and pale greens, applied both thick and thin and raked for texture, all of which is visible through the white, creating a continuous and changing directions of color patches. Some of the canvases are highly glazed while others are not. All the paintings contain one or more collage strips placed horizontally or vertically from edge to edge. The collage bands are cut from the canvas edges where less white may have been applied, other colors are more pronounced. When these bands are introduced into the painting overall construction, they appear to cause a type of chromatic shifts at their edges enhancing atmospheric nuances, while structuring color flows with lines, and strengthening the surface. At times the chromatic shifts are so subtle they are barely observable.
The Black Series demonstrates Gilliam's profound understanding of opposition in his work. As with the white canvases, the prevalent blacks loosely frame layers of varied hue, and collage elements are introduced from cut edges. Unlike the white paintings, they generally have more closed, orbital compositions, hinged around clustered geometric forms near or below the center. They suggest weight, density, because of the encrusted surfaces. Coffee Thyme, 1977 and Black-Blues- Muse, 1977 both reveals Gilliam's characteristic approach to the Blacks Series. In Coffee Thyme, a cool relatively light collaged rectangle is discernible below the center, segmented in horizontal divisions and punctuated by a dark triangle functions as a locus for the warm surround with its sweeping reds, and directional textures. Though the collage elements are tangible, as the surround, both share the same richly inflected atmosphere. The collage center in Black – Blues-Muse, on the other hand, is barely visible. While stained canvas at the edges provides an atmospheric nuance, the paint is piled thickly in patches, mostly blue with contrasting minor sparks of warm mauve and yellow, which stresses the surface qualities. The use of somber color fields in these work allow the lighter hues to assert a presence of color in his structured color system. Characteristic of Gilliam's paintings the interweaving of surface and space are such that a dynamic tension reinforced a constantly shifting syncopation lending excitement and vigor.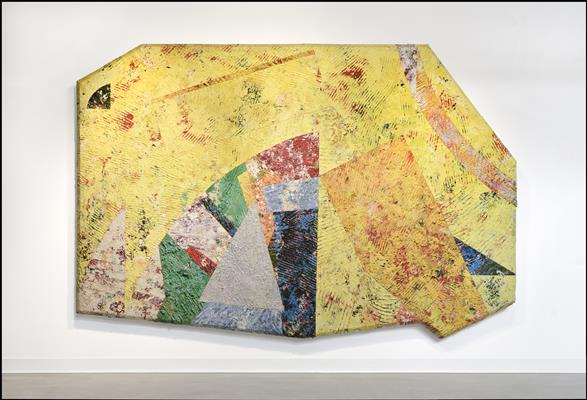 Architectural Notions for a New Nursery, 1980, Acrylic on canvas, Courtesy of the artist, Washington, DC
GILLIAM AND ABSTRACTION IN THE 80S
The year 1978 marks the beginning of what has become known as the return of figurative and the dawn of Neo-Expressionism. Much of the new figuration had an expressive purpose; the forms of the work of art grew out of the content- the idea- and was indistinguishable from it. Still Abstract prevailed. Overshadowed by the impact of Neo-expressionism, 80's abstraction appears to have become a quieter practice and a summation of multiple references as artists began to re- examines the definitions of abstraction and discovered a variety of challenging new approaches in the context vituperative diatribes launched against nonobjective work. In the process transcending formalism they acquired a heighten sensitivity towards the idiom and a renewed freedom to approach the abstract tradition from a confident posture, rather than a defensive, reactionary one. The changes reflected in their work provide a fresh dialogue with artistic and global developments of the past fifteen years. Non-objective abstraction begins to absorb the intellectual and the emotive employing the language of painting fusing the classical and formal with the romantic and expressive. Color, line, shape, gesture, figure/ground united in order to communicate what Kasimir Malevich has previously referred to as the "non-objective" emotions, no longer bound by fixed stylistic rules.29
In the 1980's. The employment of variants of modernist vocabulary, and its de-construction allow for artistic boundaries to become blurred, allowing abstraction and figuration to meld with appropriate references and painterly expressiveness. A sense of restructuring and redefining abstraction is common occurrence. Abstraction now appears as construction of curved and modeled forms set in ambiguous space, a deployment of colorful organic forms which never take on a particular reference however still provoking questions regarding their meaning. Equally, there is the introduction of curvilinear color bands, providing a sense of heighten luminosity on the painterly surfaces. Complications this moment is the arrival graffiti allowing many artists to address issues of the current discourse of kitsch and high art through abstraction.
For many observer of the period Gilliam was viewed as a major figure in pushing possibilities of recent abstraction and his paintings as indicative of the complexities of abstraction in the 1980s. Through Gilliam continuous reappraisal of form and content, and his imaginative development and re-positioning of formalist principles could the offer fresh insight. Color, his seductive hues, dramatic light and varied lines, simultaneously functioning on multi levels, was referenced as important in proposing a manner in activating space and allowing for pictorial extension.
By extension scale in many cases pushes the Gilliam's work towards the theatrical, presented in a complex vertical, and horizontal planes. Geometric shapes evoke notions of architectonic presence. The continued occupation with the shaped canvases expand on the relationship between the overall form and the color within Gilliam's paintings.
In 1986, essay Gilliam made his observation vastly clear on the state in abstraction in a brief essay written for the exhibition catalogue: "Abstraction/Abstraction" held at Carnegie-Mellon Art Gallery: Gilliam writes:
The abstract movement beginning at the turn of the century and perhaps experiencing its zenith during the 1950, brought with it a sense of renewal a great change, particularly in painting. Looking closely at contemporary art, we see that abstraction for the moment, cannot confine itself to physical properties alone: it must address current social and personal criteria. In fact, style or even the variation of stylistic delineation between abstraction and realism, is not a question that confronts art. The question is whether there can be a renewal of historical quality, content and meaning.
It is sometimes seems that in the 1980s, sociopolitical issues outweighs the issues of art, and art is so co-opted towards its own ends, that it becomes impossible to include an awareness outside itself. It is interesting historically that, to give rise to abstract painting, the Cubist had to validate art. It has become necessary to re-evaluate abstract process in order to renew painting, or for that matter art in general.
I have recognized in my own work over the last twenty years that it wasn't always possible to follow art movements or what was on the surface, but that my sociological and philosophical interactions, in terms of quality and content, were the only pursuits in art. History bears out that the individual stands above his time.
As much as style is merely seasonal and as practiced now does not necessary serve meaning the importance of the individual in art must be re-empowered.
Abstract painting is solitary, existential, and progressive and must have a raison d' être that benefits the medium and the public. The question, therefore, is: does abstraction remain literally the same and retain the same purpose it always had? And isn't that purpose rather empty when it deals only repetition of symbols, and not necessarily meaningful ones?
The word abstract is not synonymous with a particular philosophy in art. Therefore, I sense that characteristically, whatever processes bring good art, good wholistic art, into being are significant. I am speaking here in terms of non-stylistic, salient accomplishments in and around art.
Attention should be given to the pluralistic base of art itself in the last twenty years which associated itself with individualism and sociopolitical factors to give new meaning to avant-gardism. This is the embodiment of the expression of transcendentalism ans abstract expressionism for future decades.
Abstraction, in a historical and present sense, is a continuing metaphor involving multiple processes and points of view, Abstract art in application reflects on the whole of things and goes beyond the surface of the painting per se. It is philosophically the wholistic experience of the artist revealing his presence in the art of today and does not have to subject itself to the old queries re: the chicken and the egg, or abstraction versus realism.30
Through-out the 80s the shapes in Gilliam's painterly compositions become more defined by their complexities, in which a series of geometric structures are overlaid. The 1980s paintings shaped in various manners are bold, loaded with clashing dissonant colors, laid on in an improvised manner. Compounding this approach is a series of smaller companion paintings which make –up or are added a central larger shaped canvas. These smaller companion paintings with a single shape related in forms and color to the larger painting's central structure, are distinguished by variation in color, or paint build- up, or surface treatment.
In a related series Gilliam would introduce at one corner of the painting triangular and horizontal painted constructed and aluminum components forms incorporating metal forms to the point where his work is both.
Transformation is implied works by which the stitching and gluing of surfaces elements by which the final works help to define and dissolve a fully reconcilable s structure. These works contain illusionist perspective, but they are equally deceptive in their relief quality. While they remain essentially two-dimensional paintings, they are in some aspects completely impacted by their build up surfaces. The complex surfaces treatments painted works of the period are achieved through using large amounts of acrylic paint, and gel applying it thickly and spreading it with rakes and brooms across the large canvas to create a heavily – textured surfaces. He equally began to cut –up the canvases into geometric shapes--- triangles and rectangles, wedges and arcs, then stitching the parts back together as if they were quilted parts, finally stretching the finished compositions in a rather improvised manner. Thus eccentrically shaped and the buildup of their surfaces accomplished though raked strains, cutting the grooved canvases into irregular swatches, repainting them a different color cut patches from other canvases, and on several occasions streaks of enamel from spray cans, activate the surfaces the beyond their visual boundaries. Their edges and their surfaces explode forcefully and effectively providing a heighten sense of opposition and movement.
Example of these complex works are Tholos I, 1981; "The St. Moritz Outside Mondrian, 1984; 1, Raven# 3 /B#4, Raven#1/Solo #I, Eagle 4/2/Solo II, Raven #2 Eagle 4/1, 1981; Arc Maker # I & II, 1981, and Penwheeled #1, 1984, in all of which Gilliam uses a series of triangles, and bars to create an eccentric format with canvas and collage on aluminum, applying a series of colors in huge painterly manner.
In the late 80s paintings Sam Gilliam returned to an interest in environmental –based works creating complex sculptures of cut- and enameled wood and aluminum on canvas. Initially, these three-dimensional forms were small and reflected simple, geometric shapes, gradually they would become larger and more complex. In works such as Fines as a Cobweb, l989, and The Generation Below Them, 1986, Gilliam applies canvas on primed aluminum with plywood support structure. The surfaces of these projecting elements were smooth and contrast sharply with the highly build-up polychromatic surfaces of the painted surfaces to which they were attached creating a delicately and forcefully tension in the painting. Additionally, Gilliam introduces rhoplex, and pieces of paper and canvas such that the surfaces of these constructions are exuberantly energetic, controlled by the sharp hard edges of the shaped and beveled canvases.
Gilliam stated to that he introduced the sculptures components not to create sculptural works but a means of engaging painting. However, during the period Gilliam, executed a number of actual sculptures, some of them against a wall, including the Davis Square Subway Station in Boston, and a suspended work in the Library o the University of Louisville. The development of these sculptural objects, Gilliam often use the same geometric shape as in the paintings combining them in the same improvisatory manner bringing these sculptures to the brink of chaos by building them out dramatically into space, using color –sometimes poured onto the surface to intensify the three dimensional work. 31
However, despite their material means and sculptural-intent these works are essentially painterly constructions. The aluminum elements, circles, broken circles, and perforated cones, are made to conform to the painted surfaces. They are dispersed across the painting, rather than clustered at the center. Representative of this approach is the work
Saga, 1986, a large scale five- panels work in which Gilliam combines acrylic, enamel on canvas. The work panels are attached to the wall. In front of the work (113x190x 18 inches) four polychromatic painted aluminum circular forms placed at the base of the painting. The large scale works appears to defy logic and their small circular forms suggest that they are holding up the massive construction. To further dislodge the viewer, Gilliam has place a triangular structure next to one of the circular forms in which one edge is yellow monochromatic surface, thereby returning it to painterly platform.
A unique series of paintings from the period combines paintings within paintings, illustrated by Inland. Gilliam creates a circular canvas with a 60" diameter, with 17-inch depth. The center of the work is a rectangular shaped painting, in which Gilliam is utilizing the raking technique to build up a multi-textures surfaces of acrylic paint. Extending from this surfaces are a series of lozenges shaped forms comprised of aluminum whose surfaces are highly build up by the application of a gestural painted technique. The entire structure of related inner-painting and forms is attached to the circular structure whose surface is a combination of polychromatic background on the right end, and on the left side.
Gilliam would later return to this painting within a painting structured in a series of rectangular shaped paintings he exhibited in the 1990s in which several aluminum framed smaller rectangular shaped canvases are attached to large rectangular structured, among these painting is the brilliant, Back Lit Awning,1994.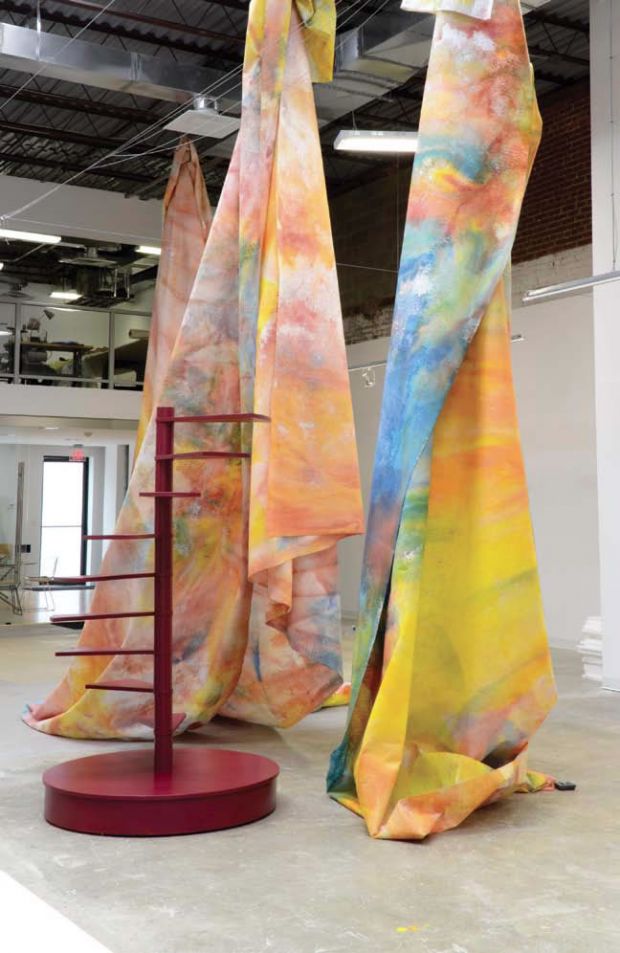 Sam Gilliam's artwork hanging in his studio in Washington, DC. Photo by Max Frietch
THE 90S AND BEYOND
Gilliam has stated that the act of painting for him is to register paint action and experience. The paintings of the early 1990s are far more conventional in their rectangular format and are about action. The gestural surfaces of these paintings "move" at different speeds from slow to fast to a series of abrupt stops. Equally, what is critical in these works is the collage-like layering of abstract influences and styles in singular painting. Gilliam appears to want to re-visit several points of interest from his past; the lyrical atmospheric softness of Color Field paintings juxtaposed with improvisational linear movements of Pollack-like "drip", however shaped and controlled by Gilliam's own stylistic nuances of luscious flowing and impasto blocks of paints.
Additionally, the constructed paintings of the 1990s, flat and rectangular in shape, related to the relief paintings and sculpture he created in the 1980s. Process is major driving force in these works, in which the images emerge, full of dissonance, relying on a balance of contrasting elements. Areas are rolled or blocked, paint is laid on delicately, stained or carved out from lower levels of build-up impasto paint.
The works of the 90s continued Gilliam interest in expressing his fascination with structural improvisation. Amongst these works are a series of vividly colored three-dimensional construction of acrylic on birch plywood, often with collaged elements. Gilliam introduced a third dimension to his eccentric shapes. He joined panels at an angle and cut holes to reveal the painting behind them. On the surfaces, Gilliam applied paint smoothly with brushes in some areas and heavily troweled in others, to create texture that enhance the works multi-dimensionality format.
The decade also saw Gilliam again moving away from using traditional canvas as the main materials for his paintings, and engaging a host of varied materials as revealed in the works including, Red Towering Stacks, 1996, which finds Gilliam combines acrylic painted on vertical birch wood rectangular panels which are overlaid each other to which he attaches and a series of polychromatic anodized aluminum shapes; A and the Kitty, 1998 a painterly sculpture that is essentially is a bench made of wood on which sit a cube balanced on one corner and a shallow circle mounted on a block, Gandola, 1996, acrylic on polypropylene and birch plywood construction with piano hinges; Downspout, 1999, painted polyester collage, and Room of Lovely Symbols, 1999, painted polyester collage. The latter two works consisting of series of open dot –like shape cut out of the surface.
These new constructions which continue into the 21st century provide Gilliam yet another format to effectively explore issues of the painted field through spatialized arrangements of forms. They are both conceptual but equally convey a notion of the spontaneous and intuitive. Combing the overlays- and cut-outs form in the same work Gilliam is able to vigorously play off the point where the visible and invisible converge, situating the constructions at a crucial moment between the painterly and the sculptural. In the process they offer a high degree of opposition between style and content and juxtaposes the surface texture and the visual, and by extension express the potential to bring powerful new and challenging perspective to art painterly form.
Throughout the period 1980s to the present, Gilliam has continued to construct large scale installations for hospitals, metro stations and airports. Gilliam would return to the creation of site- specific draped installation between 1997- early 2000s including a spectacular work for the Chapel gallery of the Kunstmuseum Kloster Unser Lieben Frauen, Magdeburg, Germany. The installation titled: Of Fireflies and Ferris Wheels: Monastery Parallel, created with Bill Wegee, required over one thousands yards of polypropylene that had been printed with woodcuts and then painted. For an installation for the Mint Museum of Charlotte, The Illustratrious Kiss Made in the Boxing Styles,2004 in Gilliam utilizes Golden fluid acrylic on flag bunting and cotton/polyester thread,he allows a series of undulating cowl –like structures to float from the gallery's class ceiling. Close to Trees, 2011, Acrylic on polypropylene continues Gilliam engagement with over –sized suspended canvas. Gilliam has suggested that Close to Trees refers his admiration of Monet's painting of Camille 32 However, Gilliam has noted that the title,
Close to the Trees, equally refers to the factor of movement in art , e.g. the floor, or essence of the spirit or use of the mid-plane in painting so close one can reach and touch…It's important that the making of the work has the rule of drama. However, when that certain drama (in space) fails as made, be careful, it's still the most important fulcrum. I realize that it's necessary to allow for the process of change. However, nothing is open ended; I appreciate the idea of a work being specific, yet causing a dynamic, e.g. Velasquez's "Les Meninas", or Pollack's "The Gate". I go through the object I am making to sense the presence of things (Duchamp)" …. Between art and myself there is always a period of beginning and manifestation for the works continuation. The stitched element is fixed in tradition as a metaphor for forms, color, and being stretched or draped canvas. The reference to art- made is here. I' don't debate, I use either sculptural or painterly presence to make ideas or words in art.33
Sam Gilliam: Abstraction and Race:

For different reasons, there's a concern for "African American art, but when you try to turn politics into art, you are going to get into trouble"
Sam Gilliam34

Gilliam has been very careful regarding discussing the issue of race and abstraction, a conversation we recently re-visited during my visit. I reminded Gilliam I that as a young art history student in New York City in the 1970s I would attend these discussions in which it would be clear that there was a strong divide over the role of the abstraction in the works by Black artists. Many scholars and critics have mistakenly developed the misconception of the Black abstractionists wanted to avoid the very discourse during this rather dynamic revolutionary period. However, as the artist Betty Blayton noted during a recent conversation, creating abstraction by a black artists during the period was in itself a 'revolutionary" act . Gilliam notes that during the 60s the abstractionist were not isolated from the currents of the period and points to Norman Lewis and The Group Spiral, as indicative of this fact. Active from the summer of 1963 through 1965, the Spiral group of artists met weekly to discuss the role of African-American artists in politics and the civil rights movement, as well as in the larger art world, and organized one group exhibition. Spiral was aimed to explored the representation of the black experience and race but not strictly in figurative or narrative context, but through between abstraction and representation.35
In 1987 David Driskell observes: "
I am continuously amazed to read the rave review on exhibitions of Sam Gilliam's work and find that there is only causal reference to the fact that he is Black that so few people dee these handsome works of art for what they really are: visual expressionis equivalent to jazz, blues, gospel, and all of the highly improvisational forms with which Black American have richly rewarded the artistic snesenibiities of millions in the Western world So Gilliam is in many ways a blues man… His art sings the blues that were blue before Picasso knew that African art contained a blue formula, or even before the Cubist and modernist experimenters bothered to examine the shrines of Gilliam's African ancestors, and once having been informed then "invented assemblages and installations… ." 36
Driskell proposes that Gilliam sources are inspired by the mythology of African art, abstractedly rendered in way that manifests itself in the rugged and often raked surfaces of his paintings." 37 Accordingly, Driskell suggests that Gilliam's art annexes ancestral forms such as the tie- dye process of African textiles and the roughly textured surfaces found in the encrusted figures sculptures, while the mildly hot or cool jazz tonality that is coded in chromatic stages in Gilliam 's work is complimentary to the structural way he paints.
Following the death of the civil rights leader Dr. Martin Luther King, Jr, Gilliam created a series of paintings including, A Warmth, A Lightness, A Glow and Then (1969), and to commemorate the first anniversary of the assassination of Rev. Martin Luther King's dean Gilliam painted, April 4, 1968 (Red April), which makes used of a variation between shades of red and shades of black. Gilliam painted Red April ((April 4, 1968) by pouring and splattering acrylic pigments, some thinned-out, some thick and rich onto a raw canvas he placed on the floor. Gilliam folded the canvas like an accordion. He intended for some of the pigment to remain wet so that when he unfolded the canvas, it would pull off and adhere to the canvas on top of it. Gilliam then stretched the canvases on beveled stretchers, so it appears to be coming out of the wall. In creating the painting Gilliam varied the staining process, after painting on a sheet, wet with water he folded the canvas and left it to dry overnight. When he opened the canvas the next day, he found that the weight of the folds had replicated the tie- dye process. The colors in April, 1969 have been often referred to a metaphorical symbolization of stained open wounds.
Mary Schmidt Campbell has linked Gilliam approach to abstraction and improvisation to the legendary Black jazz musician John Coltrane, noting that: "Gilliam's daring liberation of the canvas from it stretched has been compared in its risk taking to the adventurousness of John Coltrane. Gilliam's cascades of color are not unlike Coltrane's sheets of sounds. Like Coltrane's music, Gilliam's art has been at the cutting edge of the avant-garde. Like Coltrane, Gilliam, too has driven his art to the edge of chaos but always circumscribes the chaos, the improvisation within carefully parameters.38
Referring to previously discussed, Jail Jungle series, Schmidt Campbell notes that Gilliam's identity as a Black artist is usually couched metaphorically within a tie- dye process, an historical allusion or an "attitude" in paintings. For Schmidt –Campbell. Gilliam's important autobiographical Jail Jungle series is the closet he comes to revealing the effects of those social challenges of the period in his art.
Schmidt Campbell observes:
"The messiness of this piece, begun in 1968 and continued into the 1970s when it became transformed and took on the title "Composed", may be reflective of the turmoil that often confronted Sam Gilliam, the Black American abstract painter. Social tensions, being a Black abstract painter as the height of the "revolution," was as much a challenge in 1969 as the decision to hang a liberated canvas from the ceiling."39
As I read these remarks of Schmidt Campbell and Driskell to Gilliam during one of my visit, he was quick to remind me that in the winter of 1969 William T Williams , also a black abstraction, invited Sam to participate in show at the new Studio Museum in Harlem, entitled " X to the Fourth Power", which would also include Melvin Edwards, and a white painter Stephan Kelsey. Not surprisingly, William, Edwards, and Gilliam discover a common aesthetic syncretism. From 1969 to 1976 they would show together in various exhibitions including "Gilliam, Edwards, Williams: Extensions: 'Wadsworth Athenaeum, Hartford, Connecticut, Feb 6- March 17, 1974. For this landmark exhibition the three artists agreed to exhibited works, some of which existed in advance, while others were created for the particular environment of the Athenaeum's space. In this exhibition each artist aimed to juxtapose finished elements with elements made on the spot. The exhibition was not seen as a series of art works, but a collaborative- jointly displayed with Williams, a painter; Edwards, a sculptor, and Gilliam work operating between painting and sculpture, the usually barriers are dissolve, There was observed no question of consistency but an issue of continuity between the artists' works. The artists have described the collaboration, "as a commitment to escape the prescribed, the ordinary, the unexpected…aiming for a universality rather than novelty in which the individual lines of inquiry are clarified, and the interconnections discernible"40
In an exhibition I mounted for SMH in l980, "Another Generation: Black Abstractionists", I would include these three artists and several of their contemporaries who did not reject the call for Black nationalist fervor and but who equally did not view rejection abstract as irrelevant to Black American life during the period. For these artists, the need was to embrace a certain aesthetic integrity in which abstraction were their main concern. For Gilliam, and his contemporary black abstractionists working in the 60, and 70's as for many before and after this period, this was another important barrier to be address. Recent re- discover of abstractionist, such as Norman Lewis, Alma Thomas, Thomas Sills, and Beauford Delaney attest to this need.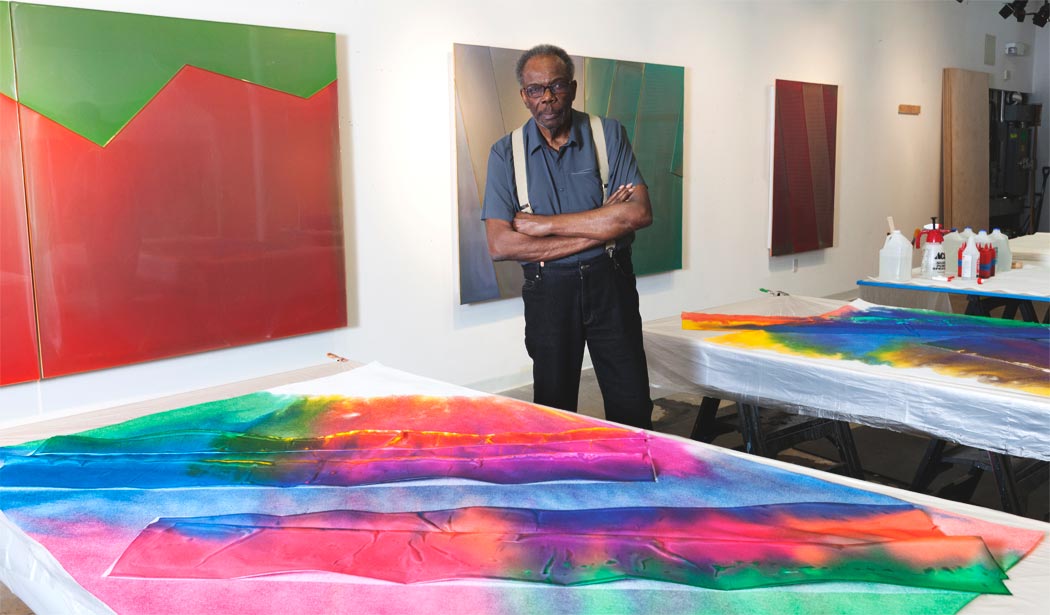 Gilliam in his studio (@Kristine Larsen) Courtesy of Art+Auction, December 7, 2015
Conclusion:

The enormous verve, energy and sheer compositional genius of (his) loaded canvases show that abstract painting, far from being exhausted, is probably the significant wave of the future" 41

Sam Gilliam's artistic career has been and continues to be a development of constant innovation in which each new experiment forms a decisive link with, but equally a separate statement on its own. The representational features and expressionist leanings of his earliest work in 1963, evolved in 1964 to purely non-objective and through commitment to color, a result of his exposure to the "Washington Color School" and the influence of artists such as Morris Louis and Kenneth Noland and a conversation with expressionism. One could suggest that most of Gilliam subsequent works has been a search for a synthesis of these beginning and his willing to free himself of these early sources. Such repositioning of his intention and approach has lead Gilliam to constant changes and adjustments in his creative approach.
Gilliam has continuously played with new possibilities of the painted medium, exploring means and structures in which color can perform, while incorporating the structural aspects of the canvas as well. From pouring and staining he moved to rolling and folding his canvases to create a variety of new patterns and effects. Rejecting the stretchers Gilliam nailed his brilliantly painted construction directly to wall. They grew to massive size, virtually becoming environment allowing Gilliam to extent them into real architectural space, off buildings and suspended them into spatial structures.
Gilliam would continue to explore the possibilities of structure and form through painting in order to explore the expressionistic possibilities of color with its resonating exuberance. Returning the painting to stretchers, Gilliam shaped his works in a variety of rectangular and vertical shapes, often in the same works. Rejecting structural logic is the works become more planar in which thick impasto surfaces, are scraped, raked, scrubbed, suggesting a cross-hatched effect to reveal underlying layers of vibrant color, while geometric forms float and overlapped on eccentrically shaped canvases. Such construction proposed a field of rich energy and movement across the painted surfaces. At one point Gilliam began to coat the whole stitch and glue surfaces with streaks of enamel from spray cans, emulating graffiti art.
Recently, Gilliam stated to me that he had changed a lot in his thinking about art. He his reading again and thinking more about Mondrian, and primary color. He notes that he has always been a horizontal painter. Having moved beyond the issue of painting and sculpture, Gilliam states that you have to be open, you have to found several platforms in painting to really understand what it means. For Gilliam making art is very industrious process, whether at the start in painting or through the structural investigations of materiality and surface. He has return to issues of the transparency of paint which has him looking at minimalism, while simultaneously returning to Matisse.
Moving beyond the concern with structuralism of the shaped canvas and its limitations and possibilities, Gilliam has freed himself to return to the rectangular surface in new ways. Gilliam is not an artist to labor in the past its own sake, rather, he explores it primarily as a means of reorienting the present, in order to provide a renewed vigor for new work, but equally to questions the very foundation of painting. His approach is both an intellectual and creative relationship between learnt and intuitive.
Gilliam has presently been working on a series of monochromatic works, with a series of vertical diagonals introduced into canvases that breaks up the surfaces in a new manner. These new devices add just the right amount of tension to that Gilliam has always sort in his painted surfaces. One should not expect for one moment Gilliam has become settled in explorations, his is a ceaseless journey of experimentation, continually crossing lines in order to negotiate between abstraction and improvisation, the painterly and the conceptual. Contrastingly, as we have come to expect from Gilliam, he is presently engaged working on a series of vividly stained sheets water stained on Japanese paper.
By continually discovering new paths for the intersecting the painterly and the sculptural the literal and illusionary, Gilliam art has added to the artistic traditions in productive and compelling ways. Gilliam's art remains relevant and robust encompassing new materials and approaches, while provoking questions about the continued possibilities of painting.

Horace Brockington, 2016
Notes
41 Adams, Jane A. "Exploring the Alchemy of Paint." Washington Times 15 Mar. 1989 [Washington.]: E1 E3. Print.