ART/ICULATION:1
KARLA BLACK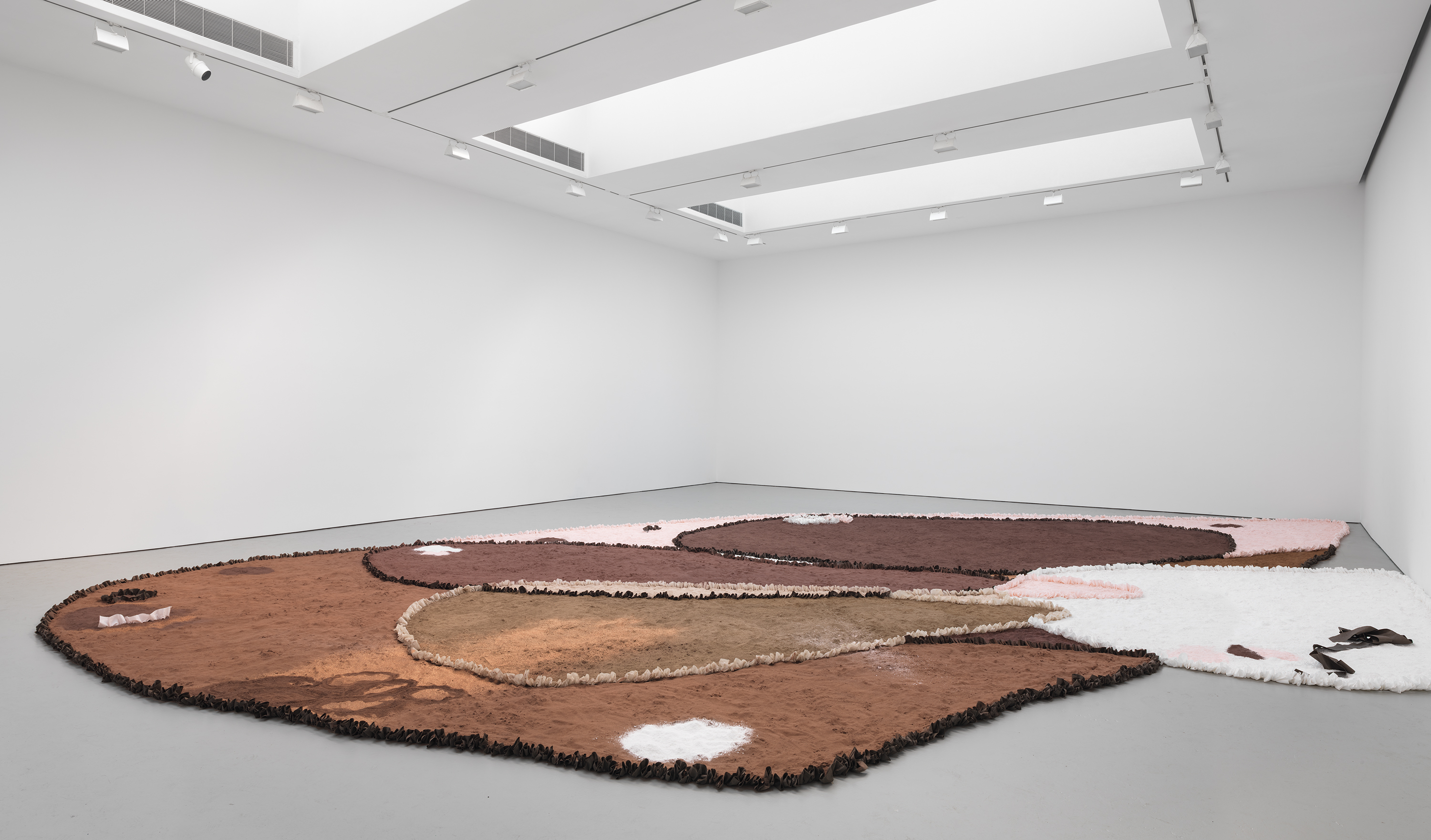 Installation view from the 2016 solo exhibition Karla Black at David Zwirner, New York
Karla Black
Includes Use, 2016
Powder paint, plaster powder, toilet paper, and glitter
330 3/4 x 366 1/8 x 7 inches (840 x 930 x 17.8 cm)
Courtesy David Zwirner, New York/London
David Zwirner presents an exhibition of new work by Karla Black, the artist's second solo show with the gallery. On view at 525 West 19th Street in New York , contains sculptures made specifically for the space and completed on site. The exhibition continues through March 26,2016
Combining traditional artistic materials such as chalk, paper, paint, and plaster with everyday items including eye shadow, earth, ribbon, toilet paper, and cotton wool, Black's works are at once elaborate and simple, expressive and restrained. They challenge their own medium by being "almost" or "only just" objects with a close affinity to painting, performance art, and installation. As the artist notes, the "most important thing about the work is that it prioritizes material experience over language as a way to learn about and understand the world."
Hanging sculptures with contrasting densities, forms, and sizes open up the exhibition to an irregular, ovoid-shaped work covering over 800 square feet of the floor. Consisting of plaster powder and powder paint, it features interspersed curved shapes in white, pink, and various earth-toned hues. Colored toilet paper delicately divides the sculpture's surface and lines its perimeter, affording a sense of structure to an otherwise formless substance, while the various textures of the materials add a sense of movement to the space. As the art historian Briony Fer has observed, Black's work oscillates between materiality and immateriality: "This is the 'as if' of all art that claims to be able to hold onto autonomous expression.…Her work makes it possible to see affinities between things and possibilities for art today which were for a long time thought to be impossible—the possibility for an aesthetic that is both utopian and materialist, both pictorial and sculptural."
ARTIST STATEMENT
KARLA BLACK
These sculptures can only be finished once they are in place, since they absorb the physicalities and practicalities of the rooms in
which they are in to the extent that the space seems to become part of the work itself. They are often hard to accept as sculptures,
being often "almost" or "only just" objects and skirting very close to painting, performance art, and installation. The most important
thing about the work is that it prioritizes material experience over language as a way to learn about and understand the world.
Since this exhibition space involves passing through three doorways to enter from the reception area into the further two rooms,
doors and doorways become important, and their own sculptural actualities somehow relate to how opportunities can appear in life
as physical realities that require concrete action and energy. Windows of opportunity must somehow be recognized and acted upon
just at the right time. Maybe it's not the movement towards them that is the difficult thing but rather just noticing that they are there
in the first place—the perception that they have appeared and that now is the moment to pass through.
Between the door that leads from the street into the gallery, and the door that opens into the first room, is a work made of torn strips
of sugar paper covered in powdered eye shadows in a palette that ranges from pink to various beiges to dark browns. It forms a kind
of doorway of its own that viewers walk through in order to see the exhibition. In the first room are a series of hanging sculptures, one
of which frames the doorway into the second room where a large powder floor work in various shades of brown almost completely
fills the space.
The work is abstract up to the very edge of representation. It is engaged with the power of abstraction in its relation to human
development and evolution as it moved away from the representation of the human figure in art.
The color brown is strongly dominant in this show. It's a commonly known fact that if one mixes together all colors one generally
ends up with some shade of brown. All of the work in this show is made in flesh tones, mainly in a sort of "fake" sense, as in colors
in painting, in makeup, and in fake tans—all civilizing surfaces in their own ways. I have been thinking about the progression from
the figurative to the abstract in general, and about painting in particular, about portraiture and figuration, and flesh tones in relation
to that. The brand of acrylic paint that I always use has a shade called "flesh tint" that is a sort of pinky-beige. This strikes me as
be taken literally as such, but I wanted to deal with it in some way. This also relates to my use of makeup in the work, and the idea of
the civilized/civilizing surface. The base/foundation in makeup is always brown (or white or pink) and then the more prismatic colors
are the highlights on top of it.
The exhibition relates to thoughts I have had for many years about how, through abstraction, the human species may become
"eventually benign." This is a title I have used a couple of times for pieces of work. It centers on ideas around the square and/or the
rectangle in abstraction, and how the first emergence of philosophy, religion, and law (or forums for contemplation and discussion),
began with some sort of clearing in the center of a chaotic space (the city square) to create a quiet place where reflection could
happen, with the hope that the eventual conclusion of reflection might be some kind of peace. Such a clearing for thought is the
beginning of civilization and, as such, a nascent attempt at human rights. I often think about the "tools" of human improvement
in relation to the necessity of "civilizing surfaces": for the inside of the body (the mind), there are the arts, literature, etc., and for
outside surfaces there are substances like makeup and paint. This sort of idea, involving as it does an obvious allusion to progression,
must then also include ideas about inclusion within the Western art historical canon, and who is currently left out.
In the exhibition, there is a sense of fragility and vulnerability through the open use of materials such as powder and paper that,
hopefully, engenders a sort of careful quietness in those who encounter it.
Through the framing of the doorways and a delineation or emphasizing of the square and the rectangle, these shapes have become
key to this exhibition, not just through depiction but through how they are depicted within that depiction. Squares and rectangles
are further emphasized by being "framed," drawn around, or selected within the overall form by color and by line. This can be seen,
for example, in the four small hanging works made out of sugar paper, body paint, oil paint, cotton wool, and cushion stuffing that
are as close to paintings as the sculptures ever get.
There was a wildness to my work in the beginning that, although always under the surface, has become a little bit obscured by a
more rational structure in recent years. More of this core will be allowed to seep through in this exhibition. By letting the work's
chaotic difficulty become more visible again—the powder floor work, a large mud hanging work, and a doorway work of sugar paper,
chalk, and cotton wool specifically—I've been thinking a lot about how language neatens up our experience of the world, renders
it in some way methodical, and often takes away the emotion or the unconscious tension in physical experience, even just through
descriptions of simple tasks. Even basic physical tasks are not really simple and involve a messy interaction with material reality. This
"wildness" appears in this show, however, alongside some of the "neatest" works I've ever made (the small hanging works described
above).
I think that, in order to develop as human beings, emotionally, psychologically, intellectually, and artistically—by which I mean both
individually as an artist and in terms of art history in a bigger evolutionary sense—and get to another level, we need to go through
messy, difficult, chaotic, and often actual physical tangles that, when we are in them, make no rational, structural, or logical sense,
but may perhaps have some sort of effect in the end. Perhaps abstraction is the tangle that can lead to the next level.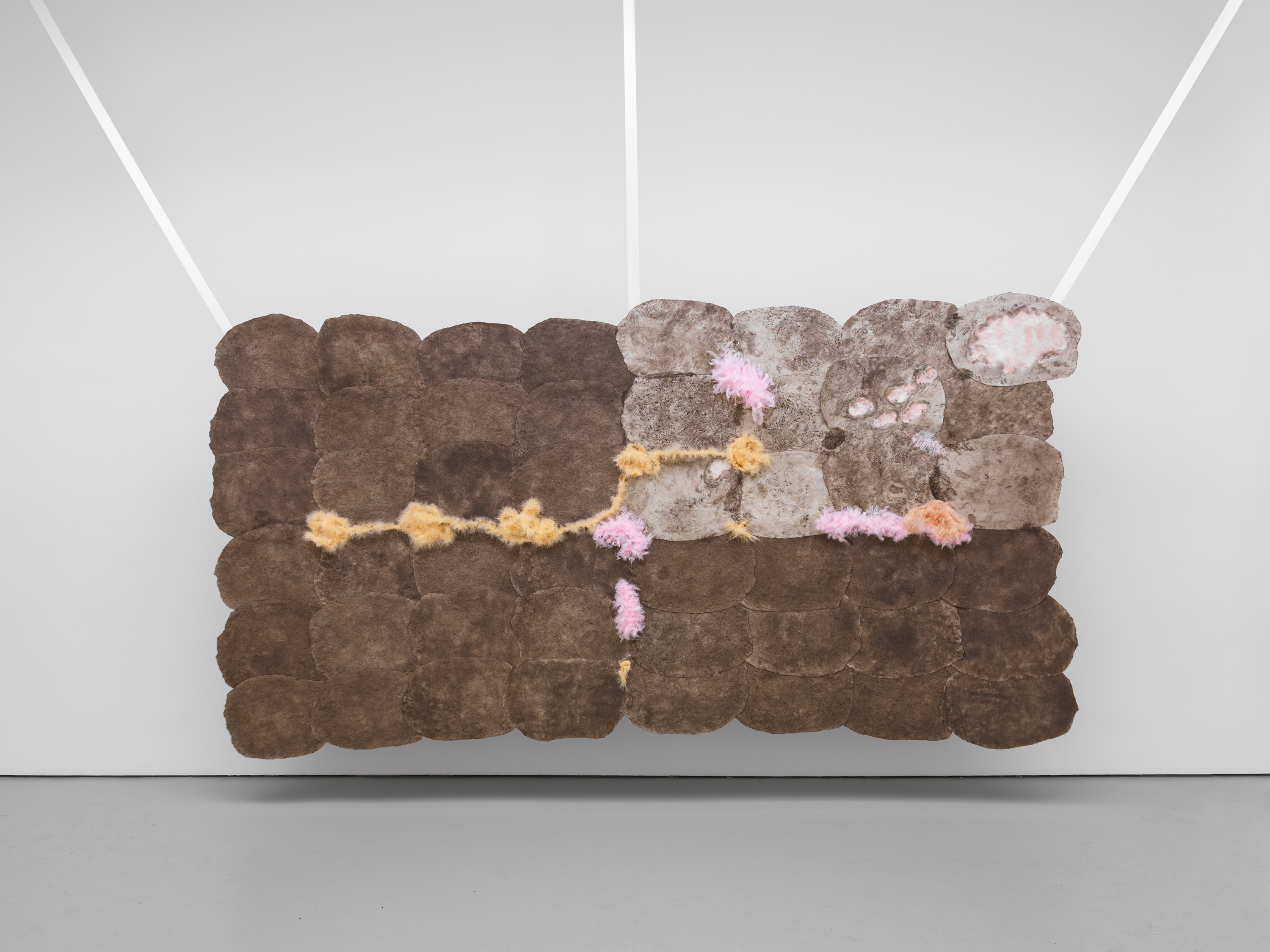 Karla Black
Or Else It's Just Surface, 2016
Sugar paper, mud, oil paint, body paint, feather trim, and ribbon
83 1/2 x 155 1/8 x 4 3/4 inches (212 x 394 x 12 cm)
Courtesy David Zwirner, New York/London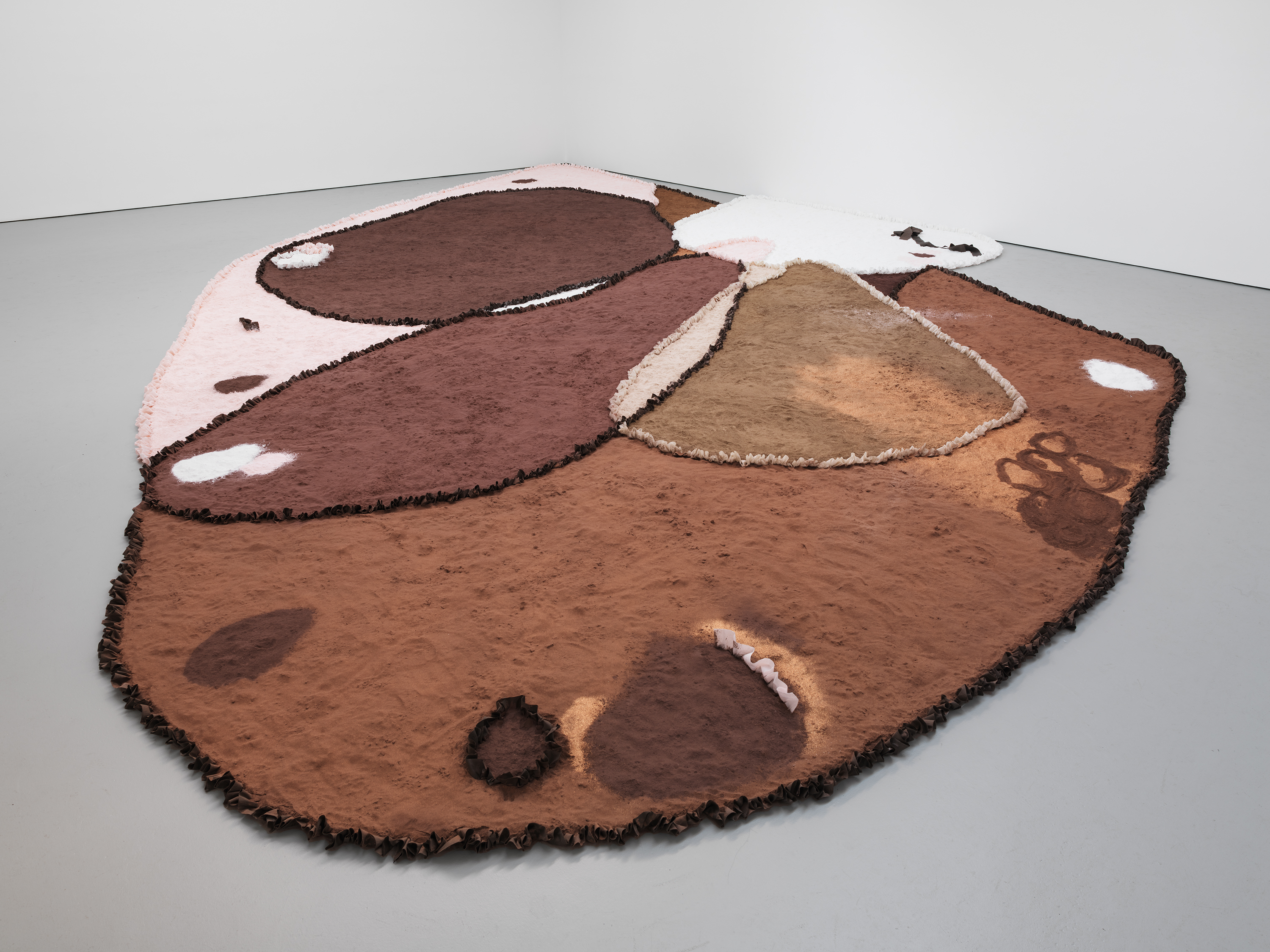 Installation view from the 2016 solo exhibition Karla Black at David Zwirner, New York
Karla Black
Includes Use, 2016
Powder paint, plaster powder, toilet paper, and glitter
330 3/4 x 366 1/8 x 7 inches (840 x 930 x 17.8 cm)
Courtesy David Zwirner, New York/London
Karla Black . born 1972 creates abstract sculptures using a combination of everyday materials including powder, soap, gels, and pastes, along with more traditional media such as plaster, chalk, paint, and paper. Carefully arranged on the floor or suspended from the ceiling, they are typically made on site and include direct evidence of the process of their creation through fingerprints and dust. Delicate, messy, sensuous, and visceral, they testify to a physical experience of the world that lies beyond metaphorical and symbolic references. Poised between form and anti-form, they emerge like transitional states or naturally occurring sediments.
Black was born in 1972 in Alexandria, Scotland. She received her B.F.A. in sculpture in 1999 from the Glasgow School of Art, followed by her M.F.A. in 2004. In 2014, Black joined David Zwirner and had her first gallery solo exhibition in New York the same year. A solo show, featuring new and recent work by the artist, is on view February 27 through March 26, 2016 at David Zwirner, New York.
In 2015, the Irish Museum of Modern Art in Dublin hosted a solo show featuring new works made by the artist specifically for the museum space.
Since the early 2000s, Black's work has been the subject of solo exhibitions at prominent institutions, including a presentation of new sculptures shown in 2013 at the kestnergesellschaft in Hanover, Germany. Also on view in 2013 was her first museum show in the United States hosted by the Institute of Contemporary Art in Philadelphia. Other venues which have presented recent solo exhibitions include the Gemeentemuseum, The Hague (2013); Dallas Museum of Art; Gallery of Modern Art, Glasgow; Schinkel Pavillon, Berlin (all 2012); Kunsthalle Nürnberg, Nuremberg, Germany (2010); Migros Museum für Gegenwartskunst, Zürich; Kunstverein Hamburg, Germany; Modern Art Oxford, England; and the Inverleith House, Royal Botanic Garden Edinburgh (all 2009)
In 2011, the artist represented Scotland at the 54th Venice Biennale and was nominated for the Turner Prize. Her work is held in museum collections worldwide, including the Hammer Museum, Los Angeles; Migros Museum für Gegenwartskunst, Zürich; Scottish National Gallery of Modern Art, Edinburgh; Solomon R. Guggenheim Museum, New York; and Tate Gallery, London. She currently lives and works in Glasgow.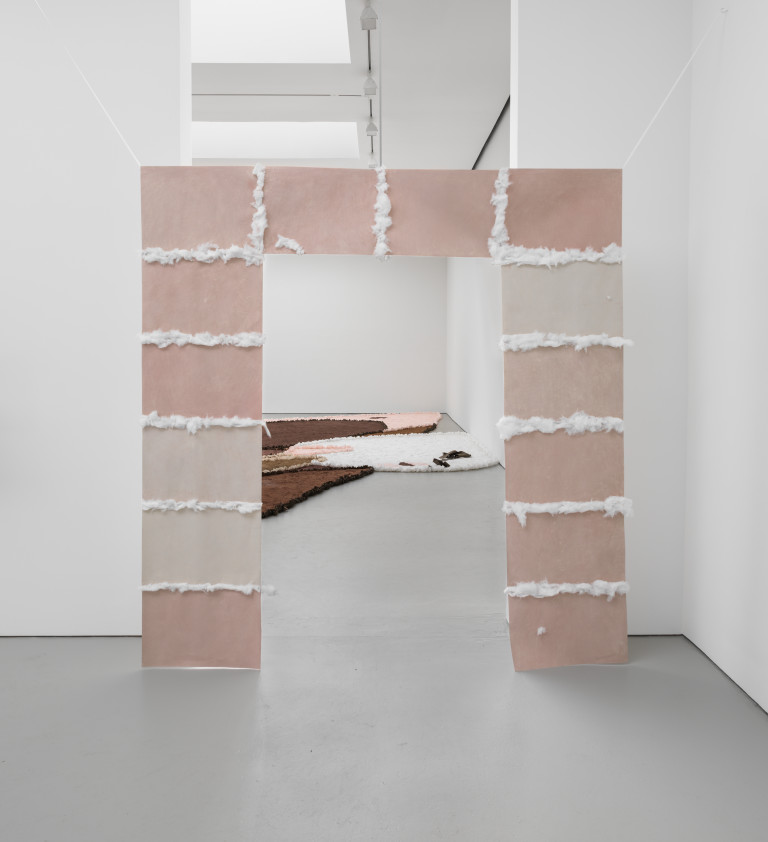 Installation view from the 2016 solo exhibition Karla Black at David Zwirner, New York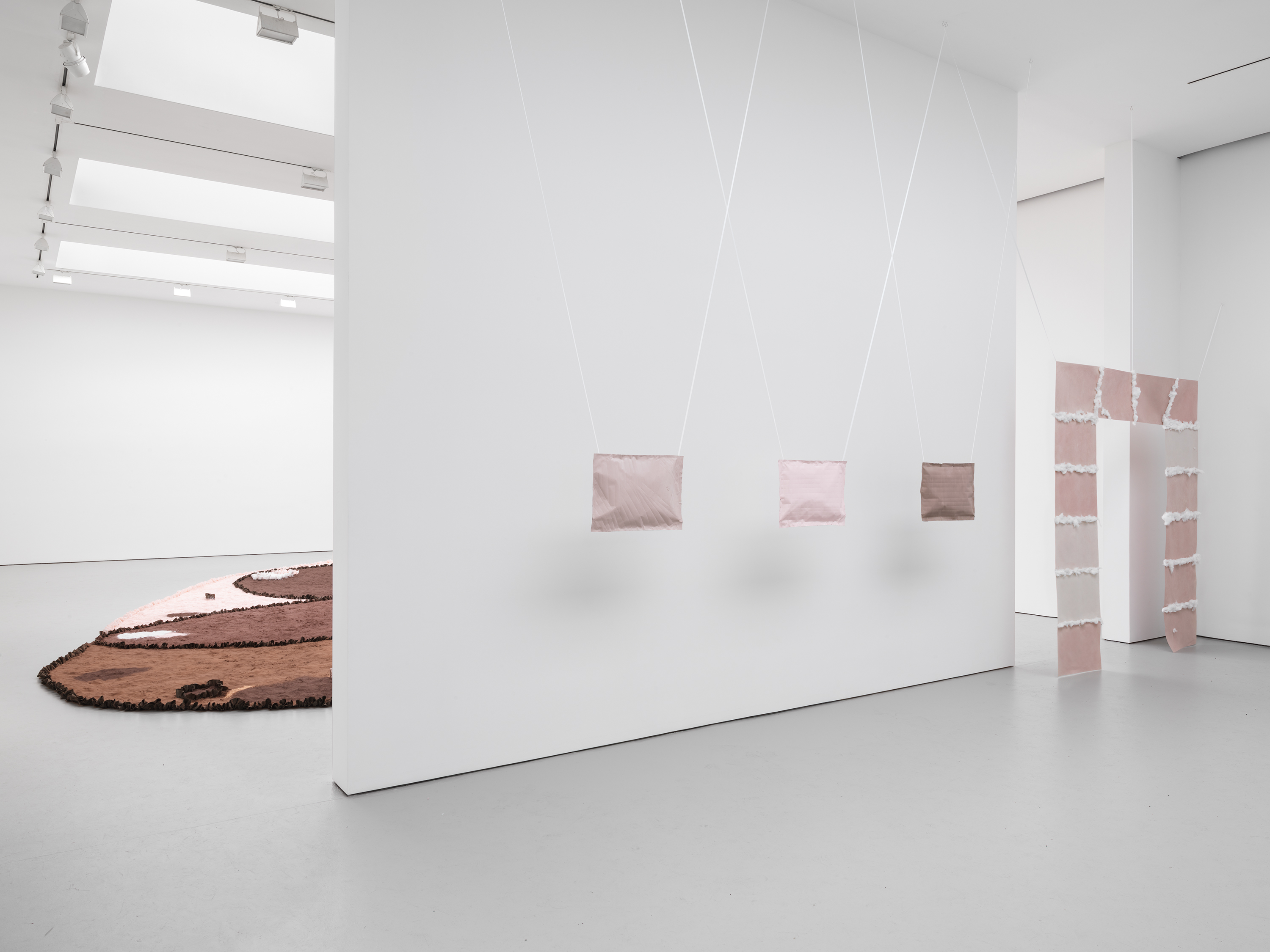 Installation view from the 2016 solo exhibition Karla Black at David Zwirner, New York
VIEW
KARLA BLACK : HER BRIGHT MATERIALS
KARLA BLACK : STRUCTURE & MATERIAL
KARLA BLACK : 54TH VENICE BIENNALE