William Hooker and Micheaux's The Symbol of the Unconquered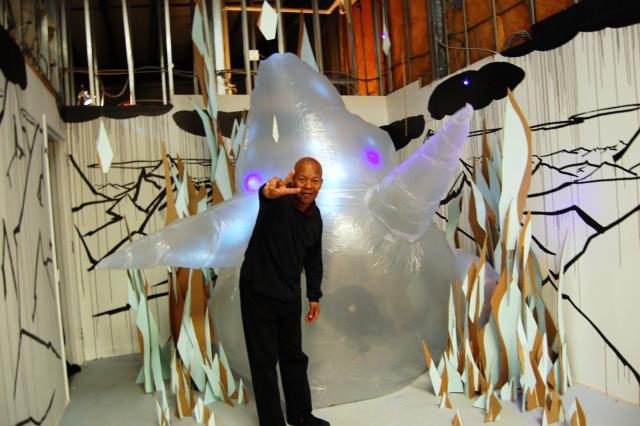 Percussionist William Hooker, the genre-bending free jazz legend, improvised a live soundtrack to pioneering African-American filmmaker Oscar Micheaux's 1920 silent film classic The Symbol of the Unconquered, originally advertised as a chance to come see "the annihilation of the Ku Klux Klan."
Beginning in the mid-seventies William Hooker is an artist whose of works are varied and complex. He has been defined as one of the most important composers and players in jazz. William Hooker has released more than 40 critically acclaimed CDs. As bandleader, Hooker has fielded ensembles in an incredibly diverse array of configurations. Each of his collaborations has brought a serious investigation of his compositional agenda and the science of the modern drum kit. As a player, Hooker has been known for the persuasive power of his relationship with his instrumentality.
His work is frequently grounded in a narrative context. Whether set against a silent film or anchored by a poetic theme, Hooker brings dramatic tension and human warmth to avant-garde jazz. His exhibits an unique ability to find fertile ground for moving music in a variety of settings that obliterate genre distinctions that offers a much-needed statement of social optimism through art.

Taking a disciplined, adaptive, and energetic approach to his medium insures that the oeuvre of William Hooker results in works that are expansive and richly textured. As a composer, he has received commissions from Meet the Composer, the NY State Council on the Arts, Real Art Ways, Walker Arts Center and others.
Born in New Britain, CT, on June 18, 1946, William Hooker initially approached the percussions with reluctance. Hesitancy was soon replaced by commitment, however, and at age 12, he was soon performing, supporting the Isley Brothers, Dionne Warwick, and Gary "U.S." Bonds, as a member of the Flames. In college, he enrolled in a course on 20th Century Composers, writing a paper on the atonal music of Alban Berg. Combined with an independent study of the jazz albums on Blue Note Records, the drummer acquired a unique music education. Local musicians like the tenor saxophonist Al Pitts and bassist Bob Snell provided more practical tutelage. Hooker eventually ventured to the West Coast with his good friend Tyrone Lampkin (future drummer for Parliament/Funkadelic), which resulted in an eye-opening experience for the young musician. While he was disappointed by the general jazz scene as a whole, the radical consciousness of the period led to his initial attempts at what he describes as "free" playing. Hooker moved back to Hartford, CT, where he lived briefly before heading to New York in 1974. In his new home, the drummer quickly established himself amongst the city's jazz, loft scene.
Working on the periphery of the jazz world since he moved to New York in 1974, William Hooker's kinetically charged, free-time drumming style and spoken word poetry have been matched with some of the finest improvising talent across generations and stylistic boundaries. From solo projects to collaborations with Billy Bang, Lee Ranaldo, and DJ Olive, Hooker's music has surfaced on a series of independently minded record labels aiming to document some of the most distinctive musicians working indefinable terrains. Gradually, the new jazz of Delmark and Actuel BYG began replacing the Blue Note Records in his collection.

Unable to find a label for himself, Hooker established the non-profit Reality Unit Concepts to fund his 1978 debut, Is Eternal Life, a collection of solo, duo, and trio performances with prominent tenor saxophonists David Murray and David S. Ware and altoist Jemeel Moondoc. Hooker spent much of the 1980s, performing with a number of his own ensembles. Rather than establishing a regular unit, the drummer drew from a community of musicians that included trumpeter Lewis Barnes, saxophonists Blaise Siwula and Charles Compo, pianist Mark Hennen, and guitarist Jesse Henry. Regrettably, little of the music he made during the decade found its way onto records.

Drummer William Hooker, who moved to New York in 1974, remained fundamentally faithful to the aesthetic of free-jazz (despite a passion for exoteric/spiritual themes), starting with the double-LP Is Eternal Life (May 1975), a set of collaborations with other improvisers (including tenor saxophonists David Murray and David Ware.
Hooker remained fundamentally faithful to the aesthetic of free-jazz (despite a passion for exoteric/spiritual themes), starting with the double-LP Is Eternal Life (May 1975 - Reality Unit Concepts, 1978), a set of collaborations with other improvisers (including the aforementioned tenor saxophonists David Murray and David Ware, notably the lengthy trio Soy with Murray and a bassist) and with Brighter Lights (Reality Unit Concepts, 1982) in a trio with flutist Alan Braufman and pianist Mark Hennen.
Rediscovered by Sonic Youth's guitarist Thurston Moore for the rock audience, Hooker returned to a more abstract and free-form kind of creative improvisation in the many works of the 80s and 90s. Darkness (November 1992) and The Spirits Return (April 1994) on the live Radiation, by Hooker's band featuring Donald Miller (Borbetomagus), electronic musician Brian Doherty, Compo, Kono; a duet with Moore (Sirius) and an electro acoustic duet with guitarist Elliot Sharp (The Hat) on Shamballa (1993), and recordings with Zeena Parkins, Billy Bang, and Lee Renaldo (Sonic Youth), DJ Olive, and Christian Marclay are characteristic of his collaborative works during this prolific period.

In the early '90s more outlets became available for Hooker's experimental forms of works. Hooker's work emerged on independent labels like Knitting Factory, Silkheart, and Homestead. The drummer began receiving increasing attention from the underground rock sector as fans and artists of post-punk and indie rock were turning towards experimental and improvised music, including the sort of free jazz Hooker performed. Sonic Youth's Thurston Moore, a longtime admirer of the genre, released the drummer's Subconscious album (1994) on his Ecstatic Peace label. Hooker soon began performing with younger musicians beyond the immediate scope of jazz (oftentimes at Knitting Factory jams). Shamballa (1993) pits Hooker's fiery drumming against the uninhibited feedback bursts of Moore and the calculated guitar electronics of Elliot Sharp. Envisioning (1994) captures an improv date with Sonic Youth's Lee Ranaldo that includes spoken word segments. The duo was joined by the ecstatic electric harp work of Zeena Parkins for the date that produced 1995's the Gift of Tongues. Hooker also brought electronics into his music, collaborating with Brian Doherty, Doug Walker, and Gert-Jan Prins, and turntablists DJ Olive on 1995's Armageddon and 1997's Mindfulness .

Drumming and poetry often coexisted on the albums even on his more traditional work: Lifeline(August 1988 - Silkheart, 1989) for a quartet with piano and alto plus tenor saxophonist Charles Compo and trombonist Masahiko Kono; Colour Circle (February 1988 - Cadence, 1989) for a trio with saxophonist Booker Williams and trumpeter Roy Campbell; Firmament Fury (April 1989 - Silkheart, 1992), in a quintet with alto saxophonist Claude Lawrence, tenor saxophonist Charles Compo, trombonist Masahiko Kono and Borbetomagus' guitarist Donald Miller; and Subconscious (April 1991 - Ecstatic Peace, 1992), that documented a live performance by a sextet.
The albums with Ranaldo were heavily influenced by his screeching sounds, just like his turbulent wall of noise heavily influenced the albums with Donald Miller. Armageddon (February, 1995) marked a change in direction, both because the improvisations turned towards a more sophisticated kind of sound painting and because the stylistic palette expanded dramatically, ranging from a Dadaistic duet with turntabilist Gregor "DJ Olive" Asch to the 16-minute free jam State Secrets for drums and two guitars.
Crossing Points was a duet with alto saxophonist Thomas Chapin (May 1992).

Rediscovered by Sonic Youth's guitarist Thruston Moore for the rock audience, Hooker returned to a more abstract and loose kind of creative improvisation in his prolific middle age: Shamballa (Kitting Factory, 1993), containing a duet with Moore (Sirius) and an electro acoustic duet with guitarist Elliott Sharp (The Hat); Tibet (June 1994), containing two lengthy suites with piano (Mark Hennen), saxophone (Compo) and guitar (Donald Miller), the 40-minute The Coming One and the 24-minute Big Mountain; Radiation(Homestead, 1994), by Hooker's band featuring with Borbetomagus' guitarist Donald Miller, electronic musician Brian Doherty, reed player Charles Compo, trombonist Masahiko Kono), notably Darkness (November 1992) and The Spirits Return (April 1994); Joy (Silkheart, 1995), devoted to two live performances with violinist Billy Bang, notably the 17-minute Sweating Brain (June 1994); the live Great Sunset (June 1996) with Mark Hennen (piano), Lewis Barnes(trumpet), Charles Compo (tenor and baritone sax, flute); etc.
Since 2000 his collaborators have become both artists and musicians including the artist Christian Marclay (2000's Bouquet).
SELECTIVE DISCOGRAPHY

Armageddon (February, 1995) marked a change in direction, both because the improvisations turned towards a more sophisticated kind of sound painting and because the stylistic palette expanded dramatically, ranging from a Dadaistic duet with turntablist DJ Olive (Time) to a prog-rock duet with a guitarist (Ghost Dance). While Hooker does not renege on free-jazz (Spirit World, Purge), the 16-minute State Secrets for drums and two guitars is rather chaotic.

Heat Of Light (August, 1995) was an eight-movement solo-percussion work.
The experiment with turntablist DJ Olive was continued on Mindfulness (August, 1996), that featured DJ Olive as well as reed player Glenn Spearman, and on Bouquet (April 1999), a cacophonous live jam with turntablist Christian Marclay and Lee Ranaldo.

Envisioning (April, 1994 - Knitting Factory, 1995) was a collaboration with Sonic Youth's screeching guitarist Lee Ranaldo, highlighted by the 31-minute duet Matches. Zeena Parkins joined Ranaldo and Hooker on the live Gift of Tongues (1995), mostly taken up by the 51-minute Stamina.
The Distance Between Us (August, 1998) contains the 27-minute Sensor Suite for saxophones (Charles Compo and Sabir Mateen), trumpet (Lewis Barnes), piano (Hennen) and drums.

Hard Time (December, 1995) was an electro-acoustic quintet with Miller, electronic keyboardist Doug Walker, guitarist Jesse Henry and saxophonist Richard Keene.

The live Complexity #2 (September, 2000) contains the 41-minute Twelve Windows for sea waves, drumming, electronic keyboards (Doug Walker) and turntable (DJ Olive).
The live 49-minute improvisation of Monsoon(2002) with bassist Roger Miller (of Mission of Burma fame) and guitarist Lee Ranaldo

Oasis of Whispers (September, 2001) documents a live improvisation with Ranaldo and Glen Hall on tenor sax, soprano sax, flute, piccolo, bass flute, bass clarinet.
Black Mask (April, 2000) collects duets with keyboardist Andrea Parkins, violinist Jason Hwang and saxophonist Roy Nathanson.

Monsoon - Out Trios Volume One (May, 2002) documented a live trio with Roger Miller on bass and Lee Ranaldo on guitar.

The Gift (November, 2004) documents a live performance with trumpeter Roy Campbell and violinist Jason Hwang.

The Celestial Answer (2005) another collaboration with Ranaldo (also on electronics).
Hooker played in a trio with David Soldier (mandolin, banjo) and Sabir Mateen (saxophone, flute and clarinet) on Yearn For Certainty (2010).
Earth's Orbit (2010) documents two live sessions

SYMBOL OF THE UNCONQUERED

Percussionist William Hooker applies his genre-bending free jazz improvisation to a live soundtrack for the recently-rediscovered 1920 silent film "Symbol of the Unconquered" by pioneering African-American filmmaker Oscar Micheaux, originally advertised as a chance to come see "the annihilation of the Ku Klux Klan." Hooker's music gave a dynamic energy to the story, probably more apropos to the film than music of that era might have been, but in staying true to his improvisational style at times doesn't match the melodramatic style of the film
Symbol of the Unconquered composed and performed by William Hooker also featured Walker Thompson, E.G. Tatum, Jim Burris, Mattie Wilkes, and Leigh Whipper, the latter, the first black member of Actors Equity and the founder of the Negro Actors Guild, was a highly regarded Broadway actor whose best remembered screen role was that of Crooks in Lewis Milestone's film "Of Mice and Men".

The performance silent film/live music project/installation presentation of consist of series of drums solo, and improvisations that percussionist William Hooker's which functions as an hour-long soundtrack to 1920 silent film. Originally presented by the Sanctuary for Independent Media in Troy, NY, this film screening and live performance presented as one of a 13-part series called "Free Jazz from the Sanctuary" has been subsequently staged in numerous locations.
The Birth of a Nation centers on the lives of two families, a wealthy, genteel Southern family, the Camerons of South Carolina, and the Stonemans of Pennsylvania, who become intertwined in a carefree, idyllic, antebellum South. They intermarry, and their lives are ravaged by the Civil War and the woes of the Reconstruction era, in which blacks take control. The film begins with the nostalgic subtitle, "Quaintly a way of life that is to be no more, we hear an audible sigh." Its climax includes two scenes in which white women are molested by black men. In one scene, Lucy Stoneman, played by a doe-eyed Lillian Gish, is chased around a drawing room by Silas Lynch, a black man who says he wants to marry her. In another scene, a younger Cameron girl called "Little Sister" is chased to her death when she jumps off a cliff to avoid being violated by Gus, a lecherous, renegade mulatto.
Gaines notes that the ensuing rage of the white men, who don Ku Klux Klan robes and race on horseback to rescue Lucy from the clutches of Silas and who also hunt down and lynch Gus, is sanctioned by Griffith, a proud Kentuckian. Remaining faithful to Thomas Dixon, Jr.'s racist 1905 novel, The Clansman, on which The Birth of a Nation was based, while ratcheting up the novel's emotional impact, the film delivers the same message: the white-ruled social order of the glorious Old South, torn asunder by war and still threatened in the post-Reconstruction period by boundless black appetites for white men's livelihoods, land and even their women, must be restored, swiftly and violently.

"Whereas Griffith uses the family to justify Gus's lynching," Gaines observes, "Micheaux uses the family to argue the inhumanity of the practice, essentially showing the ideal family suffering the consequences of vigilante justice."
The Symbol of the Unconquered is one of two films that Oscar Micheaux, the African- American filmmaker, wrote in response to DW Griffith's The Birth of a Nation, a 1915 film celebrating the Ku Klux Klan. Micheaux' film tells the story of a black community that successfully repels the attacks of the "Knights of the Black Cross." Through Symbol of the Unconquered" (1920) by Oscar Micheaux, felt compelled to address the racist attitudes of his times, such as the assertions of D.W. Griffith's Birth of a Nation. This was a restored film, almost forgotten, and is a window for racial identity conflicts. The plot of the film The Symbol of the Unconquered centers around Eve Mason, a very light-skinned negro, leaves Selma, Alabama for the northwest town of Oristown to occupy the land she inherited from her grandfather. There she meets kindly Hugh Van Allen, who turns out to be her neighbor, and he gives her a lift to her place outside of town. Jefferson Driscoll is another very light-skinned Negro who wants to be taken as white, and he hates the negro race because his mother once interfered with his wooing a white girl. Driscoll gets in league with unsavory August Barr, an Indian fakir called Tugi, and horse thieves Bill Stanton and Philip Clark. When Driscoll intercepts a letter for Van Allen showing his land is on an oil field, the group posts notes on Van Allen's tent, threatening his life if he won't sell his land. Van Allen ignores the e notes, which are signed "The Knights of the Black Cross," leaves for town to buy furniture and won't be back for 48 hours. In his absence, the last note is posted, giving him 48 hours to sell. The group, led by Bill Stanton, plans a midnight attack and tells the others "In one hour we will have driven him mad and burned him in his lair." Barr's wife Mary, upset by the planned massacre, goes to warn Eve, who rides to town for help, just as Van Allen returns, unaware of the impending attack.

Thus Micheaux's film is both an answer to Griffith's work, but equally about issues of race and class. Micheaux's "Symbol" is about a mulatto woman whose black grandfather, a prospector, left her property that local cutthroats want to take from her. A black neighbor who appears to be mixed race also, befriends and protects her against night riders. Later, after the night riders are vanquished (how that happened is on a lost reel), oil is found on his property and he becomes a wealthy business man. The hero was secretly in love with the heroine, but as it turns out was afraid to pronounce his love because he thought she was white. She fears that he wouldn't want her because she's black (she thought he was white too!) and the story ends happily. In this film Micheaux also indulged in the stereotypes of the time; the heroes were mulatto, and the darker characters were shufflin' grinnin' types who played subordinate roles to whites and to the lighter hued blacks. The film made some important points for that time, and Micheaux's dedication to taking on Hollywood, offering a healthier point of view for blacks, is tantamount.
Historians now consider Symbol as one of his most powerful and important films.
Considered lost for more than 60 years, until old prints were discovered in an old European film archives a decade ago. Prior to that, only 10 of his films were known to have survived, the bulk of those from the sound era. But when scholars got a look at the restored versions of Within Our Gates (1919) and Symbol of the Unconquered (1920), realized they now had precious material on hand which compelled them to rewrite film history and, ultimately, to reinterpret the new light on a difficult, violent era of America's social history.
The work must be considered along with Within Our Gates. The extant version of Within Our Gates, a 35-mm print which was that was returned to the U.S. from a film archive in Madrid in the late 1980s, translated back to English from Spanish and released on video in 1994, and tells the story of Sylvia Landry, a poised young mulatta woman struggling against the odds to raise money for the Negro school where she teaches in Vicksburg, Miss. At the turn of the century. Landry travels north to Boston, where she is hit by a car and then helped and befriended by a wealthy white society matron. The matron debates the merits of boosting black education, but eventually gives her $50, 00 for the school. Landry also meets a handsome black doctor, who comes to her aid when her purse is snatched. By film's end, they fall in love. It's an uplifting, but not terribly compelling story were it not for its final scenes, in which Sylvia, in a nightmarish flashback, recalls her near-rape at the hands of a white plantation owner and the unjust, brutal lynching of her sharecropper parents by a fanatical white mob. Within Our Gates, which elicited fierce protests among blacks and whites even before its nationwide release in 1919, is considered by many to be Micheaux's direct response to The Birth of a Nation film thathadprompted emotional protests and near-riots across the country, from Boston to Atlanta, and spurred the young NAACP to mobilize against it in 1915.

Both films were released during a violent decade when an average of 60 blacks was lynched each year. Because of the tense racial climate, others see Within Our Gates more broadly as Micheaux's response to the outrages and challenges of the Jim Crow era, the first in a one-two cinematic response that also included Micheaux's somewhat autobiographical Symbol of the Unconquered, which chronicles the efforts of a noble black man to stake out a living as a homesteader in the Midwest.

In Symbol of the Unconquered, the black hero holds his ground and chivalrously protects a lovely light-skinned mulatta neighbor (who is passing as white) as a local gang of thieves and hooded, torch-carrying Klansmen plots to frighten him, steal his land and finally, to kill him. Though how they do it remains unknown due to a key missing reel, the amorous "black" couple emerges from the ordeal unscathed and thrilled to discover their shared racial identity. Laced within these (and many other) Micheaux melodramas are themes of inter- and intra-racial tensions and hatred, many of which are expressed sexually.

Scholars, historians and cinephiles vigorously debate the intentions, merits and deficits of these two daring "protest" films and others in the complicated Micheaux oeuvre, which, most critics agree, lost its artistic and political edge toward the end of his career. But as one historian has noted that no one can see Micheaux's early silent films and walk away wondering if black Americans endured the injustices of those times in seething silence, under the cover of vaudeville subversions and Step 'N Fetchit-style clowning, or if they rebelled more openly. His films, and the emerging record of the criticisms and unrest that they caused in many of the cities to they traveled to, from Chicago to Richmond to New Orleans, prove that there was a sustained, articulate protest, and that Micheaux helped lead the challenge.

In Within Our Gates, Gaines argues, similarly staged scenes are compressed and interwoven for a dramatically different effect. Micheaux cuts back and forth between the attempted rape of the young Sylvia Landry and the hanging and burning of her parents. The rape of Sylvia, who circles around the room, "her desperation echoing the trapped animal panic of Lillian Gish," in Birth of a Nation, is suddenly arrested when her attacker, an angry, scapegoat-seeking white farmer (whose plantation has gone to seed and whose brother has been murdered), poised to rip her dress from her bosom, notices a scar above her breast and realizes that she is his daughter, borne of slavery days. Instantly revealing the white man as a two-time rapist while averting the actual rape, Micheaux "has it both ways," says Gaines. He "castigates the white patriarch" even as he "proclaims the total innocence of Sylvia," whom Gaines views as standing in for all the black women, slaves and offspring alike, raped by whites throughout American history.

It is not clear if the mostly-black audiences who packed into the 500 or so theaters on the predominantly southern Chitlin Circuit that thrived before the Depression were able to view versions of Micheaux films close to the ones we have now, or if the versions they saw were dramatically altered. For instance, the introductory subtitles for Within Our Gates, as translated from La Negra, the print found in Madrid, read: "This is the American South, where ignorance and lynch law reign supreme." Micheaux probably couldn't have gotten away with that in the U.S. In fact, the potency of his cinematic images and messages caused so much anxiety in America that many of his films were virtually shredded by censors before their release. In 1920, in Chicago, where race riots had plagued the city a year earlier, black and white ministers alike exhorted the mayor and the police chief of to ban Within Our Gates.

Later that year, Chicago's film censor board, which included the Reverend A.J. Bowling, a black, Harvard-educated minister, demanded several potentially inflammatory scenes be cut from Symbol of the Unconquered, including "all scenes of colored man holding white girl's hand after subtitle 'strongly desirous'" and dialogue such as, "She is nothing but a Negress," "Old Darkeys," and, "He is one of those arrogant educated Negroes." Bowling's documented reaction to the film seems to indicate that the black bourgeoisie was just as skittish about the films as were many whites, says Charlene Regester, a professor of Afro-American studies at the University of North Carolina-Chapel Hill (and the co-editor of the Micheaux Society newsletter). Regester, author of African American Actresses : The Struggle for Visibility ( Indiana University Press, 2010) who is writing a book on how early "race films" were received by the black press and by the public at large, has uncovered many other instances in which Micheaux films were protested, censored and banned. Police stopped the run of Within Our Gates in New Orleans, and (inaccurately) warned theater owners elsewhere in Louisiana that "nine Negroes are lynched" in the film. In Shreveport, the Star Theater refused to book the film because of its violence and "its nasty story." In 1925, the Virginia film censors board rejected Micheaux's film, The House Behind The Cedars, based on black writer Charles W. Chesnutt's fairly realistic novel about the trials faced by a mulatta woman and a southern white aristocrat who become romantically involved. The Virginia censors said the film treaded on "dangerous ground" in its mixed-race love affair and warned that it might "cause friction between the races and incite to crime...especially in the negro houses for which it is intended."
Micheaux cut the scenes showing the North Carolina aristocrat courting and embracing his dark-skinned lover but sent a blistering response back to the Virginia censors board, whom he accused of being "unduly alarmed." Wrote Micheaux: "There has been but one picture that incited the colored people to riot, and that still does, and that picture is The Birth of a Nation."
Micheaux intentionally may have helped in causing some of the concern of around is films as a means of hyping his films. Advertising for Within Our Gates doesn't mention the earnest, tame school teacher story told in the film but instead promises a "Spectacular Screen Version of the Most Sensational Story on the Race Question Since Uncle Tom's Cabin."

A natural at creating and marketing heroic black characters in conflict, Micheaux didn't flinch at difficult subjects, as we have seen, taking on the Ku Klux Klan and miscegenation in his next two films. Convinced that "a colored man can do anything," as he once said, but bothered that many black Americans weren't trying hard enough, Micheaux also included in his films many explicit critiques of laziness, illiteracy, disloyalty and hypocrisy that he observed in the black community, attacking especially the color caste system by which blacks often judged one another. As historian Pearl Bowser has noted, Micheaux was often criticized for casting light-colored actors in leading roles, but the debate rages on as to why he did so.

Charles Musser translated the French intertitles of Symbol of the Unconquered into English after it was repatriated to America from Belgium in 1990. He was among those who attended the star-studded premiere of the newly restored version of Symbol at the Apollo Theatre in July of 1998, during which master jazz drummer Max Roach, who scored the restored film, played live with a full orchestra. On hand were Ossie Davis and Ruby Dee, who also narrated a highly-rated program of race movies that aired on Turner Classic Movies that same month, the first time in 70 years that Micheaux's silent films were seen nationwide.

Seeing the fiery midnight ride of the Klan among such a storied and "authentic" Harlem audience, Musser says, "I felt like I'd seen it for the first time. It was so powerful. I hope more Americans get to bear witness to what Micheaux did."
Restaging this historical event years later, Hooker's intensely spiritual playing style is well-suited to this radical film. He plays with such aplomb that he rarely looks up at the screen to find his bearings, as if he had previously internalized the map of events and emotions in the film.
But as much as Hooker experiments with drum fills and African rhythms, a soundtrack narrated completely by a single drum kit offering variation in volume, range and instrumentation that the film requires emerges. His audio compositional nuisances' attempt to match up with the visual the storyline as it evolves. The menacing feel of a crescendoing drum fill, for example, represent a scene of heightened agitated dialogue. This viewer ears were met with raucous, crash cymbal-infused drum rolls. Hooker's cacophonous approach to the film does work well in scenes of tension, like the one in which the KKK plots the demise of a black landowner. When the film is taken as an examination of not only inter- but also intra-racial tensions, Hooker's insistent and dramatic improv is the perfect medium for investigating these issues.

Additional Bibliography
Oscar Micheaux and "The Symbol of the Unconquered": "Identity and Betrayal: The Symbol of the Unconquered and Oscar Micheaux's 'Biographical Legend'" by Pearl Bowser and Louise Spence in The Birth of Whiteness by Daniel Berndardi, Rutgers University Press (July 1, 1996)
Straight Stick: The Cinema of Oscar Micheaux by J. Ronald Green Indiana University Press (September 22, 2000)
Pearl Bowser Louise Spence, Oscar Micheaux's Body and Soul and the Burden of Representation
Cinema Journal - 39, Number 3, Spring 2000, pp. 3-29
SYMBOL OF THE UNCONQUERED IN PERFORMANCE BY WILLIAM HOOKER
PART ONE:
PART TWO
PART THREE
PART FOUR
PART FIVE
PART SIX
PART SEVEN
PART EIGHT
PART NINE
PART TEN
The Symbol of the Unconquered" was made possible by volunteer labor, small financial contributions from hundreds of patrons of The Sanctuary For Independent Media, in-kind support from the Arts Department at RPI, and funding from the Presenting program at the New York State Council on the Arts and The NY State Music Fund (established by the New York State Attorney General at Rockefeller Philanthropy Advisors). The Sanctuary for Independent Media North Troy, NY @ W Hooker, All Right Reserved