(TRIANNUM)
Journal of Visual Culture
ISSUE No.1,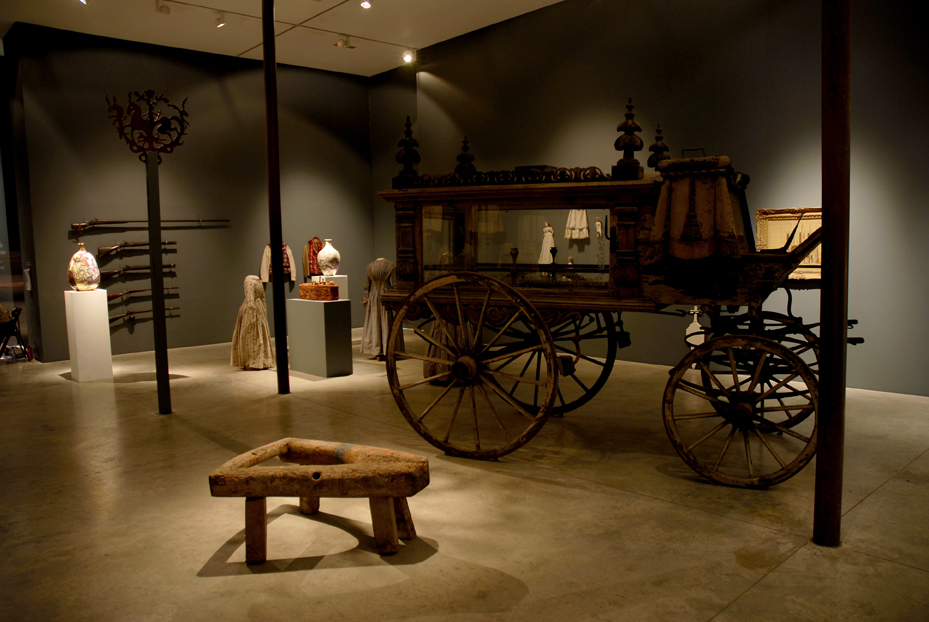 Grayson Perry
Miss Haversham's Wedding Breakfast: "Grayson Perry: The Charms of Lincolnshire"
As Andrew Wilson so deftly notes, Grayson Perry's art, whether film, ceramics, performance, installation, photography, or embroidery is conceived in terms of a particular poetic critical engagement with the contemporary world. Archetypes of the grotesque and perverse are presented alongside personal, often autobiographical language.
The Charm of Lincolnshire as installed at Victoria Miro Gallery; London is a unique exhibition. It brings together many of the preoccupations of Perry over the course of his career. Specifically the installation is a fusion of Perry own works, and historical artifacts selected by the artists from the museum of Lincolnshire.
The installation was first exhibited at The Collection, Lincoln in February 2006. The Collection is an important new museum in Lincoln designed by Panter Hudspith Architects. As Jeremy Webster of the Collection, notes: The is Grayson Perry's first show as both curator and exhibitor, the distinction between which is frequently being blurred in contemporary art practices and one that is leading to new directions.
Perry has based his exhibition on carefully selected key objects from thousands of item sin the collection the collection of the Lincoln Museum. .
Grayson Perry carefully chose the objects over an eighteen-month period from the museums of Lincolnshire and reflects the artist's interest in folk art tradition, superstition and Victorian. Many of the objects have been in storage for many years. Perry intentionally displays them as contemporary art objects. In taking this approach Perry removes them form their "precious" museum context and places them in a unique relationship with his own work.
Grayson Perry is amazing talent. As you view what initially appears random arrangements of objects, you find yourself in a presence (world) of a fiery, caring, audacious, inventive imagination.
Writing in the catalogue for the exhibition Grayson Perry states:
This show is a poem written with objects. It is not an historical exhibition about Lincolnshire. It is a show curated by me, a contemporary artist, which includes many antique artifacts as well as works I have made that relate to or are inspired by the pieces I have chosen of local social history. The Charms of Lincolnshire is about casting an artist's eye over provincial English history and how the selected objects and artworks interact with each other. What story do they tell? What do they say about people's lives past and present? What do my choices give away about me, what do they say to you…The Charms of Lincolnshire was a chance to think and make art about the countryside.
I fancied putting together a show involving the large collections of rarely seen stuff the county museums have acquired over the last seventy years…I love things; their texture, their colour, the way they decay, the associations they bring up…I guessed the bulk of the collection would be Victorian, so if I wanted to write a poem with objects I would set my poem in the nineteenth century. The themes I chose were those that had a strong emotional charge for me; death, childhood, religion, folk art, hunting, and the feminine.
My initial idea was to focus these themes around an unknown artist, a mentally ill farmer's wife who was driven insane by the loss of her children. Her ghost and those of the children haunt the choices and works I made for the show. The Victorian age was one obsessed and yet comfortable with death…
Death is central to one of the objects that informed my approach to this exhibition…So items relating to death were top on my list, consequently I clapped my hands with glee when we came across the decaying hearse at the back of the warehouse. It reminds me of Miss Haversham's wedding breakfast. It bears dying witness to an era of more elaborate rites. When mourning black was worn for months or even years, when jewellery was made from dead loved one's hair when experienced mourners were hired to cry at a funeral. "
The title of the show, The Charms of Lincolnshire, hints at the beauty of the country and also at a more arcane world of folk rituals, talismans and old time religion. The photograph I made in 1998, "Claire and Florence visit to the shrine to Essex Man", is another starting point for this exhibition. The photograph depicts my daughter Flo and I dressed in vaguely European folk costume, visiting a small thatched shrine sheltering a bronze car and strewn with golden offerings.
While I was thinking about this show I was out cycling and came across a village hall art show…. As I scanned the turgid oils of village high streets and rigid little watercolurs of tumbledown barns I noticed an aspect of the landscape that have been omitted from every single one of the hundred or so pictures- modern life…
If this poem written with objects has a central character it is a Victorian woman. A wife and mother broken by grief, hard physical labour or the repressive social codes of the age. If she lived in Lincolnshire today she might moan about the traffic or the price of oven chips, she might have a job in a call centre and swoon over a costume drama on the telly. If she lived in many other parts of the "modern" world she might find nothing has changed. For most women the nineteenth century was difficult place. We may enjoy the elaborate dresses, but having to walk around dolled up in something akin to a piece of masochistic furniture is symptomatic of attitudes to women we might find abhorrent today.
Many of the objects I have chosen have associations with aspects of life we may find uncomfortable. This does not stop me finding them fascinating and beautiful; in fact it enhances their attraction for me. Sadness, disgust, anger, fear are not second rate emotions because they are seen as negative. These rich feelings can coerce us into a more memorable life-affirming experience just as much as positive experiences of joy, wonder, excitement, or love. A big part of my job as an artist is to notice when I am having these feelings and then hopefully share that experience with you.
Grayson Perry
Excerpts from the catalogue: Grayson Perry, The Charms of Lincolnshire
The title of the exhibition, The Charms of the Lincolnshire invokes a bucolic cliché of National Trust England, while also suggesting that the items exhibited are talismans of some forgotten, arcane and rural voodoo. Keeping with the mystic and ritualistic mood of the installation, the gallery has been darken creating an aerie if not gothic mysterious almost cinematic environment. It is a clever, but at the same time a provocative exhibition. As the viewer moves through the series of selected and artists made objects, it become apparent that this is no simply mining the museum collection project, but a rather serious investigation and commentary on contemporary reality, but equally being a rather personal and autobiographic project.
The elaborate installation allows Perry to continue to mine the rural background of the Essex region of England where he spent his early years. Now, living primary in London, Perry has always been fascinated by his former rural environment preoccupied with its urban/suburban possibilities. The Charms of Lincolnshire allows Perry to fuse the extension of metropolitan settings in this conflicted countryside setting.
Perry has not set out to propose no historical context for this exhibition about the Lincolnshire community. Rather the installation/exhibition focuses on the Victorian era and themes that has long contextualize Perry's work, namely death, childhood, religion, folk art, hunting and the issue of gender.
Responding to each selected work from various categories and themes Perry has also created new works including ceramics, embroidery, photography, and a for the first time a series of cast iron pieces. Perry has designed two rather unique works for the exhibition based on the collection. He has even designed the souvenir tea towel, and a sampler entitled Recipe for Humanity (2005), a contemporary embroidery made after the artist viewed several samplers stitched by young Victorian children. Perry's sampler is endowed with a poem by the artist in which he states his four "givens" of existence: You will die, you are alone, There is no god upon his throne, Impose thy will upon earth's mess, Else your life is meaningless, No hell below, no heaven above, Live life now and act with love.
" My initial idea was to focus on these themes around an unknown artist, a mentally ill (Victorian) farmer's wife driven insane by the loss of her children. Her ghost and those of the children haunt the choices and works I have made for the show".
The exhibition is fascinating of objects and art works:
Baba Yaga's Hut, created in l983, this is the only work not made especially for the exhibition. Baba Yaga is a witch from a Russian fairy tale who eats children.
A series of Photographs from the Lincolnshire archives that reveal aspect of rural life from 19th century Lincolnshire. Inhabitants of the small town dressed in traditional costume of the period are depicted gleaning, threshing and stooking the landscape. They reflect aspect of rural life of the period that no longer defines the community.
A Sculpture work in the form of a rabbit, entitled, Please God Keep My Children Safe". Perry states that when he created the object he envisioned imaginary countrywomen who made pots for her own emotional needs. The work is intended to state the artist's appeal for her children's safety.
A series of Babylonian Tear Bottles. Tear bottles were prevalent in ancient Rome and Egypt when mourners would collect their tears and bury them with loved ones to show honor and devotion. They reappeared in the Victorian era when tears were collected in bottles with special stoppers; the tears evaporated and once gone the mourning period was ended but the bottle remained as a token of eternal devotion.
A Miniature Toy Cradle made of beads.
A series of Hanging Dolls made by Perry wearing original Victorian dolls dresses.
The Lincoln Diptych similar to the Wilton Diptych in the National Gallery. The work depict angels in gold with blue behind the Holy Mother, here the crime boars are in ranks of blue and gold.
A selection of Hunting Guns, including one very long one which is a punt gun used over the side of boats to shoot ducks.
Jackets worn by drivers of horse drawn wagons. They are made of a material called "fustian" that was extremely hard wearing.
An artist Vase entitled: Fantasy Village which incorporated snap shots which depicts typical contemporary rural sights. Perry has stated that the work offers a contrast to our assumed vision of rural life of the pre-industrial age. He suggests that the Victorian era was a popular setting for sexual fantasies as well.
Four Day Wear Dresses dating from l830s- 1850s. Such garments would have been worn by the middle or upper classes as you would have been fairly wealthy to afford them to for them to have survived in such good condition. The dresses, Perry notes, were designed to flatter the waist, as a small waist was deemed desirable by convention of the time. From the age of twelve girls would have worn corsets to restrict the growth around the rib cage, which as Perry observes often led to internal deformities. It was very unlikely that the dresses would have been washed as the natural materials (wool and silk mix or cotton) would have shrunk and also the dyes that were not colorfast and would have run.
A selection of Coffin Furniture, including Plaques and a Crown. Plaques would have been nailed to coffins, and crowns were placed on top of coffins.
A series of nineteenth century Dolls made of wood, wax, or "bisque" (a type of porcelain). They incorporate real human hair. The dolls are presented in their original clothes and show the tendency for dolls to look like little people rather than babies.
A crucial figure in my early life was my teddy bear, so I was understandably drawn to include some of those spooky totems in the childhood landscape; dolls. Dolls are loaded with many associations in my mind. They are at once innocent and dead; they fascinate and repel talismans of love and voodoo.
A Grave Marker, and a Wheelwright's stool . A Picture of Lincoln Cathedral made in human hair on silk relatiing to the original spires that were taken down in 1807 for safety reasons.
A ceramic Vase made by the artist with quotes from the Internet and a series of nineteenth century bibles a common item in almost every Victorian ear home. Some illustrated.
Perry states that if someone had a problem an old folk tradition was to let the bible fall open and stab in a finger at random. The text indicated would give an answer. Nowadays, Perry observes, we seek wisdom with Google.
The Nineteenth century seems a time numbed with a very literal Christianity. Every house had a bible, and an old folk custom was that if the family had a problem, let the bible fall open at random and jab a finger at the page and the scriptures would provide an answer. Nowadays if we want help from the ether, with the rural workforce toiling in a virtual office in a barn conversion, we just use Google.
A series of Victorian Miniatures portraits, that would have been produced without much effort by a jobbing artist for the wealthy middle classes. Painted portraits were desirable during an age when photography was not yet commonplace. Perry has included alongside these works quickly made portraits, which he titles, Mr. and Mrs. Perry.
A selection of Embroidery Samplers, sewing was a common past time in the Victorian era. It was activity all girls were taught from an early age and expected to be able to do as a lady. The messages are often religious or poetic.
Alongside of these works, Perry has included his own sampler, Recipe for the Humanity.
The artist notes: religious people do not have a monopoly on good works, I quite fancy inventing my own religion.The labour of young fingers as well as the faith of young minds is evoked by the samplers, and childhood mortality too in a stitched memorial to Leonard Sunter aged just seven. The embroidery I made after looking at the samplers features poem which cites four givens of existence—we will die, we are alone, we have free will, and life is meaningless apart from the meaning we give it. I am an atheist.
The biscuit tin idyll of cosy Britain is luckily in the past, for it was a candlelit backbreaking, sexist, tubercular child death hell. The ghosts of long – ago children flicker in the dead-eyed familiars of wax, porcelain and wooden dolls I have chosen and in the stitches of the samplers worked by young pious hands.
A Vase entitled Attracted to Suffering. Commenting on the work, Perry notes that in many ways, some subtle, though most men will deny it, throughout the ages, a lot of men have been attracted to the suffering of women.
A Painting of a heifer from Habertoft (an area in South Lincolnshire). It was an established practice for an artist to paint a farmer's prized animal and then hope he bought the painting. In the painting the strange shape of the cow can be explained as the artist would make the animal look as magnificent as possible in order to flatter the farmer.
A series are Plates of oversized folk pottery are assembled on a two-tier shelf. They are contrast against series of plate by Perry. Two depict Ernest Boulton and Frederick Park (bottom shelf left) representing two of the best known Victorian transvestites. Ikea (bottom shelf left) references where country folk buy their furniture nowadays. Hunt Saboteurs (bottom shelf center) are a long established traditional accompaniment to field sports. Reflecting on the plate entitled Nokia (bottom shelf right) Perry notes that the trill of the mobile is more common than birdsong. GM (top shelf center) is intent as Perry commentary on genetically modified wildlife.
Five Smocks that would have been worn by country people working on the land have been included. Smocks would have been worn over clothes to protect them. They are very hard wearing and show traditional patterns of decoration
(Now known as "smocking"). Smocks would have been worn for all occasions so people would have a 'Sunday best" as well as one for working.
A Lark Lure used for luring in larks. Larks were considered a delicacy.
Perry has included a collection of Traps used for game keeping, and one-man trap used to catch poachers. All country estates would have a gamekeeper who used these traps and ordinary people would use the smaller traps for catching animals like rabbits. These traps are no longer legal.
A Hobby Horse Costume worn when acting out a plough play- an annual tradition that took place on the first Monday in January, known as "Plough Monday". Plough plays began in the Middle Ages and represent death and resurrection. The ceremony was an allegory of the burial and growth of seed. The plays were followed by a procession that included the " terrifying" hobbyhorse. It was also said that the plays were a blessing on the ploughman and his plough.
A Haxey Wand still used today in part of a rural annual ritual in Haxey (a village in North Lincolnshire). The wand is carried by the Lord of the Wand, and is made of thirteen willows bound by thirteen withy bands. The game re-enacts the local thirteenth century legend where Lady Mowbray (the lady of the Manor) lost her hood in a high wind when she was riding from Haxey to Westwoodside. The hood was caught by twelve laborers who were working nearby. As a reward for their help she bestowed upon the parish thirteen half- acres of land and decreed that the story be played out every year on the same day forever.
Two Ell Stangs use for catching eels in the fenland and coastal areas. A Hunting Horn used to call hounds as part of the hunt. A Knuckle-duster, a lethal weapon used to maximize damage when punching someone. Leg Shackles that would have been used to restrain criminals. A Cast Iron Hunt Post, a rustic relic of an ancient ritual found in a hedgerow.
The centerpiece of the exhibition is a Hearse dating from 1880, Perry notes that the wooden hearse would have been painted black and gold. It dates from around l880 and originally came from funeral directors in Calstor (a Lincolnshire market town). In the Victorian era life expectancies were lower and death was more openly discussed. It inspired the artist to create a cast iron child's coffin entitled Angel of the Soul, which he describes as both a "non-triumphal monument to the countless victims of empire building in the Victorian age and the north of England's technological dominance."
Perry large work in the form of a coffin, Angel of the South: is a monument to all children who have died too soon. In the nineteenth century such death was commonplace to everyone. Now only to the third world or what Perry categorizes as "the south". The coffin bears images that relate to medieval cathedrals and Benin Bronzes from Africa similar to their African sources, -part of the developing world- the "south" which as the artist observes, today the occurrence of premature death is still pre-dominant amongst children.
Reflecting on this concept, Perry states:

The hearse is for me the centrepiece of the show and it inspired me to make a child's coffin made of iron, which I have called Angel of the South. By giving it this title I am asking you to also think about Antony Gormley's celebrate huge steel sculpture Angel of the North. I interpret Gormley's gargantuan winged man as a celebration of the industrial/military might forged in our northern cities and sent off around the world in the Victorian age to hammer out an empire. My sculpture is of cast iron, older, cruder, more fragile than steel. It could be a non-triumphal monument to the countless victims of empire building and the north's technological dominance. Most of the children dying today are in the south, the "developing world"; they are often the children of poor families, not unlike the nineteenth century Lincolnshire peasants whose babies also died too easily. When I was making Angel of the South I was also thinking about the Duke of Wellington's funeral wagon in the crypt of Saint Paul's Cathedral, Benin bronzes from West Africa, eighteenth century wooden dolls and the floor titles in medieval cathedral.
Charms of Lincolnshire opens up Grayson Perry art to new directions in his art, but as the following discussion will make apparent pulls together artistic ideas and critical themes that has long occupied the artist's life and creative investigations.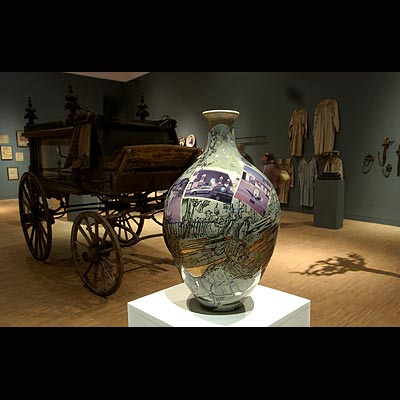 Miss Otis Regrets: Grayson Perry; a wider view
She is sorry to be delayed....But last evening down in lover's lane she strayed, madam
Miss Otis regrets, she's unable to lunch today…
"Ms Otis Regrets" Cole Porter, 1934
Grayons Perry's vase are excessively sumptuous in appearance, revealing an increasingly use of gold luster and layering of elaborate decoration. His pots have gradually obtained scale of more baroque heights. Still he remains true to his original techniques, laboriously built up from earthenware coils.
Perry has noted. "I'm an old fashioned artist, an expressionist in some way." However, he has been very clear about rejecting the pretentious "tosh" that pottery has produced over the last decade. " I am an artist who just happens to make ceramics. I'm here for my ideas and images. Not my pots. This is why I make ordinary pots."
Now, mostly defined by his ceramic pots. Despite their sophistication his pots retain a certain homemade quality that appear highly artsy-craftsy. Grayson Perry's ceramics often appear to have been formed from smashed pieces reassembled. They are essentially collaged, highly detailed painted ceramic urns with layers of imagery and text. His pots have traditional shapes, however they are not shaped on a potter's wheel, but are built up by coiling. This technique is time –hallowed and can be find more precisely in the items made by children working with clay. Part of his intent in playing down technique was to defuse the extensive attention given to techniques in reviews of ceramics in the art world. Still his approach, similar to his use of decorative elements is never chance or amateurish. Rather his is a highly refined controlled affect made to look rather spontaneous, archival. The manner in which Perry's pots are created reveal a great deal of competence in several techniques. These vessels with their broadly curved rims are perfect imitation of a classic symmetrical vase turned on a wheel. The surfaces are covered with layers of paint, inlaid, irregularly shaped fields decorated with transfers of flowers and plants. Texts are intricately incorporated on the exterior and interior of the objects. The artist still uses identifying marks that he stamps on his pots in accordance to traditional artistic rules. It consists of combination of the letter W with an anchor, having the appearance of the stamp of old porcelain factory until they realize that it actually spells "wanker".
"Pots suit the scale of my ideas…They inhabit an intellectual space, there is no bombastic confrontation, one is charmed into picking up my ideas from a pot….
For me the shape has to be classical invisible; then you got a base that people can understand…(My) work has always had a guerilla tactic, a stealth tactic. I want to make something that lives with the eye as a beautiful piece of art, but on closer inspection, a polemic or an ideology will come out of it. Not so that it destroys the intrinsic pattern and beauty of it. I don't want to sacrifice the aesthetic for the ideas. I want the two to be so close that they live happily together, or maybe not happily, but so that is a frisson."
Despite being the recipient of the 2003 Turner Prize, Grayson Perry 's work has not received the wide recognition that many of his British contemporaries have achieved in the States. Even though he is major artistic force in Europe. The British Art Show 5 organized by the Hayward Gallery included his work. He was included in the l997 Saatchi Gallery " Sensation " exhibition; the collector who has bought a complete exhibition of the artist's work. Perry has had exhibitions at the Any Warhol Museum in Pittsburgh, Galeria ll. Capricorno, Venice, Tate Liverpool, Tate St. Ives, Barbican Art Gallery, and Stedelijk Museum, Amsterdam. In 2007 Perry will have a major solo exhibition at the 21st Century Museum of Contemporary Art, Kanazawa, Japan.
At the time of Perry's receipt of the Turner Prize, Matt Collings noted "The rise of Perry 's pots represents an odd meeting of hostile groups. For different reasons Perry is slightly disconnected from the main interests of two factions: the art world's pretentious anti-aesthetic and anti-tradition, and the popular audience's aim to remain ignorant and philistine. Perry's art is representative of the desire to embrace, celebrate, and manipulate the improbable, the unfashionable, and the unacceptable.
Exhibitions of his works are often controversial and provoke strong reactions, partially due to the artist's own predilection for appearing in public dressed quite dramatically in female clothing. The artist often on occasion wears frilly dresses as Claire, his alter ego. Perry creation of Claire is not just a transvestite role played by the artist, but also a caricature: one he describes as: " a forty-something woman living in a Barrett home, the kind of woman who eats ready meals and can just about sew on a button."
There are reviewers who simply refuse to take it his work seriously because it consists of ceramics. In term of content, often Perry's satirical content is dismissed as a continuation focus on art about art. As Joseph La Placa notes, although seductive in their sumptuous materiality, upon closer inspection, (Grayson Perry) pots slap you in the face with an almost comically serious message.
Grayson Perry, the person can not be divorced from his art. This "mix" include dressing up, doing cartoons, being obscene, making pots, and installations, and giving interviews in which " child abuse" was a often a central feature. Perry's childhood along with a history of transvestitism has impacted on his work as image and material. The contextual basis of Perry's works often comments on the art establishment, denunciation of macho behavior, gender inferences, obscene sex scenes. Perry like Tracey Emin are both victim of abuse, use text, do multi-styles and are willing to be embarrassing in a controlled context.
By the time Grayson Perry was 13, he was already wearing his sister's clothes indoors and by 15 he was walking around the fields in them. In l975, his stepsister discovered his diary in which he had written about his transvestite adventures and fantasies, and his stepmother threw him out, after a few days, his mother took him back.
"Dressing up is partly about what sort of attention we want. Little boys don't get that kind of attention for just being, which little girls get. Nobody says to a little boy, " You look lovely today, you precious thing."
Grayson Perry: Parkett No. 75 pp. 8
Perry has described his transvestitism as an act simultaneously autoerotic, and political. He states that cross-dressing is his moral duty to evoke a new form a masculinity. Still Perry counter-balances this image with that of an Essex man on a Harley-Davidson. Cars and Motorbikes become objects of expression for male drives of instincts in the artist's view. Perry parodies this personal conflict in a work Driven Man, (2000) which finds Perry exploring his love hate attitude towards his native Essex car culture posing in his custom–made "Essex Man" motorbike leathers inspired by the Cerne Abbas Giant. The seductive appeal of motor machismo and car fetishism also forms the subject of The Language of Cars (1999) in which images of the vehicle are finished in a mother of pearl luster, which according to Perry, echoes the vanities of the boy racer and float over a series of repeated words: SEX/POWER/MONEY/STATUS/GOD. In many of the early pots these vehicles are depicted with satirical suggestions of aspirations of the macho man in an empty Essex landscape dotted with prostitutes.
Perry usually connects the theme of violence with that of masculinity, and more generally gender and sexuality. "My ideal of manhood was based on bad examples". His father was a RAF electrician who left his family when Perry was five years old. Perry claims his interest in cliches begins when his mother had an affair with the milkman. He often describes his stepfather as being violent, uncultured and nearly illiterate. Shut out of his parent's world, Perry has said of his stepfather, "I never had a conversation with him in 15 years. I was a presence in his house, and I couldn't identify with his idea of what a man was supposed to be." He therefore escaped into what he ahs described as an "elaborate world of fantasy" Escape had come to Perry in the form of a change of identity.
Creating his own world, his teddy bear, Alan Measles, played a major role as a surrogate father. A vase "Using my Family" (1998) depicts Measles within a fantasized and innocent display of affection. However a work created during the same period, presents a darker and unforgiving representation of his mother and stepfather, The Guardians (1998) consist of a layering of anodyne transfer prints with a jumbled overlapping collection of extremely personal images over this pair of grandiose gold luster lidded pots give some evidence of the turmoil that went into the emergence of Claire, Perry's transvestite other half.
Like Claire, Alan Measles makes several recurrent roles in Perry's art. In "Triumph of Innocence"(2000) Alan Measles drives a car while Claire waving jubilantly rides on the roof a mist a parade of pre-pubescent children dragging trussed up adults to their imminent execution on distant hilltop gallows. In the vase "Using My Family" (1998) Measles features prominently as a photographic transfer, and his enduring importance is acknowledged by a his appearance as a repeated motif on the both the yellow and blue versions of Claire's Coming Out Dress (2000).
Perry has described his transvestitism, his creation of Claire, and his adoption of ceramics as one in the same. He notes: " One of the reasons, I dress up as a woman is my low self-esteem, to go with the image of women as being seen as second class. It is an outsiderish stance. I have walled myself off. It is like pottery: that's seen as a second –class thing too." In the work, How I Though of Myself (2000) in which Claire stands next to a pigsty bearing the inscription "Slag Pig" situated in a type of Kieferesque Essex field, makes this point clear.
Perry's self-concept of Claire is echoed in the image of the black cat moving around a phallic standing stone is in contrast to the world of his mother and stepfather figured by the row of chintz terrace houses in the middle of the field. In the sky looking over these different worlds are transfer-printed photographs of himself, his mother and stepfather in l975.
It has been suggested that Perry's use of Claire in his work is unlike most other artists' use of multiple self-identities in that Perry doe dress up as Claire and has described his transvestitism as " walking around with my heart literally on my sleeve… I like dressing up in the heraldry of my subconscious." However, Claire is no masquerade, as in the work of Cindy Sherman, nor was she invented and used for his art in the way Marcel Duchamp created Rose Selavy; Claire is a real figure. However, Wilson writing in The Urban Guerilla catalogue suggests that the connections between Claire's emergence, Perry's childhood, and the particular adoption of craft are too close to be ignored given Pery's location of his initial attraction to ceramics is a direct result of this matrix: "Craft is seen as a female thing and as a tranny I have got a high tolerance for the suburbannes of craft". The question of Claire's place in the work between being a subject of the work, the work itself or the author of the work, becomes more urgent not only because of her increasing appearance in the surfaces of Perry's ceramic work, but also by the self-portraying photographs of Claire: as a 19th century reforming matriarch, a middle England protester. The appearance of Claire at art events and openings underlines her responsibility for the work. The creation of clothes for Claire, and most recently Claire's Coming Out Dress (2000) suggest that Claire acts as medium whereby the personal and the social are placed in an what has been described as " an incisively critical cycle".
Claire has now emerged as an artwork in her own right, wearing specially made dresses with talismanic motifs. The Mother of All Battles (1996) finds a gun toting Claire modeling Perry's first textile work, a folk costume in which the applique and embroidered decorations on the skirt and bolero waistcoat reveal a bus explodes into a Star of David, a soldier with an erect penis shoots a baby, and a pregnant cruciform figure is contained within a flaming fighter plane. Playing with textiles, Perry mines an undervalued craft as an unexpected vehicle for serious political commentary. But despite the handmade, folk-art appearance of the work, the designs on this and all of Perry's textile pieces are computer generated and mechanically stitched.
The development of Claire's persona as a suburban aunt figure also connects the work delightful complexity. The significant reference here is the body, the pot as body and a body to be adorned or dressed, in much the same way as Perry has adorned himself in different ways. The pot itself becomes a costume and accompanying activity adopted by Perry, as much as the pot is itself is dressed by Perry. However, the pot is not dressed in an additive manner, but instead becomes an integrated ground for a system of images that challenge the norms.
Born in Essex in 1960, he was raised around Chelmsford and Great Bardfield, the site /landscape where much of the narrative action inscribed on his pots takes place. He studied at Braintree College of Further Education and received a degree in Fine Art from the Portsmouth Polytechnic. In the early 1980s, Perry was a member of the Neo-Naturist group, and took part in performance and film works. Shortly after arriving in London he moved with then girlfriend the painter Jennifer Binnie, creating work revolving around film and sculpture. It was in fact Binnie's sister, Christine an accomplished potter, who encouraged Perry to pursue pottery. She was also the founder of the Neo- Naturist Cabaret.
The group emerged out of Christine Binne experience as a life model at St. Martin's School of Art as much as out of cabaret entertainment she had started staging at clubs like Blitz, and St. Moritz in l979. The performances of the Neo-Naturists also included the painter Wilma Johnson alongside Perry and Jennifer Binnie. Being sensible and doing something really stupid was an important aspect of Neo-Naturism. It invoked a mix of retro 60s hippiedom, a clash of town with country, alchemical magical and culinary ritual. Their aim was for an honest revival of true Sixties spirit, which involved living one's life more or less naked and occasionally manifesting it into performances in which the main theme involved bodypaint. Neo Naturism brought William Blake and Samuel Palmer, Cecil Collins, and Neo-Romanticism of the 40s into direct collision with the gesturing of New Image Painting and Neo-Expressionism, and the then emerging New Romantics.
Although the Neo-Naturists can be view as part of the personas and worlds found in London's club of the period, they enacted a clash of cultures: between their unfashionablity and the studied fashionablity of the post-Punk New Romantics club culture they moved through, between the 60s communal, new agey-ness, and the 80s self-regarding urban Thatcherism. However, although Perry took part in the Neo-Naturist performance from l982, the ideas behind the group and the direction it took were almost exclusively those of Christine and Wilma. For Perry the experience acted essentially as a basis for his filmmaking and his work in ceramics. Perry notes:
" The Neo-Naturist spirit helped me to handle the naffness that pottery was seen as, it gave me the tools to handle things that were seen as really uncool." It also enable Perry to use elements of parody in his work while still retaining an authentic voice."
However, Perry's work of the period is equally informed by Kieferesque landscape, the art of Pieter Breugher the Elder, and more discretely strategies that suggest, British, Oriental, and African ceramic forms and traditions, as well as a tradition of 18th and 19th century English satirical art as exemplified by the work of William Hogarth, Thomas Rowlandson, and James Gillray. Perry's personal iconography has much in common with Gilray's elaborate and bawdy etchings, which often revealed distorted figures taken from contemporary life. In both Perry and Gilray's art there is depictions of events of war and politics alongside fables and follies of London's society and art world.
During these early years Perry lived in a squat at 43 Crowndale Road in Camden a resident that also include the pop star Marilyn, Christine and Jennifer Binnie and a group of three filmmakers who termed themselves International Film and Video- Cerith Wyn Evans, Angus Cook, and Sophie Muller, and a fourth filmmaker
John Maybury, who lived nearby. These filmmakers, like Perry looked in part to the work of Kenneth Anger, and Derek Jarman for an approach and subject matter. However, while the others constructed dark, poetic, and magical films, Grayson Perry's films were loaded with the village fete spirit of the Neo-Naturists.
Perry edits less closely and he rarely uses artificial lighting. Perry's films parody the seriousness in which Anger's films were held during the period. In the mid-80s Perry made films invested with what he describes as "suburban witchcraft".
Similar to how Perry uses ordinariness and domesticity to reflect on more subversive subjects, the content of his films were enhanced by his essentially suburban and slightly comic narrative representation. Perry created a film 43 (1985) a portrait of the inhabitants of the squat in Crowndale Road; and The Green Witch and Merry Diana, about a woman cursed with a tail and the lifting of the curse, set in London and the Sussex Downs, and Odd Steven, a story of love marriage, and the happy birth of a devil child, set in London. In Rap of the Sabine Woman, he plays a statue having his arms and legs knocked off. The process of film, the alchemy of the project light is demystified by Perry a similar process which is at work in Perry's early ceramic works.
In 1979 Perry attended the "Outsider Art" show at the Hayward Gallery where he saw for the first time the work of Chicago hospital janitor, Henry Darger (1892-1972). Darger's transgressive images often combined hermaphrodite children causing havoc and surrounded by extreme violence. A reclusive, Darger spent over a half of century working secretly on a l9, 000- pages illustrated fantasy epic revolving around the seven Vivian Girls and their part in a child slave uprising against evil adult armies in the mythical country of Glandinia. Perry has stated that he deeply identified with Darger's transgressive shifting fantasy. Darger influence can be find in Perry's 2000, Revenge of the Allison Girls in which Perry art echoes some the Darger's hermaphroditic children.
Commenting on his connection with the work of Darger Perry has stated:
"I felt they that they were like one of my pots rolled out. He retreated into this imaginary world full time, but his paintings are visually very sophisticate and not repetitive like a lot of Outsider Art: spatially, compositionally, stylistically and colorwise they change drastically".
Perry moved to ceramics essentially for financial reasons. He was on the state, and had no studio. Evening pottery classes were cheap and gave him something to do at night, when he wasn't making films. He started by making plates, utilizing the technique of coiling a crude technique that he still uses. These early works combined sentimentalized stock images of dogs, flowers, and landscapes fused with swastikas, symbols of the occult, and elements of Perry's eccentric sarcasm, and sadomasochistic savagery. Decorating his early pots with swastikas and other images that were designed specifically to provoke outrage from the middle class, middle-aged women who worked beside him.
Grayson Perry removed himself from traditional notions of artistic ceramics.
His works are filled with a type of burlesque humor fused with Elizabethan drama. The are works loaded with concepts of masquerade, and camouflage.
I like the whole iconography of pottery. It hasn't got any big pretensions to being great public works of art, and no matter how brash a statement I make on a pot it will always have certain humility.
By l984, Perry was starting to think of himself more as a potter than a filmmaker. Perry incorporation of a private language in his early ceramics brought together Masonic and Tarot imagery. Not surprisingly Christine Binnie read Tarot cards at that time with a Neo-Naturist mythic understanding of the spirit of place. Perry fused this interest with realized in images of Essex, overlaid with various types of brutal and perverse sexualized imagery whether scratched into the surface of the pot or painted into the glaze.
At a time when studio ceramics were still preoccupied with formal idea of a subject matter being defined by a truth both to materials and process Perry located his authenticity not in the materials or process but the manner in which artifice could be deployed to make the pot have a purpose and mean something. Part of this revolved around the alchemy of creating the base form for his pots, not by throwing clay on wheel, but by coiling. Alongside Perry's use of coiling, the decoration of his pots by sprigging (the application of press-molded elements), the scratching of images into the pots surface, the stamping of inscriptions raised surface on the pot, utilize the decorative vocabulary of small-scale English vernacular country potteries, and those that looked to medieval or Roman models such as Edward Bingham's l9th century Castle Hedingham Pottery in Essex close to where Perry grew up.
It the area around Chelmsford that has continuously functioned as the thematic center of his work. It is a site that Perry has maintained a love-hate relationship, which often becomes in his work a reference for the hypocrisy and narrowness of the middle class environment. Wilson has described Perry's associated use of his native country as equivalent to Anselm Keifer's–metaphors for Germanic tragedy. The region around Essex impressed him both as an art student and the specific landscape around Great Bardfield and the River which was captured by Michael Rothenstein the 1950s and 60s as a citizen of the world rooted in a place that is a microcosm of the older rural England. La Placa has described this landscape as something out of New Wave writer and author of " Crash", and ''Empire of the Sun" novelist J.G. Ballard; mainly empty, and bleak.
It is the cultural specificity of the region that becomes the core of his work. It is from this place, the secret spaces of his youth, that Perry looked out and recast the world. This area both rural, yet suburbanized. Images of old Essex, the thatched cottages or children gathered around a blacksmith, evoke a lost of innocence, a rural idyll that was hardly ever attained, because even though marks of the Essex landscape have a deep pull for Perry, it is also a landscape which is marked with trauma as much as happiness.
Perry has continuously represented the landscape in rather emphatic terms, such works as Nostalgia for the Bad Times (1999), Hot Afternoon in 75 (1999) describe both the heat and sexual energy of a teenager who was just starting to wear women' clothes in public. Nostalgia for the Bad Times reveals a landscape burnt-out cars and dereliction, contrasting with Perry's constructed idyll of wanders through the cornfields in heat while wearing one of his sister's floral dresses. Hot Afternoon in 75, shows a similar landscape, both works have the same yellow and opalescent glazes. A car sits abandoned in a field containing the requisite decaying pill box (a hiding place in the no-man's land of teenage desire). The work is loaded with symbols of freedom and escape; horses run in the field, a moped stands waiting for rider, a light aircraft flies overhead while a teenager holds a model glider. A transfer-printed photograph of the young Perry looks over the scene contemplating his options.
Suburbia is a recurrent motif in the work. What becomes apparent and is indicative of Perry's art is that the artist's suburban subjects are preoccupied by external appearance and wealth obsessed sex, deeply moved by violence, and swimming in self-pleasure. In Strangely Familiar (2000), Perry ridicules the anxiety-ridden context of suburbia. Strangely Familiar echoes Greek vases in the manner in which the figures are set prominently on the belly of the vase. However the surfaces is loaded with sadomasochistic sex scenes. Closer observation reveals in the sepia background tidy little villas of the suburb, the setting of some rather questionable behavior. The text running over the pot makes the meaning emphatic: "Daddy don't hit me, Mummy stop him".
I have used imagery that some people find disturbing. I use such material not to deliberately shock but because sex, war, and gender are subjects that are part of me and fascinate me and I feel I have something to say about them.
Perry's engagement with the decorative arts aims to breakdown the often hierarchical notion of painting and sculpture as serious art and ceramics as secondary mode of expression despite the fact that artist such as Betty Woodman, and others have strongly embraced ceramics as serious medium for creative exploration. However, Grayson Perry's intent is radically removed from those of Woodman and many working with ceramics and it that distinction that Perry moves. Woodman's who emerged from the l970s Pattern and Decoration movement is clearly more interested in exploring the interrelationship between ceramic, sculpture and painting. Her fragmented large-scale works often fused various ceramics styles, similar to Perry's approach. Woodman's ceramic approach is guided by memory of paintings, the landscape, and architecture. Equally she is concerned with proposing the utilitarian function of her large vessels. While she is interested in breaking down the traditional divide between fine art and craft similar to Perry, her investigations are centered around an exploration of formal aspects of painterly traditions.
In contrast Perry formal language is rather unique. His vessels have no functional intent. While his ceramics often play against issues of two and three dimensionality, between surface and content, Perry art is driven more between the contrast between tradition and innovation and less a concern to find a mutual ground for their co-existence. As one reviewer notes:
"By covering the surfaces of his ceramics with visual images that demand to be read as though they were paintings, Perry challenges the basic assumptions that divide the decorative from the fine arts."
"When I started making plates. It was about how I could wind people up. I'm looking for the charge… Even now I'm looking for the charge in my work, wearing my heart on my sleeve. I'm attracted to things that make me feel uncomfortable, that make me think...so I started using sexual and fascist imagery."
Matthew Collings has noted that Grayson Perry's pots allure lie in a type of kitschy beauty that mass-produced Victorian fake Orientalist pots suggested when trade with the Far East had been opened up. What makes Perry's art modern is the sentiment of his illustrations, the swear words and child abuse,
and the wry comments about modern society. Collings describes this approach as things placed together that don't belong together, a type of "surrealism of now".
Andrew Wilson notes that Perry ceramics are never viewed as ceramics containers, or decorative objects. Rather they function as socially and culturally subversive objects, markers for a subject matter directly at odds with the very notion of pottery. Perry's work is nor art about art, but rather an art deployed for a wider intent. Fusing the art world and craft Perry creates decisive tension in his art that moves the work outside any strict boundaries.
Perry is not afraid to choose themes that are often associated with current events, family dramas, people gone missing, crime, accidents, and sex scandals. His subjects aim at those whose life is sort of an illusion rather than reality. His references are never experienced directly. His work presents a world that is decisively serious, moral, and yet also the result of sharp ironic wit.
It is not the subject matter that is that provocative in Perry 's art given the commonality in contemporary art, it is rather his choice of themes pots- embroidery that evoke mixed responses to his work. Explicit scenes of sexual perversions –sadomasochism, bondage, transvestitism, are both an open declaration of war and an accusation. In this context war is declared upon so-called good taste and hypocrisy, issues of classes, specific codes of conduct.
However, Perry's style had also contributed to the discourse, as his pots are loaded with scenes and decorations from which he draws freely on the vocabulary of ceramics. His decorative techniques- glazing, incision, embossing and the (photographic) transfers are never use for their decorative ends, but Perry gives them a contextual basis.
Marjan Bool observes, pots and ceramics, and decorative arts in general, enjoy a respectable status in England (perhaps in art in general). A clear, if artificial distinction is drawn between crafts and fine arts. Ceramics belong to the domain of good taste, the cultivated, the elite public. Grayson Perry's pots conversely create confusion and disorder. Thus Perry's art not only breaks with traditional classification of art fields, but they equally break with conventional ideas about genres and sex-specificity pushes the reception of his work.
Challenges exist in Perry's work on the level of the maker, the chosen medium and the image. His ceramics made the shifting identities between Claire and self –portrait one that is tangibly real. His ceramic work makes these oppositions fleshy and corporeal. Perry's work has consistently used a 'turn about language of the perverse-representation, S& M to test the boundaries of what are accepted conventions in both art and life.
Bool has noted that one of the distinctively English aspects of Perry's art is its humorous and satirical character, it is directly aligned to the British love for irony and satire, especially that of a political nature. The conflict between the differently perceived values of craft or art has provided Perry with a rich vein of material that he has not shied away from exploiting throughout his work. Fusing various clashes between categories and medium has allowed for Perry to create new values in ceramics. The naffness, ugliness, and home –made amateurishness of his work are means of proposing a new beauty.
However perverse and provocative they may appear, no matter how bleak environments, the sexual perversions, the many image of Perry himself, the family and his transvestite alter ego Claire what ultimately moves throughout Perry's work is the artist's own reality. Perry's art is an extension of his personally felt experience, and this has been explored through his ongoing commitment to psychotherapy to which he was introduced by his wide Phillipa, who is a practicing psychotherapy. Through his involvement in therapy, Perry has been able to discover and explore aspects of himself and his own identity that is played out in his work and life.
In a recent interview with Duncan Fallowell for Parkett (No.750), Perry states:
"All fetishes are about accessing an emotional state. Sex isn't about any person or thing, its about boundaries, about being held…." Referring to his often described: Alice in Wonderland "appearance", Perry notes, "For adults, childhood does go back in time. Most fetishes are about recreating the emotional dramas of childhood. I did a pot called "Strangely Familiar" (2000) about S&M scenarios. What people do in those scenarios, though they may not realise it, is revisit and get sexually turned on by the structures of their traumatic childhoods."

Perry enacts throughout his work an opposition between an orthodox world of conventions and values; a perverse grotesque world, which calls in to question, accepted hierarchies. Perry 's naiumalistic frieze –like surfaces can be read in much the same way as Wilson suggests, "In same way that Mikhail Bakhtin understand the role of carnival in Rabelais as celebrating the destruction of the old and the birth of the new world…Men are transvested as women and vice versa."
He has more recently opened up his work to the use of embroidery and photographs. The works have become more accomplished, sophisticated and ornately decorative. The rustic country pottery that served as his model in the 80s has given way over to 18th and 19th century Oriental porcelain. Some of the works have been directly copied from elegant and large size Satsuma, Imari, or Arita ware. There has also been a greater use of rich opalescent glazes, and gold and silver luster. These works have acquired the fineness and delicacy of porcelain despite being constructed from coiled earthenware. While they are far more ornamental Perry has expanded the communicative power of the surface imagery. Certain shapes are now determined by what sort of messages may be contained in the image. Still, the new language has not been exchanged for a subject matter that is less autobiographical. Although, Perry has engaged far more contemporary issues in his work, as evident in the Lincolnshire Installation.
Perry's aims are always multi-layered. He is now producing art that consciously uses flamboyant means to seduce with their own unashamed aesthetic and tactile appeal,"I m very reactionary against a lot of modern art in that it doesn't give that sensuous pleasure of the object-often the object is just there to illustrate some point. It's just a prop for an idea. It seems to me that a lot of artists have given up a huge part of their potential vocabulary by abandoning the handmade object: the handmade object speaks language of the body, and if we only engage with our heads then we are denying a huge part of the vocabulary."
Perry's work remains controversial because complex content remains submerged and hidden under richness of the surface glazes. His art continues to play off and against mediums. However, now the rich lustrous surface of the pot is interrupted by mass-produced color transfer prints. The image system is at time less aggressive and more ambiguous than the graphic images of his earlier works. Perry's earlier reliance on a grotesque worldview founded on a private symbolic system has been redirected as the distinction made between victim and aggressor has generally become more blurred and ambiguous in his work. The emphasis on now about the dynamics between the world inside of Perry's mind and the world that surrounds us.
He has recently moved his work to specific issues and causes, while simultaneously avoiding any specific agenda or message. Perry has become increasingly adept in integrating more widespread concerns within his personal and autobiographical iconography. Still Perry continues to incorporate new and relevant life as the hallmark of his work such that the personal becomes political. Recently Perry has introduced a more politically obvious context to his pots. But, specific political events are not what Perry intends to depict. Rather his main concern is with the cultural climate that causes these situations. Dolls at Dungeness, September 11th, 2001 (2001) is large vase featuring baby-blue infant figures dotted around a bleak, blighted landscape studded with wooden shacks, electricity pylons and beached boats while overhead war planes colored in the same pastel hover in a gold luster sky. Both attacker and victim appear as malevolent toys, each spewing speech bubble laden with prejudice and the text: "macho bullshitters" explodes from the cockpit of a fighter jet, "death to all pigeaters" replies a ringleted figure, while on the ground, a prone baby doll declares "you can keep your cheap baby milk". The toys are just as much the bigots and the aggressors as the warplanes flying overhead.
.

All images courtesy of Victoria Miro Gallery, London ,UK
The Author graciously acknowledged the assistance of staff of Victoria Miro Gallery, London.
@horace brockington, 2007
Bibliography:
Grayson Perry: Guerrilla Tactics: Stedelijk Museum Amsterdam, NAi Publishers, Rotterdam 2002,
Grayson Perry; The Charms of Lincolnshire, The Collection: Art and Archeology in Lincolnshire, Lincoln Museum, Lincolnshire, 2006
Jones, Wendy, Grayson Perry; portrait of the artist as a young girl, Chatto & Windus, London, 2006
Collings, M. Pots and popularity, Art Review (London, England) v.2 no.9 9 December 2004/January, 2005) pp. 43-4
Perreau, Y. Turner prize: Alice au Royaume du Chaos, Beaux-Arts Magazine, no 236 (January 2004) p 11
La Placa, J, Grayson Perry, Art Review (London, England) v. 53 (May 2002) p 76-8
St.Claire (Thirty Seven Wanks Across Northern Spain) Artforum International v. 44 no. 6 (February 2006) p. 157
(Vase with image of woman holding birds and staff) Flash Art (International Edition) v. 38 (May/June 2005) p. 23
Fallowell, D. Tea with Grayson Perry/Zum Tee bei Grayson Perry, Parkett No. 75 (2005) p. 6-14
Feaver, W. Turner Prize: Tate Britain, Artnews v. 103 no. 2 9 February 2004) p. 123
Maiden, E. Grayson Perry- Guerilla Tactics: The Curve Gallery, Barbican, and Crafts (London, England) no. 180 (January/February 2003) p. 53-4
Gray, L. Grayson Perry: Guerilla Tactics': The Curve, Barbican Centre, Modern Painters v. 15 no., 4 (Winter 20020) p. 139
Darwent, C (Grayson Perry, Modern Painters (June 2006) p. 126
Grayson charm, Museum journal v. 106 no. 4 (April 2006) p. 39
Gilbertson, A new labour; Saatchi Gallery, London, Art Review (London, England) v. 52 (July/August 2001) p 66-7
Freak, D. An occasional masterpiece, Art Review (London, England) v. 53 March 2001) p. 68
1 Miss Otis Regrets : words and music by Cole Porter( originally for party for Monty Wooley, 1934)